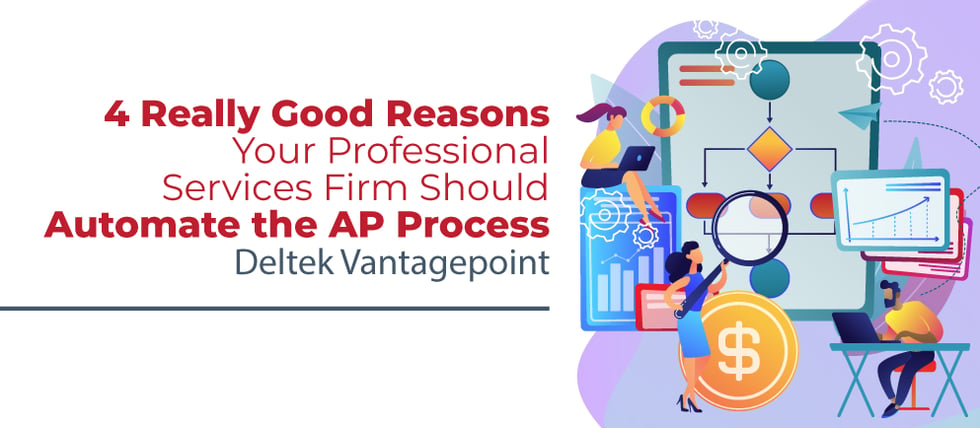 Accounts Payable (AP) is one of the main tasks performed daily in a professional services firm's accounting department. The process can be labor-intensive and very manual, especially when a firm has not embraced new technologies. It's hard to determine why so many professional services firms have not made the jump to a paperless accounts payable process. Maybe it's the daunting fear of errors, or simply the fear of changing the process? Let's review the benefits of automating the AP functions for your professional services firm and try to put any fears to rest!
1. Going Paperless and Reducing Errors
Generally, as with many professional services firms, accounts payable has been a paper-heavy process that has required printing, copying, filing, and retrieving paper. Additionally, the task itself has been a labor-intensive manual process that can already fall prey to human error. With errors already being something that may happen without automation, this proves that using automation is nothing to be feared by your professional services firm. By automating the AP process, invoices are stored digitally, reducing paper costs and reducing the time needed to process AP. So, automating AP at your professional services firm all the while saves money and actually increases accuracy.
2. Improving Employee Productivity
As mentioned before, Accounts Payable is a repetitive and time-consuming manual task. The process typically involves first receiving the paper invoice, then sending it for manual signature approval, and then data entry of all data into the accounting software. However, when automation is embraced by your professional services firm, invoices can be uploaded directly into the database, then electronically approved, and invoices posted. Thus, using automation and reducing AP task time, allows employees to focus efforts on more profitable pursuits instead of spending time on repetitive tasks.
3. Gaining Control of the Procurement Process
Enforcing purchasing policies can be a struggle if there is no way to approve them before the purchase is made. Using an automated AP solution allows professional services firms to set up an approval process based on the firm's policy for procurement. With automation, accounting team members can ensure the policy was followed and speed up the time it takes to have a purchase order approved. Gaining control of the procurement process allows for full transparency, with no more receiving vendor invoices without knowing the details being given about the purchase.
4. Working Smarter with Vendors
A final plus of using AP automation at your professional services firm is that vendors can submit invoices to a designated email or webpage. This in and of itself greatly reduces the risk of lost invoices and allows for easy upload into the accounting system. Furthermore, receiving digital invoices for processing ensures on-time payments, which of course makes the vendor happy and reduces the number of communications back and forth. Fewer communications back and forth with vendors additionally saves your professional services firm further time and effort which is working smarter, not harder.
Automate Your Professional Services Firm's AP Process
Hopefully, after now realizing the benefits of automating your professional services firm's Accounts Payable process, you can fully understand that automation is not something to be feared. It's clear to see that automating AP will reduce errors and save money, and what professional services firm doesn't want that? So, knowing that automation can save money and reduce errors, is your professional services firm ready to embrace technology and start automating your Accounts Payable Process?