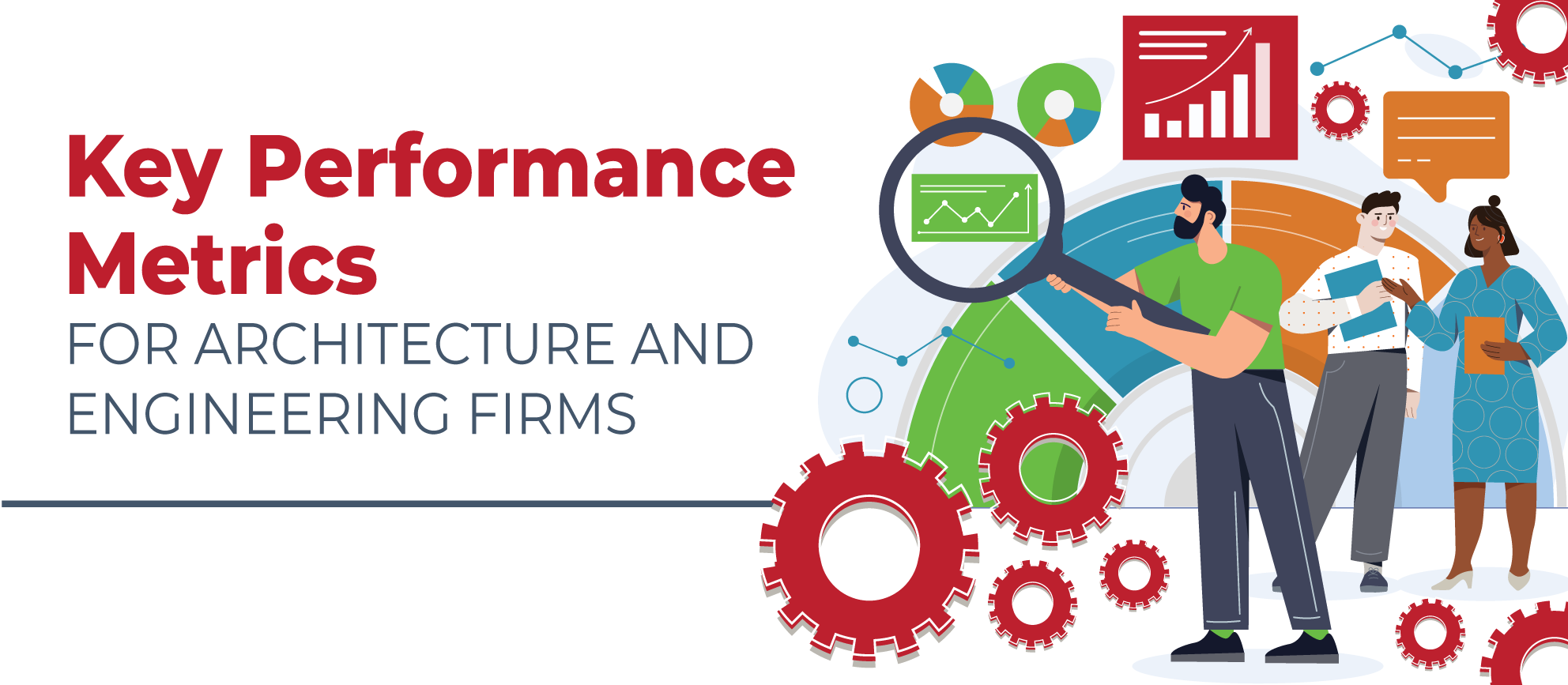 How does your firm measure up? That is the vital question many architectural and engineering (AE) firms should be asking themselves. It is challenging to manage what you are unable to measure! There are several key performance metrics that an AE firm should use to determine its current status. These measurements are important to not only keep you abreast of the condition of your company, but they also allow you to examine the past, so you can plan for the future. Let's look at a few of the significant performance metrics.
Proposal Win Rate
When we talk about Proposal Win Rate, we're essentially looking at how effective your business development efforts are at turning potential leads into actual projects. It's like keeping score on how well you're playing the business game! By tracking this rate, you gain valuable insights into what strategies are paying off and which ones might need a little tweaking.

Even the tiniest improvement in your win rate can have a huge impact on your bottom line. Think about it – landing just a few more projects out of every ten proposals can make a significant difference in your profitability.

In the fiercely competitive world of AE firms, the ability to gain new business is like having a superpower. It's what sets successful firms apart from the rest. So, honing your business development skills and consistently improving your win rate is critical to your success.

Here's a pro tip: When analyzing your Proposal Win Rate, pay attention to the reasons behind both your wins and losses. Learning from both successes and setbacks is the secret sauce to continuous improvement. You might discover patterns that can help you replicate your victories or identify areas that need some extra attention.
Profit
Profit is a crucial metric for any AE firm's success. It tells you how well your firm is doing financially. It's the money left over after deducting all expenses from your gross income. Profitability metrics help AE firms figure out which projects are worth pursuing. It shows you if you're making enough money to keep your operations going and growing.

Analyzing your profit helps you make smart decisions about where to focus your efforts and resources. It's like a report card for your financial performance. Being profitable is essential for your firm's sustainability and growth. It allows you to invest in your business and attract top talent.

But don't get too fixated on profit alone. Keep in mind that different projects may have different profit margins and timelines.

By keeping a close eye on your profit over time and comparing it to your goals, you can spot areas for improvement and make informed decisions for a prosperous future.
Labor Utilization
Labor utilization is a metric that helps you measure your team's efficiency. It ensures you have the right number of employees for optimal performance. By analyzing labor utilization, you can identify both high and low performers, enabling you to take targeted actions for improvement.

To maintain an effective labor utilization rate, review both billable (direct) and non-billable (indirect) hours. Monitoring this metric allows you to make data-driven decisions and allocate resources wisely for maximum productivity.

A well-utilized team leads to a happy and productive work environment, driving your firm's success. Keep an eye on labor utilization for a thriving team and business!
Net Revenue/Operating Income
Net revenue and operating income are like a dynamic duo that keeps your business running smoothly and efficiently. Let's take a closer look at these essential metrics and understand why they're crucial for your AE firm's financial success.

First up, net revenue is the lifeblood of your business. It's the total revenue your firm generates after deducting any discounts, returns, or allowances. Think of it as the fuel that keeps your business engine roaring. Without sufficient net revenue, your firm's growth and sustainability could hit a roadblock.

Operating income, on the other hand, measures your business's capacity to take on new projects while covering all operating expenses. It's like a litmus test of your firm's operational efficiency. By subtracting your operating expenses from your net revenue, you get a clear picture of how much profit you're generating from your core operations.

Now, here comes the interesting part: net revenue also sheds light on your firm's relationship with subcontractors. It shows how much of your revenue goes to paying them for their services, leaving you with the revenue that your firm retains for its own services. Understanding this breakdown helps you gauge the impact of subcontracting on your profitability.

By carefully tracking net revenue and operating income, you can make informed decisions about pricing, resource allocation, and investment opportunities. It's like having a compass that points you in the direction of profitability and growth.

For example, if you notice that your net revenue is high, but your operating income is lagging, it could signal inefficiencies in your operations or excessive costs that need addressing. On the other hand, if your operating income is strong, but net revenue is low, it might be time to revisit your pricing strategies or explore new revenue streams.

In a nutshell, net revenue and operating income are two sides of the same coin. Together, they provide valuable insights into your business's financial health, helping you steer it toward prosperity.

So, pay close attention to this financial power duo. Regularly monitor their performance, set targets, and use the insights gained to fine-tune your business strategies. With net revenue and operating income on your side, you'll be well-equipped to navigate the waters of profitability and keep your AE firm thriving!
Backlog
The backlog metric is your firm's project navigator, keeping you on course within your budget. By tracking both ongoing projects and potential wins, it provides a clear picture of your workload and budget needs. This insight helps you plan ahead, allocate resources effectively, and deliver top-notch results to your clients. Regularly keeping an eye on your backlog ensures you stay on track and sail smoothly toward success!
Client Loyalty
For any AE firm to grow and continue to be successful, client loyalty is a necessity. It is important for both word-of-mouth referrals and repeat business. Meeting client expectations, proactively engaging in client feedback, and acting on areas that need improvement are all essential to keeping loyalty.
Cost of New Business
When it comes to growing your AE firm, new business opportunities can lead the way. But expanding also means there are costs involved. Measuring these costs helps you choose which opportunities are worth pursuing and if the potential gains are worth the investment. Remember, calculated risks can lead to profitable growth. So, keep an eye on the cost of new business and set your company on a path of strategic expansion!
Measuring Up the Firm
Keeping a close eye on key performance metrics is the secret sauce to your AE firm's ongoing success. We've explored some noteworthy metrics today, but there's a whole world of data waiting to be discovered. It's up to you to decide which metrics align best with your firm's goals.

To see how your firm measures up with these KPIs and gain valuable insights into the A&E industry, we encourage you to download the latest Annual Deltek Clarity A&E Industry Study by clicking the image below. This study contains valuable information to aid your decision-making and stay ahead of the competition.

Remember, the path to prosperity starts with data-driven decision-making. Equip your firm with the right metrics, ensure your team understands the goals, and set sail toward a brighter, more successful future! 🚀