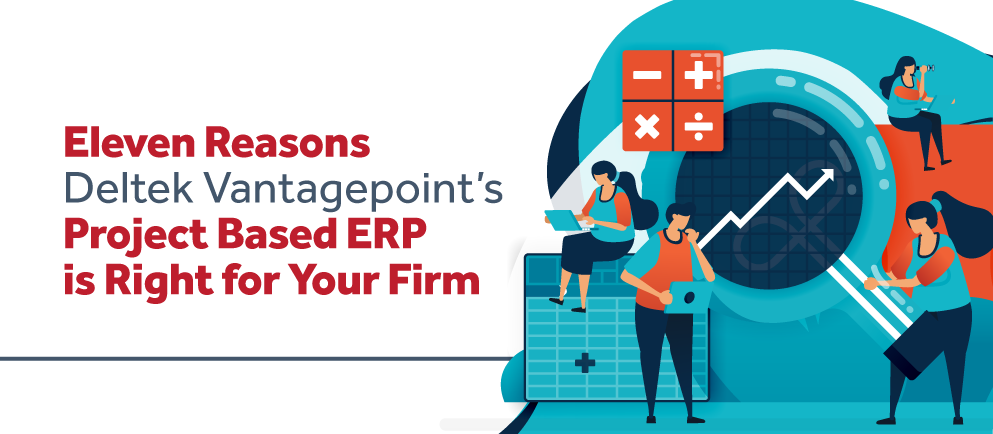 How do you know when it is time for your professional services firm to move to enterprise project management tools or ERP? There are many factors to consider in your decision. Although you may be familiar with the name Deltek, you might not be aware of its latest solution, Vantagepoint. You might be surprised by all of its new capabilities. Not to mention that Deltek Vantagepoint's cloud pricing ensures your firm stays up to date with the latest enhancements and reduces the burden on your IT team. We've outlined 11 important items to think about when looking at new project accounting, resource management, and client relationship management (CRM) software tools for your business. 
1) Not Your Mama's Accounting Software
The first thing you will notice about Deltek Vantagepoint is that it's very approachable with a modern look and feel. AE firms have come to know Deltek for its robust capabilities, but now users of Vantagepoint are talking more about its intuitive and user-friendly capabilities. This new solution is breaking down silos and getting teams to work more collaboratively because of its new project lifecycle design.
2) Simplified Access Anywhere, Anytime
Let's face it, not everyone works from his or her desk these days. Being able to access information anywhere and anytime is no longer a luxury, rather, it is an expectation. Deltek Vantagepoint provides users the ability to enter their time and expense data right from their phone or tablet rather than having to get on a computer and access the system directly. Users with CRM can also view and log Contacts, Activities, and Pursuit information. Deltek Vantagepoint also now includes an integration with Outlook that provides two-way synchronization of your contacts and calendar items within your Outlook email application.
3) Reduce Manual Entry
One of the best new features of Deltek Vantagepoint is its Intelligence Character Recognition (ICR) capabilities which simplify and improves the accuracy of expense reporting by reading text from receipts and populating the information into your expense report. This capability is also used to allow users to capture business cards or to create a new contact. The "Hey Deltek" feature allows users to speak directly to Vantagepoint and acts similarly to "Siri," "Alexa" or "Google." Users can use the feature to quickly find a record or to quickly add a new contact, pursuit, activity, or reminder.
4) Streamlined Processes
When Deltek approached the design of Vantagepoint, it had two decades of providing the gold standard of project-based solutions under its belt. Additionally, feedback and suggestions were received over those years on areas that users wanted to see improved. Some of these key areas included:
Merging Clients/Vendors, Leads/Contacts, and Opportunities/Plans/Projects to reduce redundancy
Ability to manage project performance in one centralized area

Easily assign and reassign resources and redistribute plan hours

Plan for the unpredictable changes - Deltek Vantagepoint allows project managers to control the details of their projects, whether they want to look back at JTD or look forward with ETC

Improved billing tools notify invoice approvers electronically that a draft is ready for review, and approvers can use the draft invoice approval feature to mark up and enter comments using the new PDF editor function

Approvals happen electronically with no more paper approval or emails to keep track of any longer
Email templates are available when sending electronic payment remittances in the Vendor Payments, Employee Payments, and Payroll Payments applications saving accounting users' time.

Automated bank feed improves efficiency with b

ank reconciliation
5) Decision Ready Information
Deltek continues to provide more improvements to filters, dashparts, and dashboards for ease of use for the end user. To get the most out of your software, firms need the ability to easily create, manage, and monitor projects, since projects are at the core of any project-based company. Deltek Vantagepoint delivers just that. Through a streamlined project creation process, using visuals and dashboards, project managers are able to focus on project performance through a centralized project hub. Those using Resource Planning have further capabilities through a highly developed and scalable resource management tool.
6) Easily Create Automated Routines with Workflows
Even though Deltek Vantagepoint is purpose-built with professional services firms in mind, firms may still need the ability to further automate processes and functions. With built-in workflows, your firm can automate front-end processes like sending emails, and alerts, updating fields, and running processes or reports automatically. In addition, stored procedures can be customized to automate non-standard processes on the back end. 
7) Integrated Systems
Many firms have data silos with disparate systems. This separation between team members can increase inefficiencies and keep the firm from reporting on one truth for the company. Many of Deltek's competitor ERPs are separate systems that have to share data back and forth through integration. Deltek Vantagepoint provides accounting, planning, resource management, and CRM all in one system. Firms can work as a team and build upon each other's data to gain a holistic view of the company and processes. 

However, there are times when firms will need to connect separate systems. For example, to their HR or marketing solutions. That is when Deltek Vantagepoint's open APIs can be utilized. Vantagepoint has a RESTful API service, which is perhaps the most popular approach to building APIs. The RESTful service for Deltek Vantagepoint empowers programmers to build custom applications that interact with Vantagepoint. Integrations help ensure firms get the most out of their investment by sharing data between critical systems. Sometimes firms have in-house programmers that can leverage Deltek Unionpoint, while others prefer a seasoned development team, like the Blackbox Connector team, to build out their solutions.
8) Work Breakdown Structure
Enterprise project management accounting software becomes a "must-have" for firms that want to track detailed information around deliverables. How do you know if it is suitable for your firm? Your firm may need the ability to: 
Break down a project into manageable work elements by separating out the deliverables for the project
Identify the start and end time of each deliverable

Define the overall budget for the deliverables as well as the entire project

Attach key persons to the project for reporting

Set up work breakdown structures to show the effort required to achieve an objective
By having the right software for your firm, you gain the ability to track detailed cost estimating and provide guidance for future development and controls. The ability to break a project into manageable work elements, and track the elements, allows firms to better estimate future projects while maintaining the projects that exist today. 
9) Accrual and Cash Capabilities
Many firms want the ability to run cash books alongside accrual books to get the most accurate view of where the business stands with income and debts. Income and expense tracking is integral to project accounting software. While a cash basis may give you a better idea of where the firm stands with actual cash, the accrual method can show the ebb and flow of the overall business income and debts for the most accurate view of the overall organization and long-term profitability. 
10) Audit Trail
Many firms require modifications that fit their project-based firm. In QuickBooks and other software, Excel workarounds with manual manipulation are required outside of the software. This can impact the firm's audit trail. Vantagepoint has the capability of running reports for changes made in key records as well as the ability to see the financial audit trail, which is important for the firm to be compliant with GAAP, IFRS/FASB, or any other requirements. 
11) Security
Security is one of the most important features of a program because it either allows or restricts employees from seeing sensitive information such as costs or other employees' sensitive information. Your firm will need to be able to provide access to the system for many roles in the company to work holistically with the organization's needs. Without this ability, there is no visibility, and management of the system and processes becomes very difficult. It is important for all players to have access to the information they require to manage their duties and keep the business running smoothly. 
Gold Standard of Project-based ERP Systems for Professional Services Firms
If you haven't seen Deltek Vantagepoint, it is time to talk to a partner like Full Sail Partners to see why Deltek Vantagepoint is the flagship ERP solution when it comes to professional services firms. Whether you're a 10-person or a 2,000-person firm, Deltek Vantagepoint is designed to help manage the entire project lifecycle better than any of its competitors. This intuitive, powerful solution puts your people and projects at the center of your business so you can be more efficient, productive, and profitable. Be sure to check out our latest mini-demonstration by clicking the image below or reach out to us today.