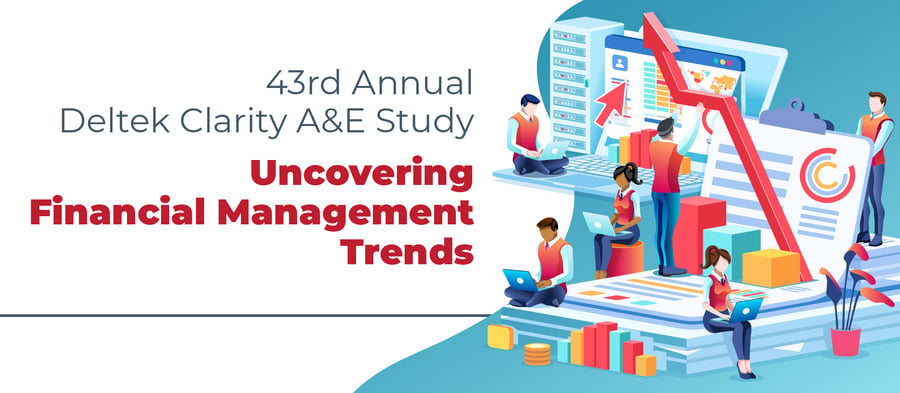 The data from the 43rd Deltek A&E Clarity Study shows that the opportunity outlook for A&E firms is bright. However, there are significant challenges to seizing that growth. Although net revenue growth is forecasted to grow to 17.6%, operating profit on net revenue is down by 6%. Recruiting and retention challenges loom large over firms, undermining their ability to meet demand and extract profits.
Here are the top takeaways from the study, along with guidance for navigating the challenges and opportunities ahead.
Labor Challenges and Growing Pains Are Top Stressors
Labor challenges are front and center for A&E firms, as finding and retaining qualified staff ranked as the top financial challenge. Forty-four percent of respondents said it was their top challenge, a sharp increase from last year. In this highly competitive job market, A&E firms have more open positions, and the cost to acquire new employees has increased. To win over candidates who have plenty of options to choose from, firms are offering increasingly attractive (and often costly) compensation packages.
Managing growth was the second most commonly cited challenge. Demand is high, leading to an 18% growth in estimated net revenues. But with rising demand comes new challenges. Professional services firms are challenged with bidding competitively and ensuring the timely completion of work. Labor issues are a contributor to this challenge since firms need to fulfill staffing needs to meet current and future demands.
With inflation and labor costs cutting into profit margins, A&E firms also said increasing profitability is a top concern. Collection periods increased by nearly two weeks this year, and many firms must work diligently to complete work on time, invoice quickly and collect payment as soon as possible. Encountering delays at any point in the process threatens profits and their ability to grow.
Staffing Challenges Impact Key Metrics
Persistent staffing challenges aren't just keeping firm leaders up at night—they're impacting financial performance. Here are some of the most notable metrics:
Operating profit on net revenue dropped to 12.8%, a level last seen in 2015.

Overhead rates increased to 160%, a 14% increase.

Utilization rates dropped to 58.5%, the lowest level of the last 10 years.
After rising steadily over the past 10 years, operating profit on net revenue dropped significantly. This is largely driven by an increase in overhead rates. As firms face longer project ramp times and non-billable periods while backfilling roles, overhead rates rise. Higher employee turnover is also a contributing factor to lower utilization rates.
Performing the Backlog Balancing Act
Backlogs increased by more than three weeks year-over-year. It's an indication that, while firms are in demand, they need to perform a delicate balancing act to complete projects on time. Bidding, scheduling, and labor planning must be precise, otherwise, increased activity can hinder project delivery, which only reduces client satisfaction in the long run. Firms that can effectively manage expectations will be able to reduce their backlog to sustainable levels.
Growing backlogs are influencing the average collection period, which increased by 13 days. Firms wait for nearly 77 days, on average, to receive payments on accounts receivable. This is a return to the average collection period seen in 2012 and 2013. Back then, firms were able to lower this rate in the following years. To reduce the average collection period now, they may want to look at returning to those previous strategies.
For a deeper dive into the key financial metrics from the study, watch the webinar.
Looking Ahead
Financial leaders of A&E firms are focused on meeting day-to-day challenges. When asked about their financial priorities for next year, firms selected training project managers on financial management and improving business processes as their top two choices. This is in line with the results from last year. Notably, firms are less concerned with better forecasting, better growth management, and organizational changes and realignment than they were last year. This indicates that they're focused on improving the efficiency and effectiveness of daily processes.
The most successful firms will position themselves for success by also focusing on the HR challenges they face. Unconventional benefits, loyalty rewards, and engagement programs can help companies attract and retain the employees they need for the years ahead. Forty-one percent of firms said that they plan to make talent acquisition and retention investments one of their top priorities next year. Those that make the right decisions will stand out from the pack.
Get More Financial Management Insights
Despite the challenges A&E firms face, it's possible to seize the opportunities ahead. By looking back to previously proven strategies and preparing for future demand, financial leaders can make the most of the market. For more financial management insights, click below to download the full report.