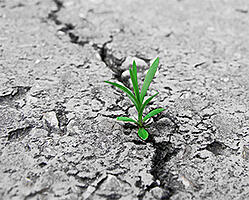 Guest blog written by Lee W. Frederiksen, Ph.D.
It's old news that technology has changed the way we interact – and that includes the way we purchase goods and services. But the professional services industry has largely lagged behind other sectors in reacting to this change, continuing to rely on traditional forms of marketing that are both more expensive and less effective. The small percentage of firms that have embraced online marketing, however, have seen marked success. In our recent study on online marketing, we learned that professional services firms employing online marketing techniques grow 4X faster, and are 2X more profitable than other firms. Why is this so? What is it about online marketing that is so effective? To understand why online marketing works, we need to understand today's buyers.
How Buyers Choose Professional Services Firms
Technology has changed the way that buyers search for and evaluate professional services firms. Based on our research, we know that 71% of buyers still ask their friends and colleagues first when they search for a new professional services firm. At first glance, this seems like the old way of doing business. What's changed is that, after receiving the referral, these buyers can now go online to do their own research on the firms that were recommended.
The Internet has allowed buyers to take much more control of their purchasing process. In fact, in their recent study of over 1,400 B2B consumers, the Corporate Executive Board found that 57% of a typical purchasing decision occurs before the buyer ever has a conversation with a service provider. This represents a drastic break from the past.
Even more notable, the third largest group in our study—11% of professional service buyers—said they skip the referral process altogether, going directly online to search for firms. Combined with the first group of buyers who use the Internet to check up on firms referred from their network, this means that altogether 82% of professional services buyers go online at some point in their buying process to evaluate a firm.
The Digital Generation
The Internet has drastically changed the marketing landscape for professional services firms, and we expect that landscape to continue changing. Consider that most workers under the age of 35 have never worked in an office without Internet access. Research shows that for this rising category of leaders, using online resources to evaluate and communicate with firms is second nature. And, as this digital generation ages and takes on increasingly senior leadership positions, they will give technology an expanding role in their buying and decision-making process.
Putting It All Together
Technology has forever changed the way that consumers interact with, and purchase, professional services. Those firms that learn to embrace the advantages offered by these new technologies will continue to grow and profit, widening the gap that already exists between technology adopters and non-adopters. For professional services firms, ignoring online marketing means living in the past.
Read more about the way professional services marketing is changing in Hinge's new coauthored book, Professional Services Marketing
About the Author:
Lee W. Frederiksen, Ph.D., is Managing Partner at Hinge, a marketing firm that specializes in branding and marketing for professional services. Hinge is a leader in rebranding firms to help them grow faster and maximize value. Lee can be reached at LFrederiksen@hingemarketing.com or 703-391-8870.
Interested in implementing an holistic solution to help your marketing team better manage your efforts? Check out Deltek Vision CRM and get a leg up on your competition.