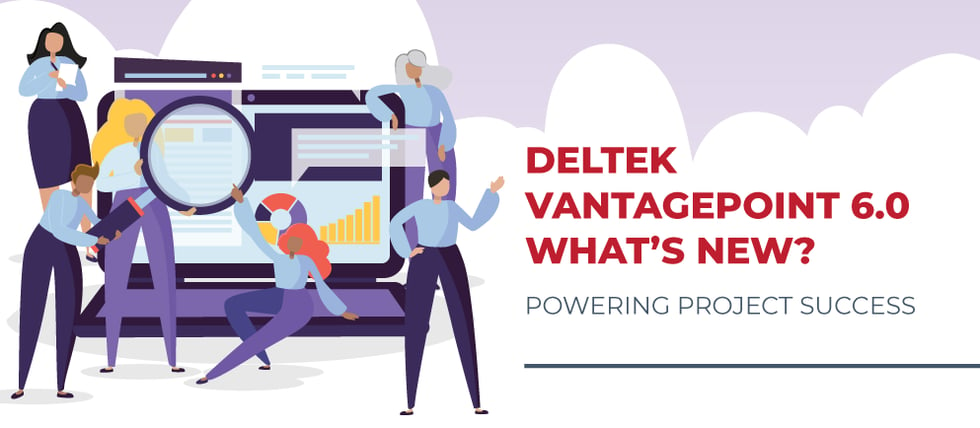 In the ever-evolving landscape of project management software, Deltek Vantagepoint has established itself as a trusted solution for organizations across industries. Now, with the much-anticipated release of version 6.0, Deltek is set to revolutionize the way professional services firms plan, execute, and track their projects. Building upon its solid foundation, Deltek Vantagepoint 6.0 focuses on three key themes: improved visibility, enhanced user experience, and better project planning.
With a comprehensive suite of features and enhancements, this latest iteration promises to empower professional services firms with unparalleled insights, streamlined workflows, and a more intuitive interface, ultimately paving the way for project success in the modern era. Here's an overview of what's new in Deltek Vantagepoint 6.0.
Contents
Expanded APIs
Deltek has expanded the range of Application Programming Interfaces (APIs) available to users. These new API endpoints not only facilitate the exchange of information but also adhere to the existing validations and restrictions, ensuring data integrity and compliance with security requirements at the application level.
Enhanced User Control
Deltek Vantagepoint 6.0 introduces a game-changing feature that enhances user control and flexibility within Connect for Outlook and Connect for Gmail - the ability to customize contact, firm, and project records in the contextual pane. This new functionality allows users to tailor the information displayed in the pane according to their specific needs and preferences.
With this customization capability, users can handpick which fields, including user-defined fields, are included for each record type in the contextual pane. Whether it's contact information, firm details, or project specifics, individuals can choose the relevant data elements that they want to have readily available at their fingertips. This level of customization empowers users to optimize their workflows and focus on the specific information that matters most to them.
Improved Dashboards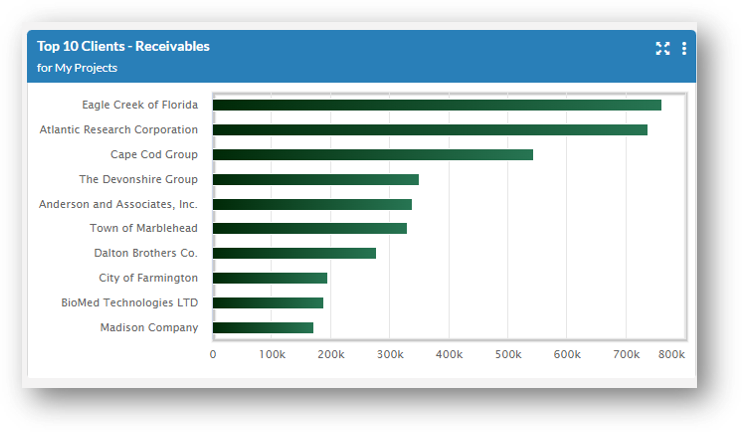 Deltek Vantagepoint 6.0 introduces several new and improved features related to dashboards, providing enhanced customization and functionality. Here are some key highlights of the dashboard-related updates:
New Columns and Role-Based Security for Employee Dashpart Base: In addition to user-defined fields, several new columns are now available for the employee dashpart base, including City, Country, Firm Name, Hire Date, and more.
New Role-Based Security Settings: These settings can now be applied to dashpart bases and their columns, allowing administrators to control access to specific dashparts and columns based on user roles.
Find Dashparts Efficiently: The new Quick Find field in the Dashpart Library enables users to search and find available dashparts more efficiently, based on dashpart titles.
Memo Dashparts for Notes and Announcements: The new memo dashpart allows users to post notes, reminders, warnings, announcements, URL links, or images directly on a dashboard. Rich text formatting is supported for enhanced customization.
Updated AR Comment Column for AR Detail Dashpart Base: AR comments are now displayed at the Invoice grouping level, eliminating the need to expand transaction lines. Users can add AR comments directly from the Invoice group level.
Drill-To Indicator for Dashparts: Dashparts associated with another dashpart as a drill-to action now display a drill-to indicator icon in the Dashpart Library, enhancing the user experience and navigation.
New Columns for Project Dashpart Base: The project dashpart base now includes additional columns such as Weighted Percent Complete, Total Compensation, Committed Purchase Order Expense Billing, and Committed Purchase Order Expense Cost.
Enhanced Filter Selection by Organization: When creating or modifying dashparts with the Account or Account Detail dashpart bases, users can now apply filters by an organization more efficiently. The update allows the selection of parent-level organizations, making it possible to choose all sub-organizations simultaneously.
New Predefined Dashparts: Several new predefined dashparts are available for use in dashboards, including Top 10 Clients - Receivables, Top 10 AR by Billing Client with Drill To, Weighted and Estimated Fee by Stage with Drill To, and Pursuits by Probability with Drill To.
Updated Predefined Dashboards: Certain predefined dashboards have been updated to display the Employee Utilization This Year dashpart instead of the Utilization dashpart, providing more relevant and up-to-date information.
Custom Multipliers for Calculated Fields: Users now have the ability to configure the multiplier field for percentage data types when working with calculated fields in the Dashpart Designer.
Draft Invoice Approvals Made Easier
With the appropriate role security access rights, users can access the Supporting Document dialog box and print all supporting documents to a single file with ease. To activate the feature, navigate to Settings » Security » Roles, click the accounting tab, and in the Billing Security: Interactive Billing and Invoice Approvals section select the Allow Changes to Support Documents checkbox.
Employee Visibility Increased in Hubs
When accessing a record in Vantagepoint, you can now have increased employee visibility:
Orange Outline:

If other employees are currently editing their record, their picture icon is highlighted with an orange circle, indicating their active editing status. The picture of the person actively editing the record is always displayed first.

Blue Outline:

For employees who are viewing the record, their picture icons are outlined in blue.

Info Bubble:

Clicking on an employee's picture icon opens an info bubble that provides additional details about the employee.

Email:

By clicking on an employee's email address directly from the form, you can conveniently send an email message to that employee. Vantagepoint seamlessly opens your email application for a smooth communication experience.

Microsoft Teams Chat:

If you have enabled the Microsoft Teams Chats from Deltek Vantagepoint option in Settings » General » Communications, you can initiate one-on-one chats with team members directly from Vantagepoint. Simply click on the Microsoft Teams Chat option to start a chat conversation.
New In-Product Guides
Deltek Vantagepoint 6.0 includes a myriad of new guides to help everyone from the newest user to the most seasoned Vantagepoint veteran. The in-product guides are as follows:
What's New in 6.0

Search Dialog Restyling

Search Navigation Improvements

Resource Management Reporting

Invoice History Columns

IQ Integration

Undock Project Structure
Updated Interactive Billing
Deltek Vantagepoint 6.0 introduces several valuable updates to the interactive billing module, enhancing the user experience and providing additional functionality for managing invoices effectively.
Streamlined Period Start/End Date Changes for Submitted Draft Invoices:
Previously, changing the period start or end dates of a submitted or approved draft invoice in the Invoice Presentation Dates section of the Billing Session Options dialog box required resubmitting the invoice for approval, even though these date changes did not impact the included transactions. In the latest update, you now have the flexibility to choose whether to resubmit the invoice after modifying the period start or end dates.
By updating the dates in the Billing Session Options dialog box without altering the transaction bill-through dates, you can save the changes without resubmitting the draft invoice. The new "Save" button allows you to update the period dates without the need for reapproval. However, if you modify both the period start/end dates and the transaction bill-through dates simultaneously, resubmission for approval is still necessary.
Warning Message for Voiding Invoices with Applied Payments:
When voiding an invoice from the Invoice History tab in the Interactive Billing form, a new error message now appears if there are any applied payments associated with that invoice. This prompt gives you an opportunity to review the applied payments before proceeding with the voiding action, ensuring accuracy and preventing unintended consequences.
Additional Columns in Invoice History:
The Invoice History tab of the Interactive Billing form now offers additional columns to provide a more comprehensive view of each invoice. The newly added columns include Amount Due, Amount Paid, Applied Retainer, Credit Memos, Invoice Total, and Retainage. These columns provide quick access to important invoice information such as amounts and payment status, enabling better invoice management and analysis.
Invoice Template Editor in the Browser Application: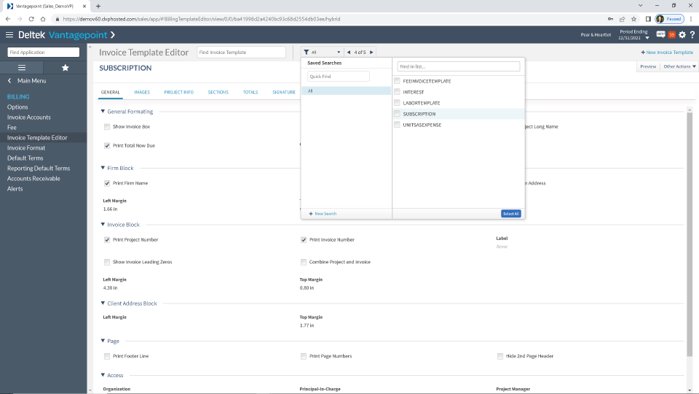 With the latest update, the Invoice Template Editor is now available directly within the browser application. The Invoice Template Editor form empowers users to create and update invoice templates, which determine the format and content of invoices. This enhancement simplifies the customization process, allowing for easy modification and customization of invoice templates to meet specific business needs.
Looking for More?
If you're looking to get your hands on even more Deltek Vantagepoint 6.0 updates, then we have got a lineup for you! We are excited to announce that our next webinar "What's New in Deltek Vantagepoint 6.0" will be held live on Wednesday, June 7th, at 1 pm ET. This webinar will delve even deeper into Deltek Vantagepoint 6.0, providing you with comprehensive information to maximize your project management capabilities.
Additionally, stay tuned for our follow-up blog next week. Here we will review even more exciting features that will further enhance your project management experience with Deltek Vantagepoint 6.0. At Full Sail Partners, we are committed to keeping you informed and empowering you with the latest advancements in project management software.