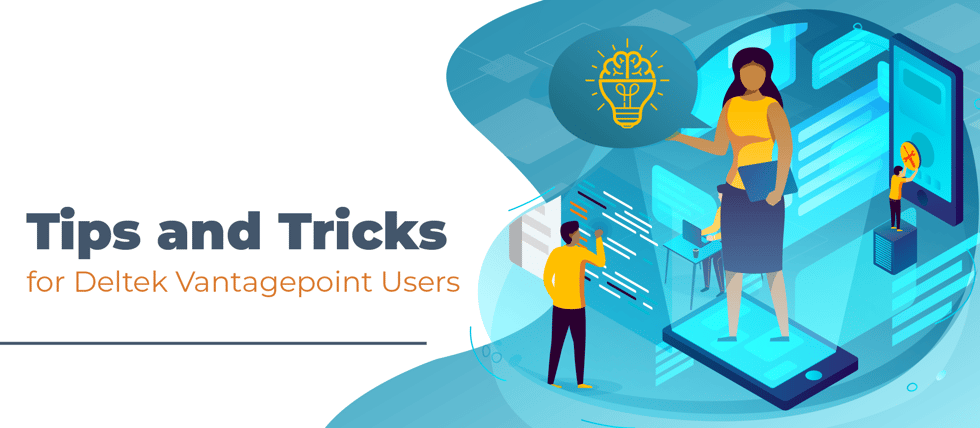 Deltek Vantagepoint is a powerful tool with many capabilities to ensure the success of project-based firms. Despite the availability, many users often don't use the system to its full capacity or simply overlook some of the features of Vantagepoint that will make their jobs easier. In this article, I'll just scratch the surface of Vantagepoint's capabilities by sharing 10 tips and tricks. Hopefully one or two of these will help you get more out of your system.
#1 – Use the Application Finder to Get to Your Information Faster
As part of its re-imagination process, Deltek took the redesign of the user interface seriously. This means getting the information you need faster and more streamlined. One way they did this was by adding an Application Finder or search bar to the left-hand navigation. You can use this application finder to type in a few characters of what hub you want to open. For example, if you want to open a project record, you can begin typing "Pro..." and it will display all the areas with the word project in it.

And, with Vantagepoint 5.5, you'll find little stars next to each sub-menu and you can click to fill in the star and make it available in the favorite menu. To toggle between the favorites menu and the normal menu, use icons directly below the find application and above the menus. Find application is active no matter which icon is selected. See below for an example.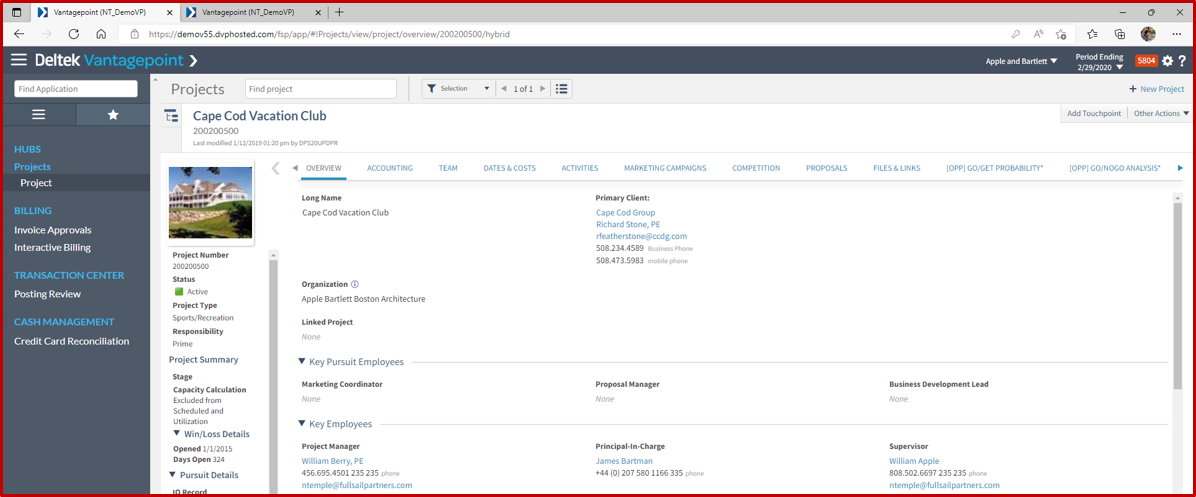 #2 – Personalize Vantagepoint in My Preferences
While the Deltek admin can configure the settings for the company, security roles, and even specific users, you can personalize some of the Vantagepoint experience just for you! By clicking on the gear in the top right corner, then selecting "My Preferences," there are some ways that you can personalize your experience. Some of those include:
Set your preferred project search sort order. You can choose to sort the project lists by Project Name or Project Number.

Choose whether you select saved searches or records when running a report.

Choose whether you want to default to an accounting period or be prompted to select an accounting period upon initial log-on to Vantagepoint.

If your firm has turned on the Contact Qualification settings, you can choose the default Qualified status as either New Lead or Qualified Lead.

You can set your default Country for all addresses in the system.

You can choose what you want to load initially when you log into Vantagepoint. Options include the Application last used, the default Welcome Page, or you can select a specific application.



#3 – Access Vantagepoint from Your Phone
This is often one of the most overlooked features of Vantagepoint – the mobile apps! Deltek has created two mobile apps specifically for Vantagepoint. One is for time and expense and one is specifically for CRM. Both are available for both iPhone and Android users. Stop what you're doing right now, open your phone, go to your app store, and then search and download at least the Deltek T&E for Vantagepoint.
The Deltek T&E for Vantagepoint allows you to complete and submit your timesheet on the go! And, with Vantagepoint 5.5, Deltek improved the navigation menu and usability to make completing your timesheet even easier. The T&E app also allows you to submit expenses from your phone too. It utilizes ICR so that you can snap a photo of a receipt and the app intelligently reads text and handwriting to populate the form using machine learning.
Please note that you'll need the CRM license to access the Deltek CRM for the Vantagepoint app. With this app, you'll be able to view, add and edit records including firms, contacts, projects, and activities. And, with Vantagepoint 5.5 or later, you can snap a photo of a business card, and using the same ICR technology, it will either add or update the contact information.
#4 – Don't Miss an Important Alert or Assignment
The notification center allows you to instantly see how many outstanding action items and notifications you have. You'll know you have an important notification when a red number appears in the top right corner of Vantagepoint. This notification center is organized by Action Items and Notifications. The Action Items area includes activities, approval assignments, and past-due timesheets. The Notifications area includes workflow notifications, alerts, and failed and completed process server jobs.

#5 – Use List View to See and Update Many Records at Once
Every Hub area in Vantagepoint has the ability to show one record at a time or multiple records at once using List View. No matter what Hub you're in, to toggle between record and list view, click the button with the three lines just to the right of the record numbers (see screenshot below).

When you go into List View, you'll see all of the records you have opened based on your search criteria. And, once you're in List View, you can do a few different things. Below are just a few of the list view functions.
Quickly sort and filter the records by clicking the little funnel icon on the right-hand side.

Choose which columns (or fields) you want to see in list view by clicking the gear just above the list of records

Update the information in each cell by clicking in it.

Download the records as they currently appear on the screen by clicking the down arrow just above the list of records.

Save the view

so you can apply it again or save different views based on the task for that session.

#6 – Stop Wasting Time Searching for Your Information
If you find yourself constantly looking for the same records or the same type of records over and over again, I encourage you to create a saved search. You can create saved searches for yourself or for others (based on your security settings) to quickly find the records you need. Some popular saved searches include:
Projects where I am the Project Manager (or Principal or Marketing Manager),

Contacts located in a certain city or state,

Clients where I am the client manager, and

Active pursuits which can be a list of projects in certain stages.
Watch this mini-demo to learn more about searching and saving frequently used searches.
#7 – Set Up Projects Faster Using Project Templates
With Deltek Vantagepoint, there are most likely going to be more people creating new project records. This includes marketing, business development, project managers, and accounting. This differs from other ERP systems, including Deltek's previous Vision system, where mostly finance or accounting open new projects. Because of Vantagepoint's streamlined project lifecycle, you only need to open one project record that will be used from pursuit to project delivery.
Make the project creation process faster and more consistent by utilizing project templates. When you create a project from either another project or a project template with a structure already determined, Vantagepoint will build that new project with that same structure and/or allow you to choose to edit the structure during the project creation process.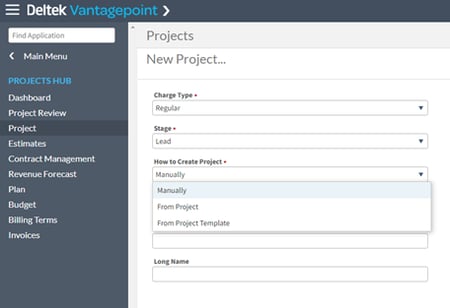 Through this process, you can choose the levels of the project that you want to use as well as add additional levels and edit values as needed before saving.
#8 – Use the Calendar to Complete Your Timesheet
If you're like me and find visual displays easier to read than line-item displays, then the Calendar is for you! The calendar feature is found under My Stuff and allows you to create, edit, and schedule events and activities as well as their associated tasks and timesheet entries. You can use the Calendar Timesheet Pane to add timesheet entries. In this view, you can see recent projects and upcoming assignments and drag these items to the calendar.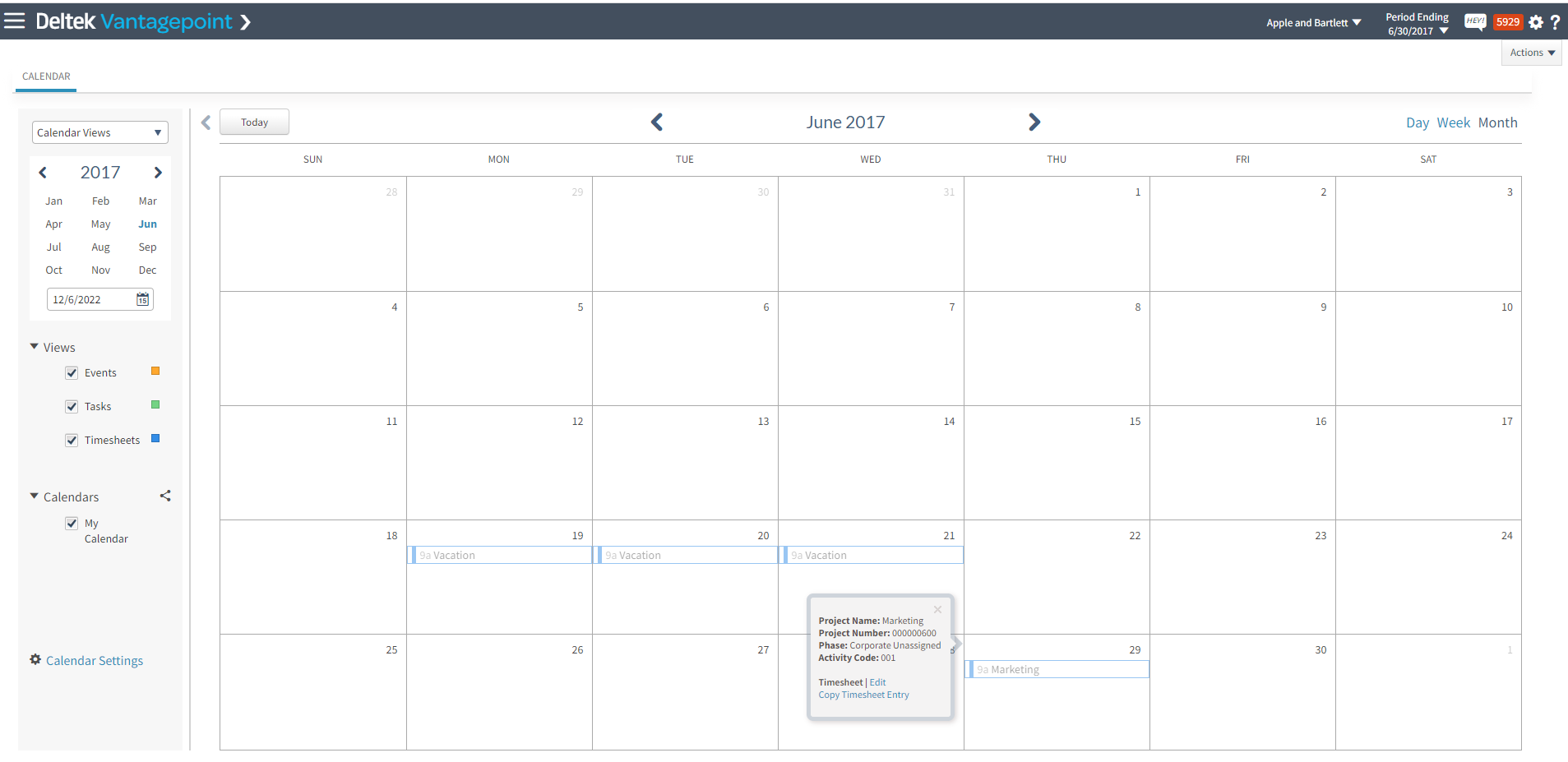 #9 – Share Vantagepoint Records Easily
Because Deltek Vantagepoint is a web browser-based application, each record or screen has its own URL that is specific to your Vantagepoint instance. You can save your Vantagepoint URLs to specific applications, Hubs, or records similar to how you save other favorite websites, or you can share them with your coworkers.
See the screenshot below, specifically the URL at the top of the image. I can copy and paste that URL link to send in a Teams Chat or email to one of my coworkers. When they click on the link, they will be prompted to log into Vantagepoint but then be taken directly to that project record.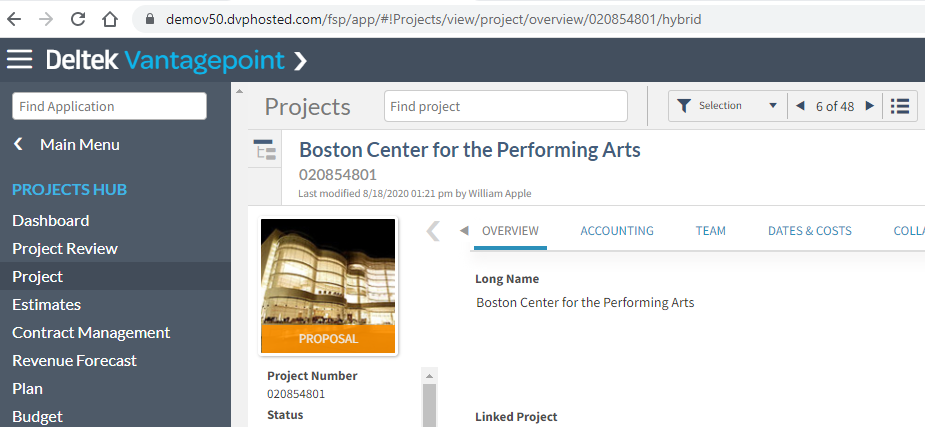 #10 – Get the Right Help, When You Need It
Another part of Deltek's reimagining was the help or support portal for Vantagepoint. No matter where you are in the system, you can click on the question mark in the top right corner and the Help options will change dynamically based on what Hub or application area you're currently in. The example below shows project-related information including links to Online Help, Learning Aids, Information Center, and more.

If you find yourself not knowing what a specific record or application does, what to do next, or if you want to learn more, make sure the next step is to click the question mark in the top right corner.
Do More with Deltek Vantagepoint
These are just 10 tips and tricks to help you get more value from Deltek Vantagepoint. To see these and others in action, please click the image below to view our mini-demo series – Powering Project Success with Deltek Vantagepoint. Each mini-demo is less than 15 minutes and will show you how Vantagepoint empowers the different roles in your firm.