For all businesses, earning a nice profit is the expected goal. Yet for some AE firms, stagnant earnings, increasing costs and expenses, low new client acquisition, and deteriorating workplace culture may have become the new normal. What was once a business bursting at the seams and barely able to take on more work, has now become complacent and satisfied with mediocrity. However, there is something that can be done to change the current course. Take a quick read through the following tips to help create ideas for ways to get started.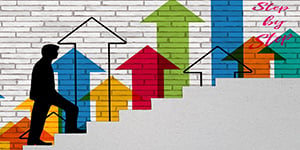 Create and Stick to a Plan
Get SMART and create a strategic business plan that provides clear direction and expected results. For some AE firms, this may be as simple as reviewing the existing plan and making updates to meet current business needs. In other cases, it may be best to scrap the existing plan and start over from scratch. Either way, a solid business plan needs to be reinforced with SMART goals.
SMART is an acronym that stands for Specific, Measurable, Achievable, Realistic, and Time-based. To create SMART goals, begin by thinking about the entire firm and decide how to designate areas of responsibility and determine expected results. It is likely easiest to start at the department level and then work down from there. Additionally, goals need to focus on the desired result and need to be high level while remaining specific. If there seems to be an excessive number of goals, it is likely that they are too granular and focused on task level items and not the desired result. Lastly, goals need to be measurable and incorporated with time-based milestones.
Get Friendly with the Firm Numbers
It's time to stop avoiding that uncomfortable relationship people seem to have with numbers. We are not all accountants. However, numbers can tell the ugly truth even when someone doesn't want to hear it. Like that one friend we all keep around that inevitably reminds us of what we are trying to avoid in an effort to minimize the realities of a situation. So, what numbers are important? All of them.
A good place to start is with cash flow. There's no way around it, businesses with limited cash reserves and low cash flow will inevitably shut down. Also, get friendly with the firm's overall net profit and the profit performance of the firm's projects. Keep in mind that great profits don't always equate to positive cash flow which is required to bill overhead expenses and salaries. Lastly, check the firm's credit score to make sure the firm can get a loan with favorable terms if cash flow becomes a temporary issue or new assets need to be purchased. Many firms are finding that a solid business intelligence solution provides the best insights into numbers. Learn more in this past webinar.
Embrace the Multi-Generation Workforce
Move over generation MTV, the kids are entering the workforce. Seriously, there are now four generations in the modern workforce. To put this into perspective, there are employees that remember sharing work computers, and there are employees that got their first personal computer at eight years old. To say the least, there are some differences in expectations when it comes to the way work gets done.
Sure, it's easiest to just say conform to our ways or else. But the reality is that the members of the younger generations are the leaders of the future. Therefore, it's important for firms to start adjusting to accommodate these differences. For help, check out this white paper.
Engage and Interact with Clients in More Ways
Welcome to the 21st century, where that must-have fancy technology is out of date before most of the world even knows that it exists. We are now in the digital era which has transformed the way we communicate and consume information. Now, we have personal computers in the form of mobile phones that mostly fit in our pockets. As a result, people have become accustomed to receiving notifications and obtaining information using these digital formats.
A lot, if not all AE firms, have websites, but some of these websites were created and last updated over a decade ago. Furthermore, even those firms that have a modern website still likely only have a small digital footprint. Therefore, AE firms need to evaluate their current digital marketing efforts to decide which areas need improvement. To help AE firms, Full Sail Partners is publishing a blog series titled "Driving Growth with Digital Marketing" that is specifically geared towards AEC companies. Find a listing for all the articles and signup for notifications about new articles and other content here.
Take Your AE Firm to the Next Level
Ready to improve your AE firm? Putting SMART Goals in place, confronting the inevitable numbers, accommodating workplace differences, and engaging in the digital era will move firms from stagnant to reinvigorated. These efforts will result in a visible positive impact. Additionally, Full Sail Partners can aid in identifying areas of opportunity for improvement via a Navigational Analysis. Use the link button below to contact us to learn more.