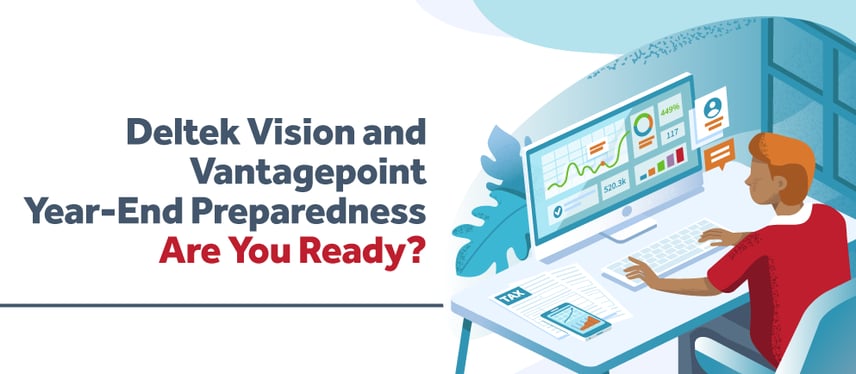 As we approach the end of 2023, there is no time like the present to prepare for the year-end close which marks the final accounting process to wrap up the fiscal year. Advanced planning and organization can significantly ease this process for your accounting team, assuring a seamless transition into the new year. In this blog, let's go over some of the most important items to help ensure a smooth transition to the new fiscal year in Deltek Vantagepoint and Vision.  
Document and Organize Your Procedures
Start by meticulously documenting your year-end procedures, encompassing not only tasks performed in Deltek Vantagepoint and Vision but all accounting functions. This comprehensive reference guide will not only assist your team this year but also in the years to come. Additionally, when creating your accounting calendar, ensure that it covers a wide spectrum of financial activities, not just limited to year-end tasks. This holistic approach is key to ensuring that all aspects of your financial management are well organized. It is also essential to share the accounting calendar with the entire staff so that they understand expectations. This is particularly necessary especially surrounding timesheet and expense report deadlines.
Common Year-End Tasks
Year-end tasks are crucial for maintaining financial integrity. Here are some common practices among professional services firms:
Reconcile All Cash Accounts: This crucial task ensures that your financial records accurately match your bank statements. It's a good practice to not only verify transactions but also check for any unusual or unexpected entries that might need adjustments.
Credit Card Reconciliations: In the digital age, credit card transactions are commonplace. Ensure that you capture all credit card transactions, making expense reporting a priority. An accurate representation of these expenses is vital for your financial health.
File Reconciliation Report: Regular monitoring is the key to catching discrepancies between your general ledger and subledger reports. A monthly check helps in identifying issues early, making year-end reconciliation smoother.
Final Invoicing: Efficiently processing all client invoices ensures that you're not leaving any revenue on the table. It's the last opportunity to capture income for the fiscal year.
Review Outstanding Accounts Receivables: Diligently following up with clients who have outstanding accounts receivable beyond 30 days can improve your cash flow. Sending past-due statements and making personal contact can expedite collection efforts.
Review Unbilled Detail: Properly addressing time and expense transactions that cannot be invoiced helps in accurately reflecting your financial position. Writing off these unbillable expenses is an important step to keep your records accurate.
Fixed Assets: Beyond the regular tasks, don't overlook the assessment of fixed assets. Verify their ownership and depreciation, making necessary adjustments. This action ensures that your balance sheet reflects the current state of your assets.
Employee Expenses and Accounts Payable: Ensuring that all accounts payable vouchers are recorded accurately is vital. Making contributions to retirement plans and paying vendors and employee expense reports promptly is also a best practice for year-end.
Notes Payable: Maintaining alignment between your balance sheet and lender statements is essential. This step can prevent errors or discrepancies in your financial statements.
1099 Forms: Ordering 1099 forms is just the beginning. Make certain that you have collected W-9 forms from vendors or contractors who met the $600 threshold during the year. Timely mailing of 1099 forms is important for compliance with tax regulations.
W-2s: If you handle payroll, don't forget to order and mail W-2 forms by the January 31st deadline. Timely distribution of these forms ensures that employees can file their taxes without delays.
Budget for Next Year: Setting up your general ledger budget for the upcoming year is a crucial financial planning step. It helps in aligning your financial goals with your operational strategy.
Be Prepared to Close Out the Year
Ensuring a smooth transition to the new fiscal year in Deltek Vantagepoint and Vision is an important part of the process. When opening the first period of your fiscal year, you're simultaneously launching the new fiscal year.
Several initialization utilities are required based on your professional services firm's accounting calendar including Open New Period, Open New Benefit Year, 1099 Initialization, and Open a New W-2 Quarter/year. It's important to follow through with these utilities meticulously. If your firm's database is configured for Multicompany, these utilities would have to be performed in each active company.
Be on the lookout for Deltek's Year-End update at the end of December, which contains tax updates for payroll users. Additionally, refer to Deltek's Vision and Vantagepoint Year-End guide for more detailed information on the year-end closing process. Planning and organization are key to ensuring a smooth year-end close and preparing for a successful start to the new fiscal year. With these additional tasks and tips, you'll be well-prepared for a seamless year-end transition and can confidently set your sights on the financial year ahead.