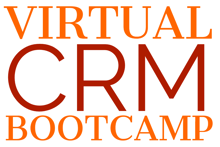 Last year, we conducted multiple CRM workshops throughout the US. We received such great feedback that we wanted to do it again. This year we are offering a virtual experience and it will be a "bootcamp" to get your CRM into shape. This bootcamp is focused on helping your firm discover how to better utilize your Deltek Vision CRM system. If you are considering attending but aren't sure if the bootcamp is right for you, here are some key reasons to attend.
Native State of CRM -

Many attendees remarked that it was great to see what Deltek looked like before their firm customized it. Many of our attendees did not realize how much their system had been changed by past employees. That insight provided them a baseline of what changes had been made allowing them to rethink some of the custom fields previously added. Now is the perfect time to understand the original form of your system and reevaluate processes prior to upgrading to Deltek Vantagepoint.

Hands-On

- Although delivered in a virtual format, each session will be hands-on and interactive. Users will be given access to a Deltek Vision CRM database to follow along with the presenter during each session. Each bootcamp series is limited to only 20 people to allow for maximum participation and engagement. Each attendee will learn how to better utilize and configure a Deltek Vision CRM system and set-up useful reporting metrics for agile decision making.




Expand Your Thinking

– For best results, firm attendees would include someone who is leading the CRM strategy and someone who is responsible for implementing the strategy. Although this

bootcamp

focuses on the fundamentals, it also will teach

how to define strategies that will help you better recognize and manage client, contact, and partner touchpoints. The best CRM system works in combination with accounting.




Adequate Time for Questions

– With this year's workshop split into four two-hour sessions, attendees will have even more time to play with their sample database and come back with questions. The workshop was already designed to allow plenty of time for this. With the new format, we anticipate even more in-depth and insightful discussions and questions.
What Did Past Attendees Think?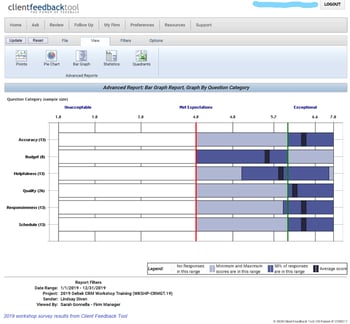 Following the 2019 workshop series, 56.5% of attendees responded to a request for their feedback. Of those that responded, ALL felt the workshop met or exceeded their expectations. Accuracy, Responsiveness, and Schedule received the highest response rate. Each of them received an average of 6.3, which means the workshop exceeded expectations, based on the Client Feedback response rate. Attendees were asked these questions:
How clearly and accurately was the information presented?

How well did the agenda, pace and length of the presentation align with the time allotted for it?

How well did we respond to questions brought up in the presentation?
Here are some comments from some attendees:
"Lindsay is an excellent presenter and her ability to relate the BD/Marketing aspect to the accounting and overall business functions was invaluable." - Siobhan Turner, Marketing Director at Bentley Architects & Engineers, Inc.

"Lindsay was patient and clear in all her explanations. Very happy I took the day and attended the course. It really made me see the total potential of the software and our next steps." - Alfred Lurigados, Sr. Vice President, BCC Engineering, Inc.

"The workshop was complete with easy-to-follow slides and thorough explanations.The presentation met my objectives. I set out to get a better understanding of CRM and how it fits into the rest of Vision and this presentation did that. Lindsay is a great presenter and I felt I took some things away from the workshop that I did not previously know." - Karl Lundmark, Database Administrator at Gas Transmission Systems, Inc. (GTS)
Bonus Bootcamp Workbook
All participants will receive a workbook used to not only implement what they learned at the bootcamp but also enhance their use of Deltek Vision CRM. This workbook includes: 1. Discussion Starters; 2. CRM Readiness Checklist; 3. Best Practices Tips; 4. Top 10 CRM Tips & Tricks; and 5. Preparing for Vantagepoint.
Be sure to visit our website to sign up for our virtual CRM bootcamp. It is definitely worth the small registration fee. Hope to "see" you there!