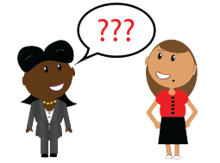 Your clients need you to be successful. Think about it – would the alternative be a great experience for them? Relationships in the professional services industry are interesting animals that need specific care and feeding to fully develop. It's not easy, and I certainly don't claim to have it all figured out. However, you can be certain that your client relationships are getting stronger when asking hard questions doesn't seem so nerve-racking. So, when the relationship IS there, you can ask almost anything. Here are a few questions that come to mind – and please paraphrase if using them in client discussions.
Are you REALLY ready to commit funding for professional help?
Mama always said, "Don't talk about your money," and per Kenny Rogers, "You never count your money while you're sittin' at the table." While money is a very sensitive topic, we know from economics class, that business transactions involve the exchange of goods or services for compensation. Without the compensation part, it's no longer a business transaction. In that context, we must recognize both the sensitivity AND the importance of money in our client relationships. We can treat it carefully, but we certainly can't shove it under a mattress. Sorry, Mama.
Some potential clients truly aren't ready to pay for your help. And that's OK! Regardless of the reason, you can still give those prospects a wonderful experience. Getting to know your firm and helping them understand the value you bring with your paid expertise offers the chance to keep in touch for future initiatives/challenges/projects.
When the timing and value equation IS a match, keeping your client projects and relationships in good financial health is imperative for all parties involved. The client has expectations about your service delivery and outcomes, and your firm has expectations about meeting its cost obligations and returns on the owners' equity. Getting that value equation right will reward your clients AND your firm.
How can we best serve you in conjunction with your internal resources?
Part of the mystique of developing business in professional services is finding the right match between the client's ongoing business challenges and "how much" of your expertise to throw at them. We've all been in those situations where the outcome felt like we did too little/too much. Most professionals in their area of practice, of course, are pretty good at assessing whether clients have [no/some/significant] internal expertise of their own. Whatever the case, we can't just assume no expertise, or worse, stop the pursuit because they seem to have more experts than we do.
Figuring out where and how your firm's knowledge and capabilities fit in is crucial! You'll find the need to address this balance in all kinds of professional disciplines – the built environment, accounting, legal, information technology, and many more. One example might be when your client must manage the replacement of a key employee whose role is involved in your area of expertise.
Your engagement with this client might be more focused and short-term, but if you are able to strategically line up a handful of clients who consider you "first call" for that situation, the experience can be very rewarding. Some clients choose to not maintain a certain expertise on payroll. The outside professional may desire an expanding scope, but he or she should still proceed cautiously to make sure there is clarity with the client's reasoning and expectations of our delivery. As you've heard many times, seek to understand before needing to be understood.
What outcomes from our work would cause you to laud us among your closest peers?
This question is more common, and maybe even more uncomfortable, but very important. The professional's best client development tools are the references, referrals, and introductions from other extremely satisfied clients. While it's helpful to promote the "50 times we've done that before on other projects," it's preferable to have a solid group of existing clients who will happily describe HOW you did it for them.
Having cheerleaders for your awesomeness are indispensable. Yet, professionals often struggle with the challenging work of developing a process to nurture, catalogue and leverage them. Starting with the important questions will help. Remember, your clients are also motivated to see successful outcomes from your work together.
Ask, Ask Away
You can probably come up with other important questions that you wish had been asked earlier in certain client relationships. Like with most skills, practice makes perfect. Think of several of your best existing clients and seek their input on how to address the tough topics in new relationships. They'll likely be honored to help, and you'll be making that relationship even stronger.