In a perfect world for project-based firms, as soon as a task is performed for a client, money would appear in the firm's bank account. After all, the firm is contracted to provide services for a fee, and services were performed. End of story, right?
Well, my bad! In the real world, that performance of services requires a good bit of help along the way, in order to get that payment in the bank. So, the story needs to expand a little to reach this ideal end game. That's when having and implementing a good accounting calendar becomes a necessity. This routine cadence of work and accounting functions helps firms be able to rely on a regular schedule of deposits for work performed.
A Good Accounting Calendar is a Necessity
Over the past 30 years, I have worn many hats and filled many roles involved in every step of the revenue process, including being a manager and being managed. I have learned that one of the greatest necessities is a good "Accounting Calendar" because it is essential to control the process and to have a schedule for the activities involved. Furthermore, for this to work, there must be planning, knowledge and "buy-in" by every level and department in the company from executive to "boots on the ground." There also must be an individual overseeing the activities. That responsibility generally falls within the duties of the controller.
Venturing back to my "perfect world," or a reasonable facsimile thereof, if professional services firms setup and work within a good accounting calendar, they can achieve success, lower overhead, reduce billing time and collect payment for services quickly. Moreover, getting the team to follow a schedule is not a "dream." It can, has been and is being done every day.
Overview of the Evolution of Revenue
Below is what I call the "Evolution of Revenue." It walks through from when the work has been performed through money in the bank. The evolution steps include:
Performed Services = Unrecorded Time

Recorded Time = Unapproved Time

Approved Time = Unrecognized Revenue

Recognized Revenue = Unbilled Revenue

Billed Revenue = Uncollected Revenue

Collected Revenue = Money in the Bank

Money in the Bank = Gives the firm options for expansion and compensation… and that's a whole other story!
As the "Evolution of Revenue" shows above, it all starts with work being performed and work being recorded. The first tool to be used is a weekly timesheet. Why weekly, you may ask? Weeks don't coincide with months or years, and firms publish monthly, quarterly, and annually! Granted, but firms are talking about scheduling, efficiency and supervision, therefore, weekly timesheets work the best. Believe me, I have tried them all, and firms can still publish monthly financials. So, let's look at a sample schedule based on the weekly timesheet:
Work Week

is Monday through Sunday.

All time is to be recorded daily

. This provides the project manager the opportunity to review, approve and report on work as it is performed – up to the minute budget vs. actual.

Monday -

All time for the previous week must be inputted and submitted for approval by noon on Monday.

Noon on Tuesday -

The project manager and managerial review of time

must be completed by noon on Tuesday.

Close of Business Tuesday -

The accounting and human resources review for overhead, benefits, OT, etc. must be completed by close of business on Tuesday.

Wednesday Morning -

Time is posted Tuesday afternoon or Wednesday morning.
So now the firm has time in and posted each week. What then? Well, for one thing, if the firm is using Revenue Recognition – which it should be – it can publish Revenue figures for the previous week on Wednesday morning, along with Employee Utilization figures and Project Management Reports.
Next Steps in the Evolution
So far, we have covered the first four steps in the Evolution and moved from Performed Services to Unbilled Revenue. Given that, let's fast forward to Month-End where the Revenue evolves from Unbilled to Billed. Let's review a couple of thoughts surrounding managing receivables.
Let's make the following assumptions:
The billing month-end is the last Friday of the month.

The accounting month end is the last day of the month.

Preferred payroll is bi-weekly.
Below is a sample of how this schedule lays out on a calendar in Q1 of 2022, spanning 2 weeks and 10 business days. This model has been used successfully with the buy in of project management, billing and accounting and provides principals with revenue by week and for the month on the Wednesday following the last Friday of the month.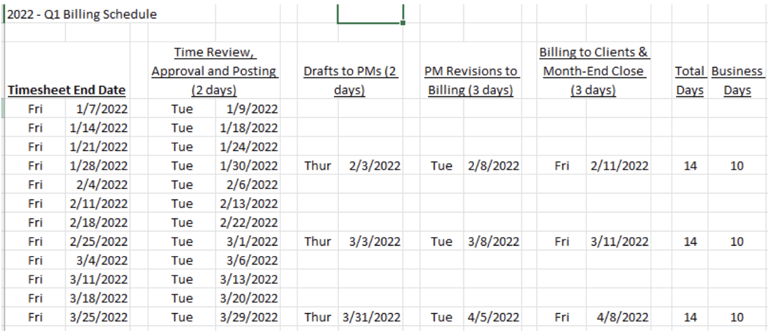 Once the invoices have gone out, the responsibilities for follow-up vary by client and role. For clients that are being billed for the first time, the billing department follows up three days after bills are emailed to ensure that the proper individual received the invoice and to see if there are any changes that need to be made to the delivery instructions. For existing clients, billing is responsible for follow-up on accounts receivable (AR) up to 60 days past due, project management is responsible for AR up to 120 days and departmental management gets involved after that. All responsible parties receive auto-generated AR emails weekly so that all are on the same page as to who is on task.
Optimize the Accounting Calendar to Realize the Dream
As John Lennon once said, "You may say I'm a dreamer, but I'm not the only one." Having a solid billing and accounting calendar is not a dream, it is a necessary and doable reality. Every firm has a plan and the thing that generally separates the dream from the reality is taking on the responsibility of enforcing the schedule and the deadlines. No one should be exempted from completing their assigned tasks at the time.
Click the image below to find more accounting and finance resources.