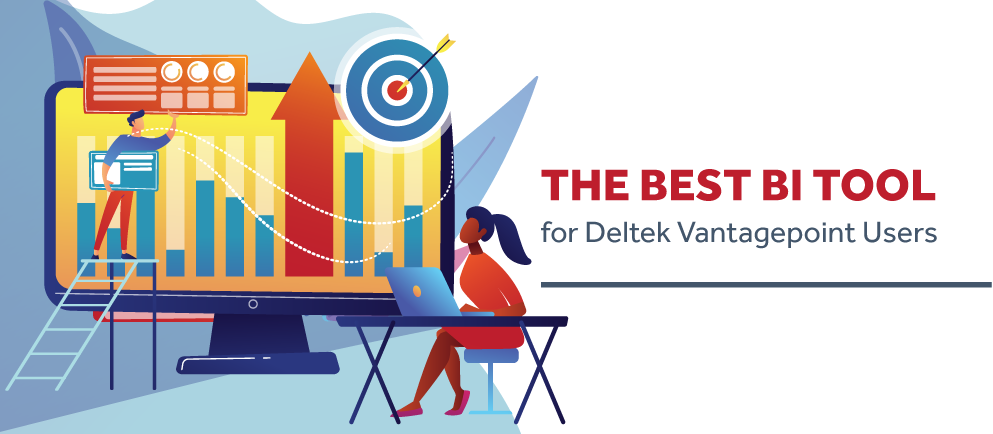 One of the topics that keeps arising from the Deltek user base is utilizing business intelligence (BI) tools. Firms are seeking out BI tools for different reasons, but all are looking to provide further analysis and visibility to employees within the firm. Some of the key products firms are investigating include Power BI to Tableau to Informer. So, what is the best BI tool for Deltek Vantagepoint users? Let's dive in and discuss why firms are searching out BI tools and discuss what we have found to be the best solution.
Clients Want More
The Deltek Vantagepoint product is robust and provides many out-of-the-box visuals and dashboards, but there are some further capabilities that require users to turn to a BI tool. Some of the most common features include:
Report upon any table or field not just pre-selected datasets

Create visuals combining different hubs or tables (For example, Project and GL Reports)

Enhance drilldown capabilities from a visual

Combine outside data from payroll, marketing solutions, etc.

Track against goals, KPIs, and industry benchmarks
Why Entrinsik Informer Stands Out Amongst Other Business Intelligence Solutions
Out-of-the-Box Standards – No more starting from scratch and spending months and even years building out something that could be available to you day one. Our team has built what we call the gold standard, a starting point for project-based firms. On the first meeting, our team will show you how your data looks in our out-of-the-box datasets, visuals and dashboards. We will then work with your team to tweak datasets to your definitions and work with you to validate the data. Our gold standard includes visuals from the executive down to the employee and every role in between.

Reduce Burden on IT – Deploying a BI tool can be cumbersome for technology teams. Our streamlined approach to deploy a BI solution saves time and resources. Most tools require in-depth database programming skillsets, such as SQL. One of the key benefits of Entrinsik Informer is its intuitive and user-friendly capabilities, including dataset and visual design. Informer also scales to meet the needs of organizations as they grow and evolve, so companies do not have to sweat about the future.

Integrated Security with Deltek Vantagepoint  – Informer utilizes the same security protocols utilized with your Deltek product streamlining the login process. A key advantage is user security data can be assigned in Deltek. As an example, when users are disabled within your Deltek product, they are also disabled within Informer.


Drilldown Capabilities is Built-in  – Informer offers built-in drilldowns to transactional data on visuals. The drilldowns are automatically configured on visuals. In other BI tools, it is just another thing you have to design, but not in Informer.


Cloud Compatible  – Deltek users in the cloud need not worry. Another benefit of Entrinsik Informer is that it is Deltek cloud compatible by using FLEX direct database access.

Combine Outside Data  – Users can combine multiple outside data sources. For example, firms can bring in payroll data or other third-party solution data for further analysis.

Send Reports and Alerts Based on Conditions  – Informer allows users to tap into their data and email certain filtered views to internal or external recipients. Emails and alerts can be scheduled on any conditional criteria. For example, as Project Managers utilize 80% of their budget, an email can be sent with a link to their dashboard and a breakdown of time on their project.

Schedule Data Updates On-Demand – Users can schedule data to be refreshed on-demand or at specific time intervals. Datasets can also be scheduled at separate intervals. Some BI tools lack this flexibility, and all data is refreshed at one time. For example, opportunities may be updated every two hours, projects updated nightly, and income statements updated monthly after postings.

Mobile Accessibility – Dashboards can be viewed on-the-go on any mobile device. One of the key differentiators between Entrinsik Informer and other BI tools is its drilldown capability. Informer content is automatically configured for mobile viewing without any additional development.

Easily Create Firm Documents – Informer is designed to be user-friendly and easy to use, even for those without technical expertise. With Informer templates, firms can automate manual form and template creation with ease. Examples include firm invoices, fee proposals, custom reports, and more. Templates are highly customizable and won't break when Deltek Vision or Vantagepoint is updated, allowing the template to be used well into the future.
See Informer in Action
Entrinsik Informer provides a combination of ease of use, customization, integration, speed, affordability, and scalability that sets it apart from other business intelligence tools on the market. If you are ready to see more, we recommend checking out this previously presented demonstration webinar to see highlights of the capabilities of the product. Power BI, Tableau, and Informer each offer unique features, but our clients believe Deltek users will find Informer to be the best business intelligence tool option. Click the image below to watch our webinar providing a more in-depth analysis of the capabilities of each of these products and learn what the future holds for BI tools.