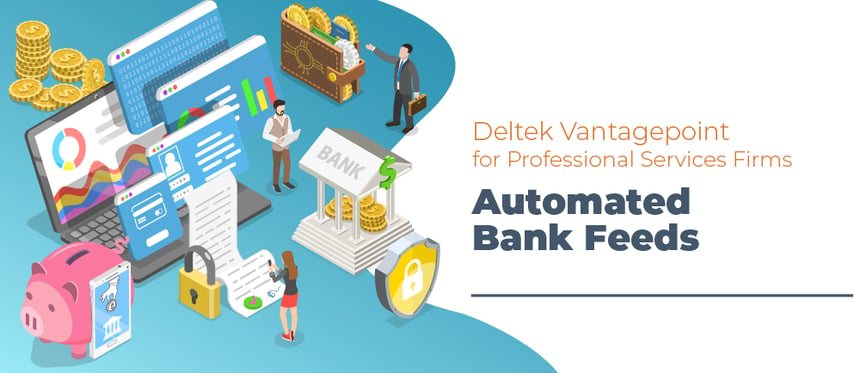 Most likely of great interest to Vantagepoint users is that Deltek is continuing to roll out rapid enhancements to Vantagepoint in order to drive purposeful innovation and efficiency. One of the latest improvements being made possible is by a new partnership and integration with Plaid. This integration with Plaid offers professional services firms the ability to automate the update of transactions in Bank Reconciliation in Vantagepoint. Well, what is this all about, and how can professional services firms make this happen?
About Plaid
Plaid powers thousands of financial apps and this convenient integration will allow professional services firms to connect their banks to Deltek Vantagepoint in a secure way. With Plaid, firms can control whom their data is shared with and for how long. Additionally, whenever firms use a Plaid-powered app, their security is of the utmost importance meeting or exceeding industry standards.
Bye-Bye Manual Entry
Most Deltek Vision clients were already aware of the ability to manually upload a file from their bank to import bank transactions. The key word here, being MANUAL. Now check out the good news - with Deltek's latest release of Vantagepoint, that process has now been vastly improved with automated bank feeds. That's right! No more manual import is required. The integration currently supports over 11,000 banks across North America, with more being added regularly. As of the Vantagepoint 5.0 release, this integration is available to both on-premise and Deltek Cloud clients. There is no separate purchase or licensing required.  
Instead of the more time-consuming, manually administered import process, a professional services firm's latest bank transactions are seamlessly imported into the accounting system. After import, they are reflected in the Bank Reconciliation record. It is then taken a step further by automatically matching imported records to posted payments and cash receipts.
Setup Using the Plaid Assistant
Most Deltek Vantagepoint clients can get started with this convenient solution today. They will first need to connect their supported bank within Vantagepoint settings (Settings > Cash Management > Banks). From there, that process will guide them through selecting their bank, logging in using their existing bank credentials, and then selecting the account that they want to connect to all using the Plaid setup assistant.
If their banks require multi-factor authentication or OAuth, the process will be similar, while still incorporating those additional security steps to enter needed credentials. For step-by-step instructions, professional services firms can reference this video, or the relevant Deltek Vantagepoint help file.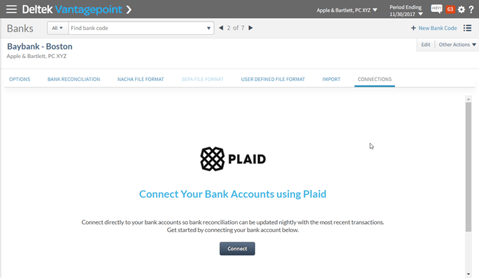 After the connection is established, transactions which have cleared a professional services firm's bank will automatically feed into Deltek Vantagepoint Bank Reconciliation on a nightly basis. System administrators can change the date on which Vantagepoint starts the daily transaction import into Bank Reconciliation in addition to the time of day that the import is run. Firms also have the flexibility to manually refresh transactions through the day.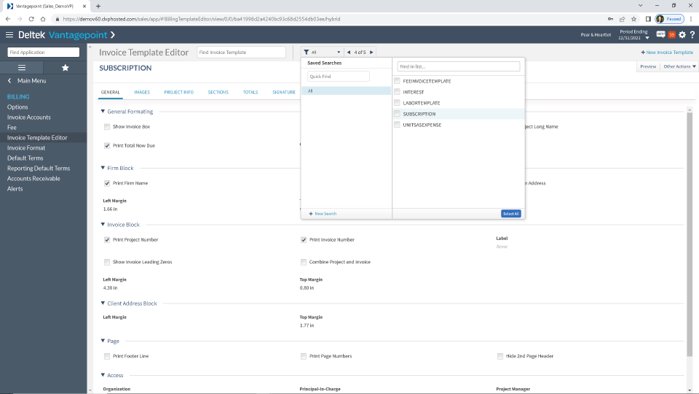 Need More Help with Bank Feed?
If there is ever an error related to a firm's bank connection with Plaid, there are some messages now displayed in Vantagepoint to help with troubleshooting. Firms should note the IDs and let Deltek customer care know. Here are some common scenarios that have been dealt with already.

Streamlined Bank Reconciliation
Professional services firms using Deltek Vantagepoint now really have it made in the shade. With the Plaid integration and ensuing automatic bank feeds, bank reconciliation has become even more streamlined. Without the need for manual downloads, firms now have much more time to manage other financial matters, ensuring improved efficiency. Firms should get started with this latest enhancement today!
Click the image below to learn about how Deltek Vantagepoint powers project-based firms.