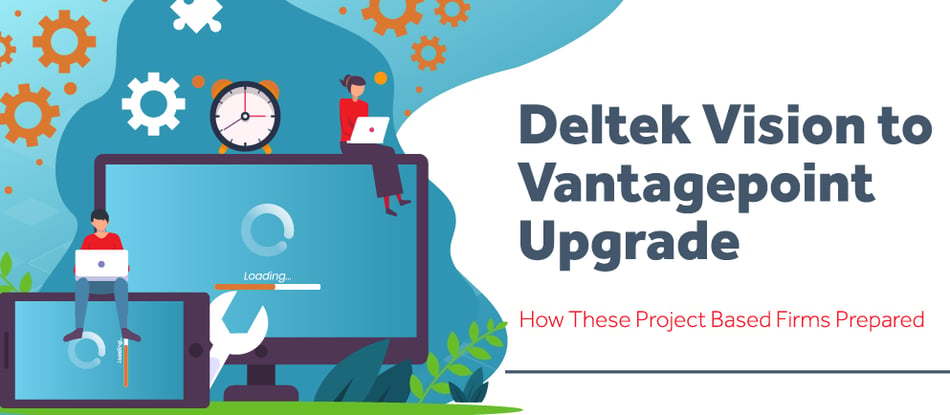 Just how was the Deltek Vision to Vantagepoint upgrade for project-based firms? As consultants, Full Sail Partners can speculate on how the process will be for firms but feel it's better coming from the clients who have been through it.
This article is the first in a three-part series where clients, in different stages of their upgrade journey, share different aspects including how to prepare for the upgrade, the Vantagepoint features that are most liked by users, and best practices that other firms can use as they upgrade. Hear from clients who work at small, medium, and large professional services firms throughout the series.
Featured Clients
The clients that are featured in this series are a mix of small, medium, and large firms. Also highlighted are specific contacts who serve in different roles within their firms. They each were in a different phase of the upgrade process when we met with them. The clients providing their feedback include the following:
Argus Consulting, Inc. 
Nancy Smith, Project Controls
Karen Pattison, Controller 
CSHQA
Andrea Kier, Business Development 
RIOS
Jessamyn Davis, Chief Operating Officer
Structural Integrity Associates, Inc.
Paul Arnone, Applications Support Manager
Ware Malcomb
Brad Mathias, Director, Financial Planning & Analysis
When Should Our Firm Upgrade to Deltek Vantagepoint?
A common question that Full Sail Partners gets asked by clients is when their firm should upgrade to Deltek Vantagepoint. Here are a few perspectives from Deltek clients.
Jessamyn – We first learned about Vantagepoint and how it is a vast improvement to Vision at the Deltek conference a few years ago when it was in Florida. It was then that I realized that we needed to get on a path to upgrade. But for us, the question about when the upgrade would take place was when Vantagepoint had enough functionality to make it worthwhile, and we made the upgrade in March 2021 after working with Full Sail Partners for about four to five months to prepare.
Karen – We started looking at Vantagepoint about three years ago at the Deltek Insight [now ProjectCon] conference. Similar to Jessamyn, we were waiting for more functionality, especially with the accounting features. We got serious about the upgrade process in 2021 and that is when I selected Nancy to be the project manager for this effort.
Andrea – We decided that because Vantagepoint had been out for a while already, the major kinks were worked out. So, our firm made the decision to move forward.
Paul – The upgrade was on our radar beginning the spring of 2020 and by that summer we had a test environment set up. We had established a task force and were meeting regularly, mostly weekly, to get the Vantagepoint preview environment set up the way we wanted it. However, things got put on hold when we decided to wait for newer features to be added to Vantagepoint.
Brad – We were in a very similar situation to Paul, waiting for the features that we needed to be available in Vantagepoint. We utilized Full Sail Partners' Vantagepoint Readiness Report to identify all the things that we needed to pay attention to. We were originally supposed to go live in April 2021 but based on that report we had a massive data issue that we needed to clean up. We decided to focus on that before the upgrade. We also decided to bring CRM into Vantagepoint after using another CRM system for a couple of years. So that combined with the data cleanup has delayed our upgrade a bit.
Who Was Involved in the Upgrade Process?
Once the firms decided it was time to begin upgrading to Vantagepoint, the next step was to determine who in the firm and other outside resources, if any, to involve in this effort.
Nancy – We established a core team with a representative from each user group. My recommendation would be for each of those people to be positive and tech-savvy.
Andrea – We have three accounting people and three marketing people. Vision wasn't widely used by a lot of people at our firm. It was seen as more of an accounting tool and the upgrade to Vantagepoint was seen as a marketing thing because it was very CRM-focused. I would agree with Nancy to have a representative from each user group because having only accounting and marketing limited our transition to just the training on the CRM and accounting aspects. Because we were the only ones involved, we were the champions and were the people who could ask questions. So, I think the level to which our staff embraces Vantagepoint would have been boosted more if we had had project managers and principals as part of the core team involved from the beginning.
I think our challenge is that the project managers and principals did not really use Vision before. So having them on the transition team did not really make any sense for us. However, I would recommend that if you can include them, that do you include them, especially if you are creating new processes. We basically took this opportunity to start over and do a lot of new stuff that we never really did before. So having users be able to contribute to those new processes and provide additional insight would have been even more helpful for us.
I have been involved in migrations and upgrades in other past positions outside the AEC industry. I have seen a number of times when you do not involve the right people, you end up with this giant mess afterward. Then it takes a lot more time and money to fix and you end up getting frustrated and burnt out.
So, I would recommend involving a small group but trying to get equal representation from different user roles.
Paul – Over at Structural Integrity, we established a task force of about 15 people representing all the different departments. We tried to identify all the processes in Vision that we have now. Then the goal was to make all those same processes continue to work in Vantagepoint.
Brad – This upgrade was handled a little bit differently than what we did for the last upgrade in Vision. The upgrade when we went from the earlier Vision version to Vision 7.6 was a heavy lifting exercise that we did all by ourselves.
Like a lot of companies, marketing is a very powerful piece of your operation, and marketers tend to have their own tools and software that gets connected to Vision. Part of the exercise this time was bringing marketing into Vantagepoint which brought in a whole new team and a whole lot more mojo. If you can find a way to embrace Vantagepoint as an option for CRM, in addition to your backbone of accounting, you are going to get a lot more attention and a lot more buy-in. That is what I can suggest – having marketing and accounting being on the same team and working on the same initiative was refreshing.
Jessamyn – We had a core team that was our project accountants and our project planner because we use resource planning heavily. Since we also use CRM, we also had three people from our marketing team. We held some workshops with our project planners and project managers to understand what they would like to see out of dashboards and what they felt they were not getting now. We did not include them on our core team, and I think that was for the best. We delivered Vantagepoint to the project managers as a finished product rather than including them in the "making of the sausage." I think it went really well. I think it was very successful, and then we did a lot of training when we went live.
What Resources or Support Did You Need for the Upgrade?
Having helped over 200 firms make the upgrade from Vision to Vantagepoint, Full Sail Partners understands that there can be different levels of support and resources that firms need. This can be due to the unique modules or features which the firm uses or to the amount of customization the firm has built into Vision. Hear from a few clients about what resources and/or support they utilized, if any, to make the upgrade.
Brad – There was no way we could do this upgrade on our own. We are a large firm with over 600 employees. Accounting, marketing and HR, plus our support teams, are always understaffed. We also have customized Vision quite a bit. It would be very difficult for us to make any type of upgrade alone. We utilized the Vantagepoint Readiness Report and help from Full Sail Partners because of this.
Jessamyn – The Vantagepoint Readiness Report shows you the exceptions or areas in your system where something is going to throw back a problem. Things like duplicate records for vendors and clients, project plans that have something wrong with them or all the customized reports and when the last time they were used - All these types of information. The first time we ran the report, it was overwhelming because we had years of data that had probably never been cleaned. We had two interns work full-time for four months cleaning up the data. Then we ran the report again and just kept doing that until we felt like we were at a manageable place.
Andrea – We set up significant training time beforehand. We really didn't understand Vision very well, and we didn't use it in the way that it was designed to be used. We had years of different processes and data with different people in and out who decided they wanted to do something one way, and there wasn't global communication. So, we had a lot of training before the upgrade. I was focused on the CRM stuff. I worked with the CRM specialists at Full Sail Partners for a while because we really needed to transform how we use the database. I wanted to make sure that I understood the logic behind how the system was supposed to work. If your organization is really organized, you have clean data, and you've got someone who has time to lead the efforts, then it's totally possible to do this on your own. Yet even with the skills and having a strong foundation that would normally make this kind of transition seamless, it was helpful and time-saving (which can also be money saving) to have a team of Full Sail Partners' people to help us.
Just looking at the Readiness Report can be overwhelming. You realize that maybe the data is not as good as you thought. You spend a lot of time on that cleanup, and with so much time you are investing, you want to get it right. So having a team of experienced people to help guide us through was definitely useful for us.
Paul – We are a firm of about 300 people, and I cannot imagine going through this on our own without the help of a company like Full Sail Partners. I have worked with Full Sail Partners in the past on several different customizations and we have always been happy with them. When Vantagepoint got on our radar, it just seemed like a great fit to just work with them and use the tools to help make this upgrade an easier process.
Karen – I would highly recommend getting support. There is just no way we could have upgraded on our own even though we are only a 70-person firm. We needed the help of Full Sail Partners. We have used them a lot. We get all our questions put together. Then Nancy and I worked with a Full Sail Partners' consultant to help us answer the questions. There are a lot of things that we just would not be able to figure out on our own to make this happen in our timeframe.
Hear More from Your Peers
This article is the first in this series where different project-based firms share their Deltek Vision to Vantagepoint upgrade experience. Future articles will include topics like the favorite Vantagepoint features of users and upgrade best practices.
To learn more about upgrading to Deltek Vantagepoint visit the page linked below.