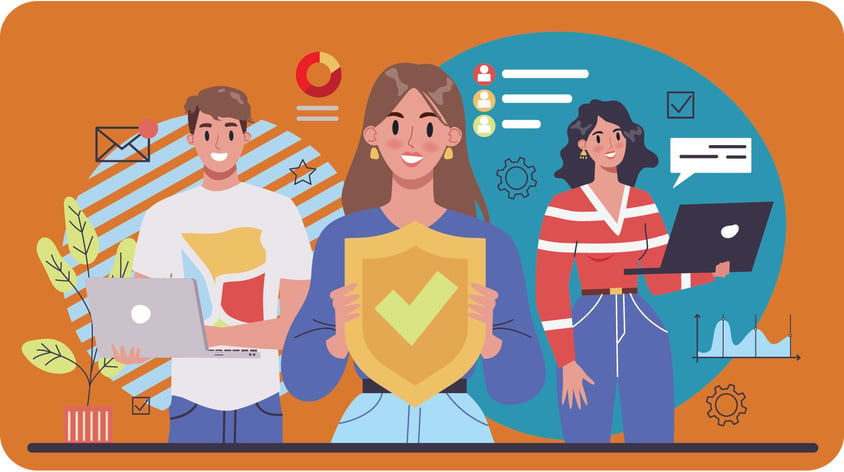 It may be a new year, but 2022 comes with a similar vibe as 2021 still dealing with the impact of a pandemic and the shifting workplace as a result. Change begets change, and successful professional services firms have had to go with the times in order to stay competitive with others in their industry. With this in mind, let's take a look at some of the workplace trends for professional services firms in 2022.
Work Culture
The pandemic has most professional services firms evaluating their work culture and figuring out how to adjust their practices and policies to accommodate the necessary changes but not compromise the foundation of its culture. As leaders, it's important to have a clear understanding of what the company culture is and how this culture is perceived by employees. To attract and retain the best employees, the workplace culture needs to be attractive itself. In other words, it should be a win/win for all.
Hybrid and Remote Workplace
It is a fact that technology will be a constant part of the workplace culture going forward with online portals and systems in the cloud. Working remotely, which became a necessity during the pandemic, has become a trend that is likely to continue even when the pandemic is over. The hybrid work environment where time is split between home and office has become a shift in the workplace of today which HR will have to continue to manage.
Autonomy
Flexibility has become one of the most desired attributes of any company considered a "Great Place to Work". It is not exclusive to the option of working remotely or in the office, but it extends to the workday structure. Set work hours are becoming a thing of the past and quality is valued over quantity. A professional services firm's success with embracing autonomy boils down to trust with leadership trusting the employees to meet expectations and goals without the rigid structure of the past as well as employees feeling assured that they are worthy of that trust.
Prioritizing Employee Mental and Emotional Health
Leadership empathy is necessary to sustain loyalty throughout a professional services firm, therefore, these organizations are prioritizing employee mental and emotional health needs. With a hybrid and remote workplace, employers are finding creative ways to promote reconnection and engagement among employees. Also, benefit plans, EAP programs and policies on PTO are being evaluated to provide employees with support during these changing and uncertain times.
Multigenerational Workforce
Additionally, in most professional services firms, there is a multigenerational workforce to take into consideration. These different employees are working side by side on the same teams and the culture needs to understand and reflect their unique expectations. The newer generations of workers have different priorities for their workplace and their career. Their expectations are more flexible schedules, more regular feedback on performance from managers and more collaboration on projects. HR and leadership must provide continuous performance management to acknowledge high performance and provide incentives to remain on staff.
Reskilling and Upskilling
With talent shortages being a reality, professional services firms will be focusing on other ways to meet the firm's organizational needs. Options such as reskilling and upskilling the workforce help firms with filling in the gaps. Reskilling is when new skills are developed from an expiring skill set that is no longer in demand. Upskilling is building upon current skills to enhance or add adjacent ones.
To do so, HR and leadership will be evaluating and revising the firm's learning and development offerings. "Learning in the flow of work," a phrase coined by Josh Bersin, Global Industry Analyst, has been gaining attention. Using this method, employees will access small pieces of knowledge to help solve skills-related matters that happen at work. This way, employees can learn as they work at their own pace, and using a turn-key Learning Management System (LMS), they can have access to content on demand.
Outsourcing HR
HR roles have become a lot more complicated over the years with technological advances such as online employee portals and cloud-based management of employee activities. To be more efficient, it has made sense to make the change toward outsourcing the HR functions to specific professionals that have the needed expertise. According to FinancesOnline, research has found that by 2024 the global market for human resource outsourcing is expected to reach $43.8 billion.
Outsourcing certain necessary HR functions will handle the burdensome administrative responsibilities of HR in professional services firms. These firms will not outsource all HR functions though. There still needs to be internal HR departments to manage employee relations issues and the other human elements of the firm.
Diversity
Although not a new goal for professional services firms, there will be renewed HR effort to recruit and retain a diverse workforce including more workers of varying genders, races and nationalities. Bias in the hiring process is a well-known and widespread problem, however, even with the best of intentions, these biases can impact sourcing and recruiting decisions outside of the awareness of the recruiter.
Again, technology provides a solution to the issue of creating more diversity in the workplace. Using Artificial Intelligence (AI), candidates can be sourced and screened objectively. AI recruiting software can even be programmed to ignore demographic information and socioeconomic status. Even more, human recruiters will be able to save time by allowing the AI to do the redundant screening work for them. When the bias is removed from recruiting, a more diverse workforce will prevail in professional services firms.
Diversity awareness is not only addressed with increasing the number of professional services firms' employees with varying backgrounds and beliefs. Also pertinent to this awareness is the implementation of training, programs, practices and policies which encourage knowledge, education, recognition, effective communication, sensitivity and accountability in a diverse workplace.
Differentiation & Branding
Being evident about what the corporate culture is and what the company goals are is from what a professional services firm's branding is structured. It helps to identify the professional services firm's differentiators from the competition and the type of talent the firm is seeking. HR plays a key role in the reinforcement of the branding of a firm
Talent acquisition practices should always incorporate branding because it's the first impression a professional services firm makes for prospective employees and has the charge of selling the firm's greatest qualities. Communicating that the professional services firm is aware of and keeping up with workplace trends is a reflection of how it treats its employees and also evidence that the employees' opinions about the company culture are recognized and considered.
Follow the Trends
These trends have all become standard and are expected for professional services firms to remain competitive in 2022. They may be new to your organization, but many firms that have already started implementation are experiencing their rewards. So, stay at the top of the professional services industry by following these workplace trends to succeed.