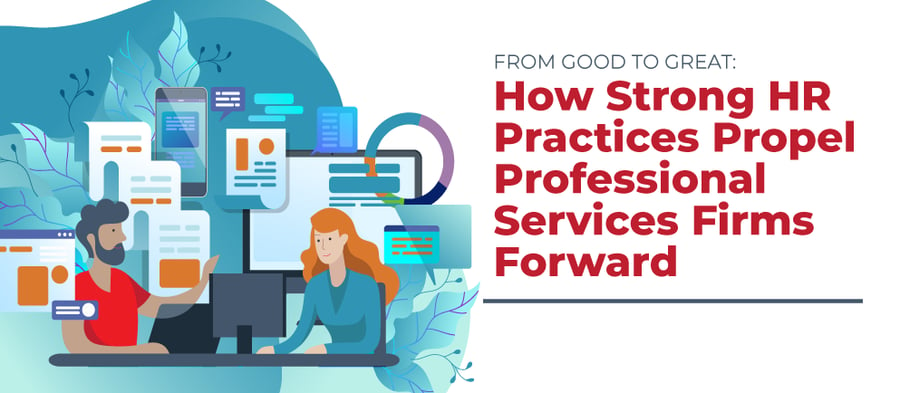 It is often the case that many professional services firms underestimate the need for robust Human Resources (HR) functions until they find themselves in a critical situation. Some firms may recognize the need for assistance but struggle to determine the specific type of support required. Here are common statements we frequently hear from clients:
"We have purchased our new HRIS system and are ready to implement but we don't have structured HR processes and procedures in place, so we don't know where to start."
"We are a small family-oriented company that has managed so far with payroll, our admins and our executives taking care of the main Human Resources needs."

"The managers are responsible for addressing the employee concerns and needs for their departments."

"We have experienced so much turnover, especially in our HR Department. We need to assess our job descriptions and determine what we really need as a company."
Do any of these situations resonate with your firm? If so, it is clear that your organization would greatly benefit from the expertise of an HRNA (Human Resources Navigational Analysis).
The Consequences of Neglecting HR Guidance
First and foremost, let us consider the profound impact of operating a firm without an HR department or the guidance of an HR professional. This includes, but is not limited to, the following:
The potential for litigation issues such as discrimination or harassment lawsuits.

Low employee morale results from insufficient workforce engagement efforts, ineffective recruiting practices, subpar performance management, and undefined company culture.

Non-compliance with company policies and relevant governmental regulations.

High turnover rates due to non-competitive benefits and compensation plans, inadequate or unstructured training and development programs, and a lack of employee recognition initiatives.
Statistics That Highlight the Necessity of Dedicated HR Personnel
According to a recent 2023 article in LegalJobs, several HR statistics support the essential requirement for dedicated staff and leadership in managing HR functions. Consider the following:
43% of HR professionals find it challenging to recruit employees due to intense competition.

60% of candidates abandon job applications if they are overly complex.

Nearly 30% of new employees quit within the first three months.

74% of new employees believe they have not reached their full potential.

61% of newly hired employees do not undergo company culture training.

Onboarding processes have helped 71% of employees better understand their roles and responsibilities.

Diverse companies are 70% more likely to penetrate new markets.

Highly motivated and committed teams are 21% more effective.

41% of highly motivated teams exhibit lower absence rates.

67% of employees value a respectful relationship with their employer.

84% of HR departments believe that employee recognition increases engagement.

82% agree that recognition enhances morale and happiness.
Build a Strong Foundation with the HRNA Approach
Our HR Consultant can assist your professional services firm in addressing and potentially avoiding these challenges through the Human Resources Navigational Analysis (HRNA). This comprehensive evaluation provides your firm with a thorough review of current HR systems, documents, and processes, encompassing the entire employee lifecycle.
The process commences with a discovery phase, involving gathering information through written and verbal means with key stakeholders. This enables our HR Consultant to assess your firm's goals, mission, leadership perspectives on HR, and the existing organizational practices and policies. Subsequently, a meeting with decision-makers is held to develop an action plan based on critical business issues and leadership priorities identified during the discovery phase.
Next, our HR Consultant compiles a detailed assessment report that includes findings in the focus areas identified and provides recommendations to address the areas requiring further attention. Upon distributing the HRNA report to the client and reviewing it together, we determine the subsequent steps and how we can assist in implementing the recommended measures.
The Benefits of Pursuing an HRNA
Clients who have undertaken the HRNA process have experienced a transformative journey. They have found themselves more receptive to change and transition than they initially anticipated. Moreover, this process illuminates the significant impact of effective HR functions on a professional services firm's brand, reputation, longevity, success, and bottom line.
If your professional services firm is eager to move forward with a Human Resources Navigational Analysis, click the image below to take the next step towards strengthening your HR functions and driving your firm's growth.