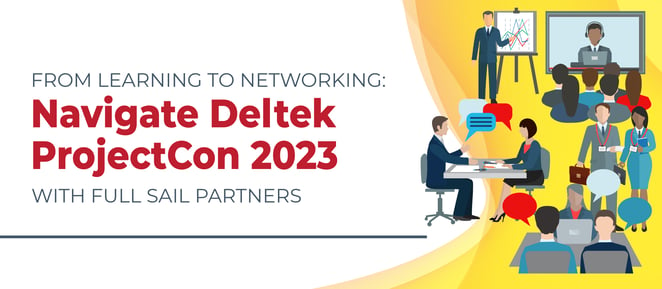 Why Deltek ProjectCon 2023 is a Must-Attend Event
Are you prepared to propel your project-based business to the forefront of industry excellence? Look no further than the horizon of Deltek ProjectCon 2023 – an indispensable event for professionals deeply entrenched in project-focused industries. Overflowing with motivation, education, and unparalleled networking prospects, this year's conference emerges as an irreplaceable milestone on your journey.
As proud sponsors, exhibitors, and presenters, Full Sail Partners eagerly extends an exclusive invitation to navigate this transformative journey, set to unfold at the enchanting Gaylord Palms Resort in Orlando, Florida, from October 16 to 18. Deltek ProjectCon isn't just a conference; it's an experience designed to empower you and your project-based firm.
First off, here's a closer look at 3 big reasons why you ought to immediately circle this event on your calendar and claim your spot.
#1: Learning Beyond Limits
The Deltek annual conference boasts an impressive lineup of 300+ engaging sessions across 15 racks that promise to deepen your product knowledge and provide valuable insights into industry trends. Earn Continuing Professional Education (CPE) credits as you discover innovative solutions and services that will fuel your project success. Whether you're a seasoned professional or just starting your journey, the learning opportunities are boundless.
Take a moment to review the session catalog here.
#2: Forge Unbreakable Connections with Your Fellow Deltek Users
Connectivity is key in the world of project-based business, and Deltek ProjectCon offers unparalleled networking opportunities. Engage with Deltek experts, peers from your related industry, fellow attendees, and, of course, the Full Sail Partners' Crew! From one-on-one meetings to interactive braindates, you'll forge authentic connections that can propel your career and business forward.
#3: A Fusion of Fun and Learning
Deltek ProjectCon understands that it's not all about business; it's about having fun and building memories that matter too. Immerse yourself in special networking events, participate in philanthropic activities, and let loose at the epic customer appreciation party. It's a chance to relax, unwind, and recharge while still gaining valuable insights.
If those reasons alone don't give you enough motivation to come to Deltek ProjectCon this year, just remember that the Full Sail Partners' team of experts will be available to conference attendees. We will not only be active participants in the event but will be presenting a valuable learning session that is one of a kind. And just like every year that Deltek has put on the annual conference, we will be bringing the knowledge that comes with more than 275 years of experience with Deltek products.
Full Sail Partners: Your Guide to Project Management Superpowers
As we step into our role as sponsors, exhibitors, and presenters at Deltek ProjectCon 2023, Full Sail Partners offers an exciting opportunity to witness our expertise firsthand. Brace yourself for a front-row seat to our presentation, "Unlocking Vantagepoint Integration Superpowers with Blackbox Connector," scheduled for Tuesday, October 17, at 2:00 p.m. ET.
In this informative session, we'll unveil how our turnkey Deltek Vantagepoint integration can revolutionize your connections with third-party applications. Say goodbye to coding headaches and hello to our seamless Blackbox Connectors for ADP Workforce Now, SAP Concur, Entrinsik Informer, Intuit Mailchimp, and more. Our low-code implementation strategy saves time, cuts costs, and eliminates upgrade worries, unleashing the true power of Blackbox Connector to transform your business with efficiency and productivity.
Here's what you can expect to learn during our session:
Unveiling the key benefits of turnkey Deltek Vantagepoint integrations and their far-reaching effects across diverse business functions.

Unpacking the tactical deployment of low-code strategies, ensuring seamless Deltek Vantagepoint system integration with third-party applications.

Identifying avenues for process enhancement through harnessing the prowess of Blackbox Connector.
Hearing compelling tales of successful Blackbox Connector implementations, directly from user experiences.
Join our presenters, Pete Nuffer and Sarah Gonnella, in this very enlightening and inspiring session. To ensure you don't miss out, make sure to include our session on your must-attend list. You can conveniently add it to your program by clicking here.
Unraveling the Full Sail Partners' Experience
The engagement doesn't stop after the presentation. Our experts are excited to connect with you at kiosk 5A in the lively XPO hall. Keep an eye out for our easily recognizable red shirts – the Full Sail Partners' Crew is ready to address your questions, provide live demos, and assist you in realizing the full capabilities of your solutions. This is a valuable chance to tap into our collective expertise and equip yourself with the resources necessary to invigorate your project management pursuits.
And we love meeting new clients "in real life" as well as catching up with familiar faces. So, stop by and say hi!
Unlock Your Project Management Future at Deltek ProjectCon 2023
If you're primed to amplify your project-based firm and open the door to unprecedented achievements, then Deltek ProjectCon 2023 beckons. Save the dates – for October 16 to 18 – and immerse yourself in the world of learning, connection, and fun to be had this year at the Gaylord Palms in Orlando, Florida. The horizon of Deltek Project Nation awaits you, and together, we shall cultivate a future where your project management prowess knows no bounds.
Ready to secure your spot? Click the image below to register for Deltek ProjectCon 2023 today! Be sure to mention you heard about the conference from Full Sail Partners during your registration. We're eagerly counting down the days until we meet you there. We can't wait to see you!