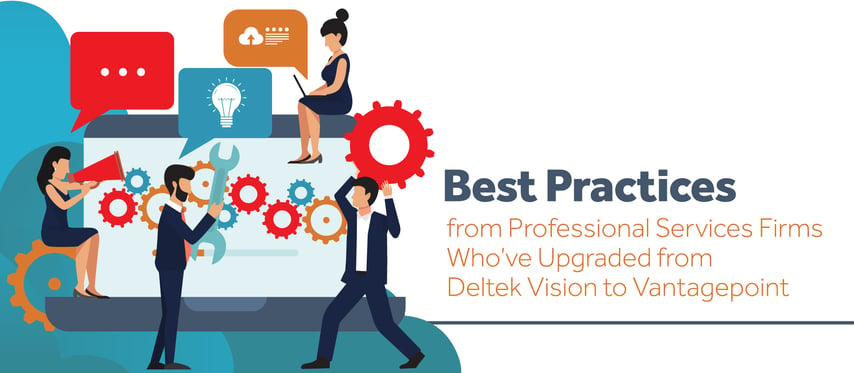 Having now partnered with hundreds of architecture and engineering firms to upgrade from Deltek Vision to Vantagepoint, Full Sail Partners has gathered a treasure trove of lessons learned and best practices. While professional services firms can certainly benefit from what has been discovered by Full Sail Partners, in this article, they can also hear directly from different engineering and architecture firms about their own experiences. Once again, firms looking to make the Vantagepoint transition can get advice as well as discover lessons learned and best practices from their counterparts' Vantagepoint upgrade experiences.
This is the third article in the series where professional services firms can "hear from their peers" who have either made the upgrade or talk about experiences during the upgrade process. The first article focused on preparing for the upgrade and the second article shared their users most loved new features of Vantagepoint. In this final article, the participants will share some best practices from their Vantagepoint upgrade experience.
Featured Firms
The clients that are featured in this series are a mix of small, medium, and large firms. Also highlighted are specific contacts who serve in different roles within their firms. They each were in a different phase of the upgrade process when we met with them. The clients providing their feedback include the following: 
Argus Consulting, Inc. 
Nancy Smith, Project Controls 
Karen Pattison, Controller  
CSHQA 
Andrea Kier, Business Development  
RIOS 
Jessamyn Davis, Chief Operating Officer 
Structural Integrity Associates, Inc. 
Paul Arnone, Applications Support Manager 
Ware Malcomb 
Brad Mathias, Director, Financial Planning & Analysis 
Treat the Upgrade Like a Project
Karen and Nancy from Argus Consulting approached the upgrade like a project. They assigned a project manager, in their case Nancy, to lead and she was the one person to be in charge of the efforts. Nancy also was sure to engage the end users, and she coordinated with people from marketing, project management, etc. She particularly worked hard on having a lot of interaction within each group along the way.
Structural Integrity Associates took a similar approach in their upgrade. They established a task group to evaluate the entire upgrade. However, their task group was about 15 people who were on weekly calls including vice presidents and other executives. Paul now thinks it might have been more beneficial to have had smaller groups made of targeted areas depending on the meeting topic for that week. It might have helped the process move quicker and maximize everyone's time.
Communicate and Prioritize Across Departments
Andrea from CSHQA recommends communicating and understanding what the users need from Vantagepoint and to ask a lot of questions. It is also important to realize that everyone is busy and that the upgrade tasks might not be their main job. So, it might take longer to review information and make decisions for the different end user groups.
Remember, it's Just an Upgrade, not a New ERP Implementation
Jessamyn's big take away from RIOS upgrading to Deltek Vantagepoint is to remember that this is just an upgrade. It's not a migration to a new system. Most of Vantagepoint works the same as Vision, except that it's in the browser. She wants firms to not be intimated by upgrading to Vantagepoint. While it is a lot of work, it is definitely nothing compared to migrating to an entirely new ERP system.
Utilize the Expertise of a Trusted Partner & the Vantagepoint Readiness Report
The best practice that Brad from Ware Malcomb recommends is to get the help of a trusted Deltek Partner. In his case, they used the services of Full Sail Partners and the Vantagepoint Readiness Report. The Vantagepoint Readiness Report identified everything that was needed for their upgrade instead of having to figure it out on their own.
Start Cleaning Data, Even if the Upgrade is Far Away
Another important thing that Brad always recommends is reviewing the data in Vision, especially if the firm has been using the system for a long time, like Ware Malcomb. Their data wasn't necessarily bad data but there was a lot of duplicate data. Having the data as clean as possible will make the upgrade process go even smoother.
Want to Hear More From Your Peers? 
As this article is the last one in a three-part series, be sure to check out the other "hear from your peers" topics. In part one, different project-based firms shared their Deltek Vision to Vantagepoint upgrade experiences. Then in part two, the same firms shared their most liked new features of Vantagepoint. Hearing from peers is a great way for professional services firms to get comfortable with the transition from Deltek Vision to Vantagepoint. Take advantage of their experiences and learn how to make the move go smoothly.
To listen to their upgrade experience, watch the webinar that is linked below.