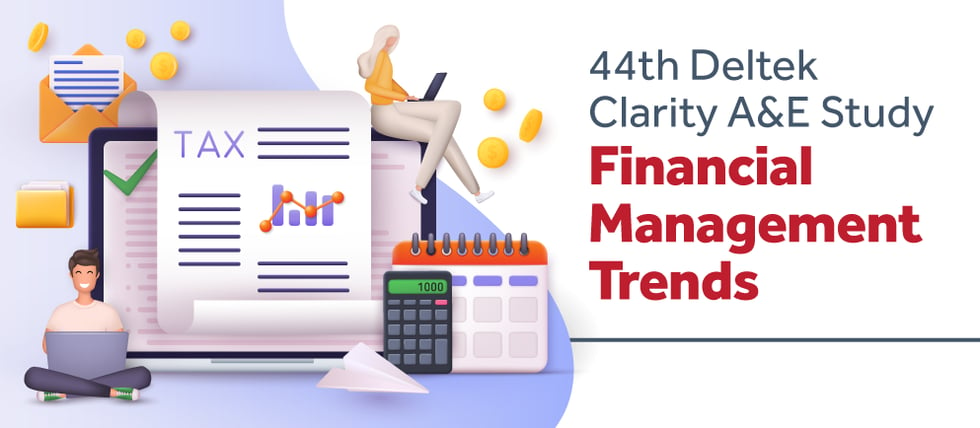 Welcome to the final installment of our comprehensive series recap of the 44th Annual Deltek Clarity Architecture and Engineering (A&E) Study. Today, we embark on an in-depth exploration of the financial management trends found in the newest Deltek Clarity A&E Industry Report which focused on 2022 fiscal data. This report offers a rich tapestry of insights, shedding light on the critical financial dynamics that are currently influencing the industry.  
Join us as we dissect the key findings and trends, providing you with a better understanding of the financial landscape in the architecture and engineer
A Year of Remarkable Financial Success
In 2022, A&E firms achieved remarkable financial success, building on the bullish goals they set for themselves in 2021. One of the standout trends in the industry was the ability of firms to leverage direct labor costs and subconsultants effectively to drive increased revenues in 2022, leading to substantial improvements in operating profit (EBIT). Notably, revenue growth outpaced growth in headcount and wages, and firms achieved gains across various financial metrics.
This indicates the ability of A&E firms to make strategic investments during favorable economic conditions. On average, firms' financial performance outshone expectations. To sustain this momentum, firms must continue to focus on key financial management trends and top financial initiatives.
Addressing Top Financial Challenges
As we look into the financial landscape of 2023, it's important to note that the most prominent challenges faced by A&E firms remain consistent with those of previous years.
Finding and Retaining Qualified Staff:

This is the most prominent financial challenge identified by firms in 2022 and it remains the top concern, with 65% of A&E firms identifying it as one of their top three challenges.

Increasing Profitability:

45% of respondents indicated that increasing profitability was one of their top challenges. To handle this, A&E firms continue to refine their strategies and use technology and process improvements to reduce project delivery costs, particularly for time-intensive and manual tasks.

Managing Growth:

Tied with increasing profitability, growth management is a concern for 45% of companies in the A&E sector. Firms must address the challenge of managing growth effectively by balancing robust pipelines of new projects with existing resources to ensure profitable project delivery despite rising costs.
Financial Improvement Initiatives
Once again, this year's financial improvement initiatives are very similar to the previous year. Below are some of the critical initiatives that A&E firms have highlighted as requiring attention throughout the current year and into the next:
Business Process Improvements: The most significant initiative of the year, as indicated by over half of the firms surveyed (55%), is prioritizing business process improvements in their financial strategies.
Training Project Managers on Financials: Ensuring that project managers have a strong understanding of financial management principles is essential for optimizing project delivery. This initiative was the leader in last year's results, but it has dropped to a close second this year with 52% of A&E firms citing a need for improvement.
Increase Talent Spending: Investing in hiring and retaining top talent is critical to achieving sustainable growth. By attracting and retaining the industry's brightest minds, A&E firms not only ensure their competitive edge but also foster a culture of innovation and excellence that permeates every project they undertake.
Better Managing Growth: A&E firms recognize the need to drive efficiency and effectiveness in pipeline management, talent development, project execution, and cash flow management. Streamlining these critical aspects of their operations allows them to not only meet client demands but also adapt swiftly to industry changes, ensuring long-term viability in an ever-evolving market.
Business Process Improvements: By identifying and implementing process improvements, sucA&E firms can reduce time-consuming manual tasks, minimize errors, and enhance productivity, ultimately freeing up resources to focus on strategic initiatives that drive growth and innovation.
The Path Forward for Financial Management
This section of the 44th Deltek Clarity A&E Industry study delved deep into the financial management trends within the A&E industry, offering a comprehensive view of the financial dynamics shaping this sector. This year we witnessed remarkable financial success, with firms strategically leveraging their resources to achieve impressive revenue growth, outpacing the expansion of their workforce and wage costs. As they continue to navigate the ever-changing economic landscape, these A&E firms must remain vigilant in their approach to financial management.
To gain a more comprehensive understanding of this year's financial trends and their implications for the architecture and engineering sector, we encourage you to explore the complete 44th Annual Deltek Clarity A&E Report. It provides an in-depth analysis and a wealth of insights, serving as an invaluable resource for professionals and organizations in this ever-evolving industry.