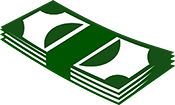 It is amazing that so many people aren't even aware of the numerous benefits of using the Deltek Vision Payroll module. For starters, the Payroll module in Vision is a robust application that gives you control over your payroll process that you otherwise wouldn't have if you used an outside payroll company. It allows you to meet the increasingly complex regulatory requirements by defining taxable wages based on any withholding codes that you create. You can also define how other pay wages impact a withholding calculation. All of this can be done from Payroll Withholding Setup.
How the Deltek Vision Payroll Module Works
If your firm is using the Payroll module to process your payroll, Deltek Vision will use information from the Employee Info Center, the Project Info Center, the Transaction Center, and Accounting Cost/Pay Rate tables to process payroll.
Some of the main features of the Vision Payroll module are:
2 overtime multipliers – There are some firms that are required to pay overtime (OT) to hourly employees. For example, you may have to pay time and a half for some OT hours worked and maybe double time for other OT hours worked. Vision can be configured to accomplish this. For added flexibility, you also have the option to bill these overtime hours at a higher billing rate in billing terms.
User-defined other pay fields – In addition to an employee's regular salary, you can also add payments for other items. Some firms will use these fields to record bonus payments, moving allowance payments, allowances for fitness club memberships, public transit passes, etc.
Contribution codes – If you make payments on behalf of your employees, i.e. state unemployment or 401k matches, you can track those payments using contribution codes. Contribution codes can record those amounts by employee. Vision will also post the entry to the balance sheet liability account.
Withholding codes – In addition to the standard federal, FICA, and state withholding codes, users can create their own user-defined withholding codes to suite your firm's needs. You can create withholding codes for medical insurance, cafeteria plans, wage garnishments and Roth IRA plans to name a few.
Direct deposit – Vision supports the direct deposit of funds directly into an employee's bank account(s).
Payroll types – Most payroll runs processed in Vision are for your regular weekly, biweekly or semimonthly or monthly payrolls. You can also process adjustment payrolls to make changes to a payroll that has already been processed. Furthermore, you can use this feature to adjust pay, withholdings, regular, overtime, and secondary overtime pay hours, and accrued benefit hours. A bonus payroll run automates the process of giving your employees bonuses.
Payroll reporting – Using Vision payroll reporting, you can generate worksheets that help you fill out state unemployment insurance reports, quarterly state income tax reports, and federal Forms 940 and 941.
W-2 forms - The Payroll module prints a W-2 for each employee who was paid during the calendar year. You can print W-2s on W-2 forms that are specially designed for use on computer printers.
Integrate with Outside Payroll Companies
If, however, you decide that your firm would rather use an outside payroll company to process payroll, despite the benefits of using the Deltek Vision Payroll Module, Vision offers an interface option that can export timesheet data to most large payroll companies including ADP, Paychex and Ceridian. With this integration, a third party will be able to manage the complex areas of payroll processing such as tax withholdings.
Do More with the Deltek Vision Payroll Module
It should now be evident to most people that the Deltek Vision Payroll module is an extremely flexible tool that can be used to help your firm streamline the payroll process. The Payroll module additionally provides a wide-range of detailed reports based on the information stored in your Vision database. So, start realizing the benefits of using the Vision Payroll module and improve your firm's payroll process today.