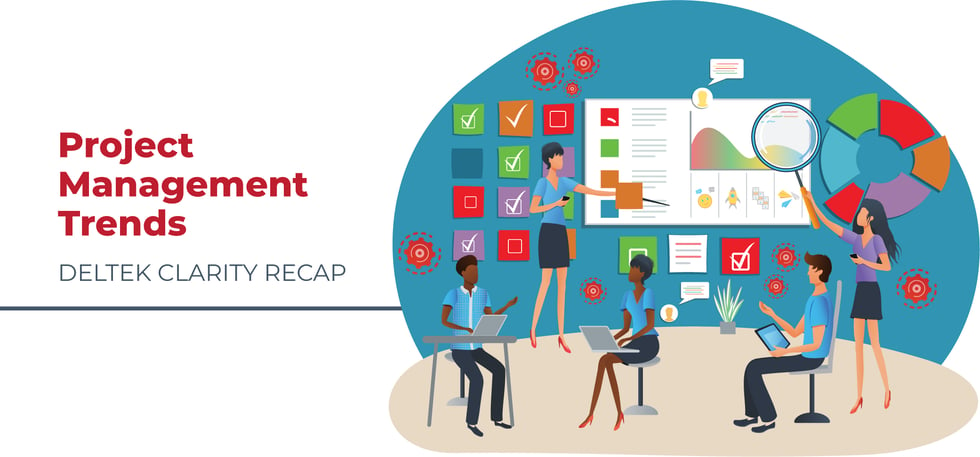 Full Sail Partners has been closely following the annual Deltek Clarity Architecture and Engineering Industry Study, and in our previous blogs, we've delved into various aspects of this comprehensive report. As we continue our exploration of this year's 44th Annual Deltek Clarity study, we shift our focus to the critical realm of project management within the architecture and engineering (A&E) industry. This sector struggles with numerous challenges daily, and the study offers valuable insights into the current trends and issues affecting project managers. In this blog, we will dissect key findings from the study, particularly homing in on project management challenges and the strategic initiatives poised to address them.
Project Management Challenges
In the ever-evolving realm of architecture and engineering, project management is the linchpin of success. However, it's not without its formidable challenges. In this section, we'll delve into these critical challenges, from gaining better visibility into KPIs to grappling with staffing shortages. Furthermore, we will discuss strategies for overcoming them to achieve project management excellence.
Visibility into Project Management KPIs: Project managers grapple with obtaining clear insights into key performance indicators (KPIs) and the tools required to manage them effectively. This issue affects project performance and client satisfaction.
Projects on or Ahead of Schedule: 59.76% of projects are on track for schedule and budget. Despite this, staffing challenges continue to persist and impact project outcomes.
Competing Priorities: A&E firms with well-defined roles, responsibilities, and efficient tools are better equipped to manage project resources. Quality control hubs, such as Centers of Excellence (CoEs) and Project Management Offices (PMOs), are instrumental in driving best practices.
Staff Shortages: The industry continues to struggle with hiring and retaining skilled staff, with 62% of firms identifying it in their top 3 concerns. Offering tools, training, and attractive work cultures can help attract and retain next-generation project managers.
Project Management Solutions
Navigating the intricate landscape of project management in the architecture and engineering industry demands not just an understanding of the challenges but also the strategies to overcome them. In this section, we'll explore proactive solutions that address the industry's top project management challenges. From upskilling and training to streamline project management to harnessing collaborative platforms for improved effectiveness, and investing in technology for seamless connectivity, we'll unravel the keys to project management success.
Addressing Top Project Management Challenges: To overcome these challenges, A&E firms are reducing their reliance on new project manager hires. Instead, they are focusing on upskilling, training, promotion, and formal career development planning to maintain productivity and deliverable quality.
Project Management Effectiveness: Staffing issues, strong pipelines, and backlogs combined with increased staffing costs and skill gaps can hinder project management effectiveness. Collaborative platforms and regular training can help bridge these gaps.
Connecting Teams and Using Systems: A common challenge is connecting all relevant teams on the same platform and ensuring employees use these systems correctly. This requires investment in technology and proper training.
Project Management KPIs
Effective project management necessitates careful planning and monitoring through various KPIs. While financial KPIs such as net revenue, profitability, and multipliers are well-tracked, there's room for improvement in non-financial KPIs like client satisfaction, schedule variance, and earned value.
Balancing Financial and Non-Financial KPIs: Top financial KPIs like net revenue, profitability, and multipliers continue to be tracked by most firms at 94%, 93% and 83% respectively. However, firms showed less reliance this year on the non-financial KPIs like client satisfaction and earned value, at only 36% and 18% of firms tracking these statistics. Achieving a balance between financial and non-financial KPIs is essential for successful project management. Focusing solely on financial metrics can lead to oversight of critical project aspects.
Project Reporting Accuracy: While A&E firms are gaining confidence in reporting project costs accurately, there's still room for improvement in reporting project schedules. Accurate schedule reporting is crucial for project success.
Project Management Initiatives
As the architecture and engineering industry continues to evolve, it's imperative to not only identify challenges but also to proactively address them through strategic initiatives. In this section, we will explore how A&E firms are taking forward-looking steps to enhance project management. These initiatives encompass investing in internal project management expertise, defining roles more clearly, and harnessing the power of technology and software tools to pave the way for a more efficient future in project management.
Investing in Internal Project Management: A key priority for A&E firms is investing in internal project management, replacing the focus on hiring more qualified staff. Developing best practices and clearly defining roles for project management are also top priorities.
Leveraging Technology: While technology can provide substantial support in project management, only a small percentage of firms are prioritizing investments in better software tools. Maximizing the value of existing tools and technology is crucial.
Facing Challenges with Project Management Head on
The A&E industry faces ongoing challenges in project management, including visibility into KPIs, staffing shortages, and maintaining project schedules and budgets. However, A&E firms are proactively addressing these challenges by investing in training, upskilling, and improved project management processes. Balancing financial and non-financial KPIs, accurate reporting, and leveraging technology will be essential for future success in the industry. By nurturing a culture of continuous improvement and transparency, A&E firms can enhance project management effectiveness and, ultimately, client satisfaction.