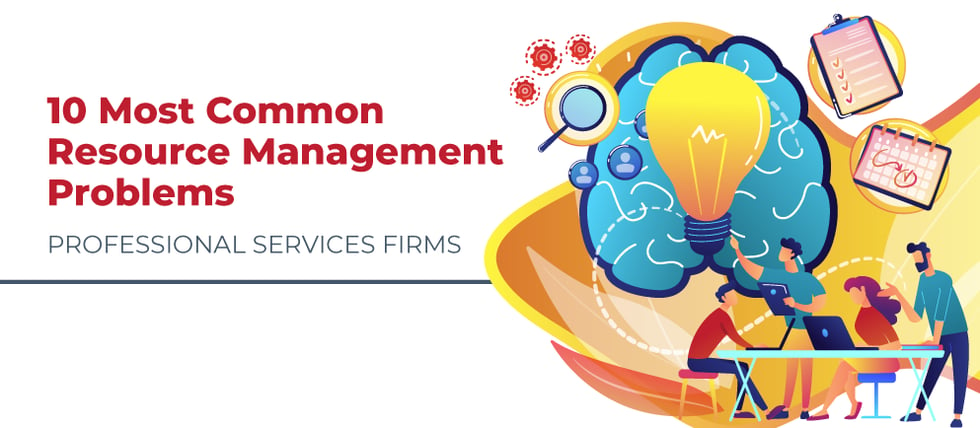 Hey there, professional services firms! We need to talk about something important. No, it's not about who has the best coffee in the office (although that's important too). We need to address the top ten resource management problems that could make or break your success. Don't worry, I'm here to give you the low-down.
Problem #1:
Missed Project Deliverables and Deadlines
Picture this: a client is eagerly waiting for their project to be completed, but the deadline passes, and there's no sight of the deliverables. Chaos ensues as the client starts breathing down your neck, and you realize you don't have sound processes in place. Good luck getting out of that one!
Getting the work done on time sounds simple, but it's not. It's a complex balancing act involving creativity, quality control, resource management, and much more. If you don't have sound processes in place, all the best thinking in the world won't mean a thing.
Problem #2: Ineffective Documentation on Billable Hours
So, you've been working tirelessly on a project, but when it's time to bill the client, you realize you don't have accurate documentation of the billable hours. Cue the client disputing your bill and leaving you with an empty wallet.
What creative person wants to hear that their success might rely in part on basic accounting skills? For professional services firms, effectively managing billable hours is one of the biggest factors in profitability, and thus, lasting success. Need help with billing effectively? Watch our mini demo now!
Problem #3: Lack of Project Resource Visibility
Now, let's talk about visibility. Your firm's management needs to quickly understand which projects are underway for which clients. This means having visibility of progress on milestones, technical issues, and how, when, and where resources have been allocated. It's time to get your head out of the clouds and start paying attention to the details.
Problem #4: Assigning the Wrong People to Teams
You've got a project that requires specialized knowledge, but instead of assigning the right people to the team, you just throw some random folks in there. The project turns into a hot mess, and the client is none too pleased. Looks like you just lost a customer, honey!
Each project requires a team with the right insights, talents, and other qualities. Assigning the wrong people to a project can have a negative impact on profitability and success. So, let's stop playing musical chairs and put the right people in the right seats!
Problem #5: Accounting and Project Management Disconnect
Let's address the accounting and project management disconnect. Using multiple tracking systems for financial and project data can lead to errors and make it difficult to respond to issues. Consolidate your tracking systems, and make it rain with those profits.
Problem #6: Inefficient Cash Forecasting
You've got a project that requires a lot of resources, and you're not sure how much cash you'll need. You don't allocate resources to a timeline, and now you're in a cash flow crisis. Better start penny-pinching, sugar!
Cash forecasting can be a complicated process, but it's essential for successful resource management. Allocate resources to a timeline for efficient cash forecasting. Your wallet will thank you later.
Problem #7: One-off Spreadsheets and Workarounds
Spreadsheets and workarounds are so 2005. Silos across a firm can lead to duplicated efforts, incomplete solutions, missed opportunities, and unprofitable projects.
Picture this: you've got a project that requires a lot of data, and you decide to use a spreadsheet to keep track of everything. But then, someone else on the team creates their own spreadsheet to keep track of something else, and before you know it, there are spreadsheets and workarounds all over the place.
Now, you've got a mess on your hands. Data is duplicated, incomplete solutions are everywhere, and you're constantly missing opportunities. You're wasting valuable time on duplicated efforts, and you're not making the profits you should be.
So, what's the solution? It's simple, really. You need to get everyone on the same page. You need a centralized system that everyone can use to track data, projects, and resources. No more one-off spreadsheets or workarounds - it's time to get serious about your business. Read our article on The Best BI Tool for Deltek Vantagepoint Users and find out what application is right for you!
Problem #8: Under-Informed Decision-Making
It's all about the information, baby. Resource management problems involve information regarding projects, teams, or human and other resources. Management must have a large dataset at their fingertips before making big decisions. Failing to do so can result in under-informed decision-making, and ain't nobody got time for that.
Problem #9: Failure to Meet Financial Reporting Standards
We're getting close to the end, but we can't forget about compliance. Professional services firms often need to comply with various reporting regulations such as Earned Value Management (EVM). So, let's make sure we're crossing our T's and dotting our I's, and getting paid for our hard work.
Problem #10: Missed Business Opportunities
You've got a business development team that's not managed effectively, and you're missing out on potential opportunities. Your ROI and profitability suffer, and you're left wondering why you're not making any money. Time to start taking business development seriously, sweetie!
Organizing and managing the work of business development teams is complex and high-stakes. Effective management can optimize ROI and profitability and ensure just-in-time hiring or business development. Let's do this!
In conclusion, don't let these resource management problems drag you down. Get your head in the game and address these issues head-on. Whether you manage them in-house using ERP software and other solutions or outsource them all together, make sure to handle them properly. And remember, nothing screams success like a firm that's got its resource management problems in check!