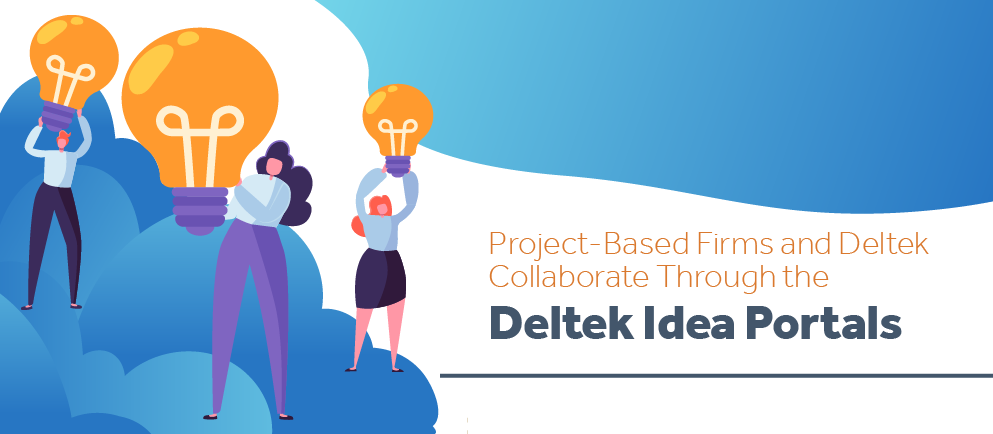 How many users have brainstormed good ideas regarding their Deltek Vantagepoint system that they wanted to share but didn't know how? What about any suggestions for product enhancements that these same users would want to offer? Fortunately for these users, Deltek has recently launched the Deltek Idea Portals, a new online tool for submitting and promoting ideas to Deltek product management directly. Let's check out how it works, the reasoning behind it and what Full Sail Partners' consultants have to say about it.
Using the Idea Portals
The process for using the Idea Portals is that first, the Deltek Authorized Support Contacts (ASCs) at the firm would access the link for the Idea Portals within the Deltek Support Center (DSC). To determine a firm's designated ASC, contact the firm's Customer Success Manager. Next, the ASC would click on 'Share Your Ideas' and be taken to the links for certain Deltek products. For instance, users from Full Sail Partners' clients which are project-based firms would choose the Vantagepoint/Vision idea portal. Once inside, ASCs can share ideas about their specific products, can vote and add insight on other ideas that have been presented. ASCs can subscribe to the item to receive status updates when those ideas move from being considered to planned and then released.
Here is a quick screenshot of what users see when they go into the DSC. For more information, users can review the Idea Portals quick start guide.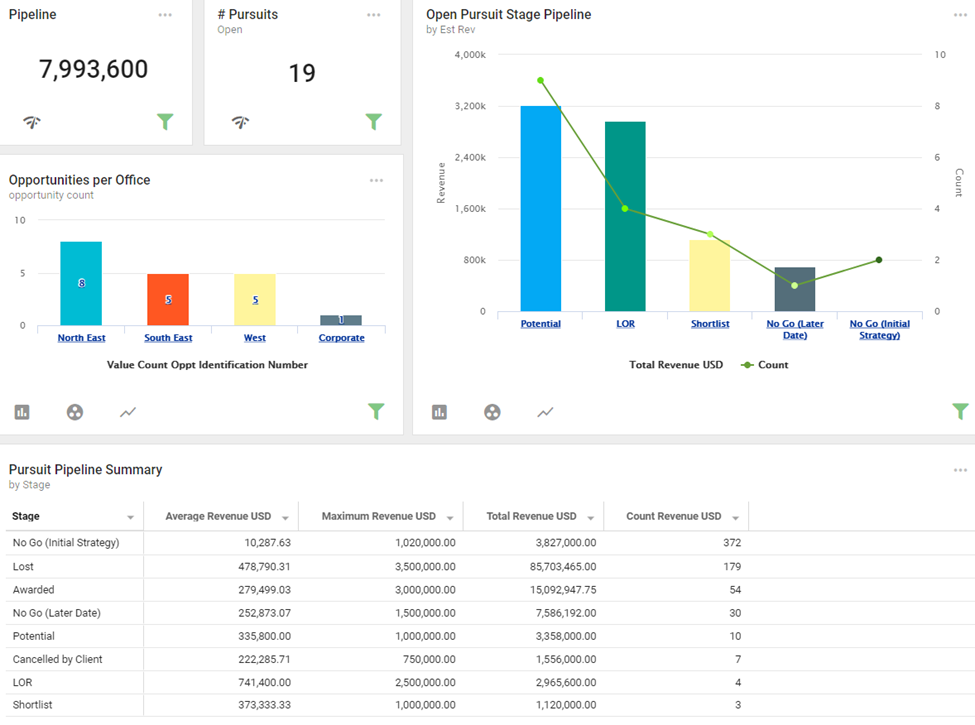 Promoting a Cooperative Effort
From extensive research, Deltek learned that products developed without input from users are not successful when delivered in the end. So, the thought behind creating the Idea Portals was to provide one standard cooperative way for presenting ideas on Deltek products. This updated and convenient process promotes a two-way communication between project-based firms and the product management team at Deltek while ideas are vetted and prioritized. Not only can users see how their ideas are being received and processed by Deltek, but others interested in the subject matter can provide additional suggestions and input.
Feedback from Full Sail Partners' Consultants
Full Sail Partners' consultants have recently been visiting the Vantagepoint/Vision Deltek Idea Portal and offered the following feedback.
One Full Sail Partners' consultant really liked the focus on the statuses that Deltek is using to communicate where the idea offered was in the process. In particular, the statuses of "Likely to Implement" or "Planned" were interesting as was the status of "Released." Below are some screenshots that this consultant took experimenting in the Idea Portals. From these images, Deltek users can catch a glimpse at what ideas are being considered and which statuses those ideas are being given.
In this initial screenshot, on the right side in the highlight, there is "Filter by Status" where users can see what the available options are for statuses of idea consideration. Look at the 2090 ideas for future consideration. That is certainly a lot of ideas coming from project-based firms.

In these other screenshots, Deltek users can see the types of ideas that are being offered, how many people voted on those ideas and the status that the idea was given by Deltek product management.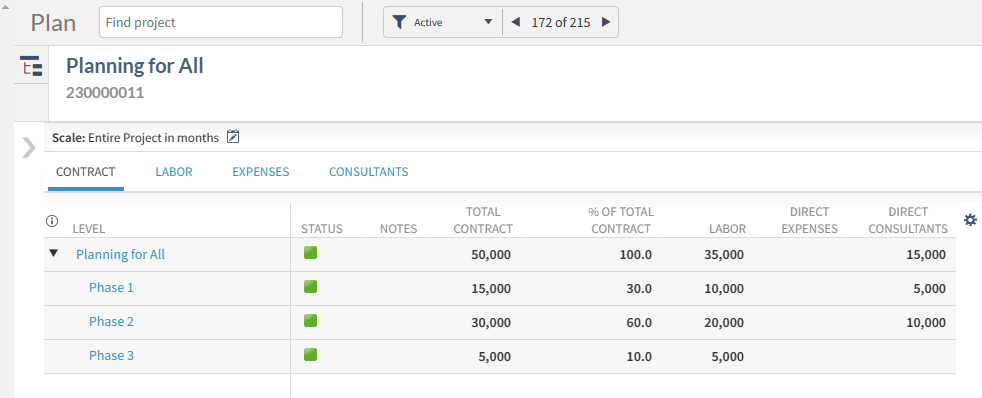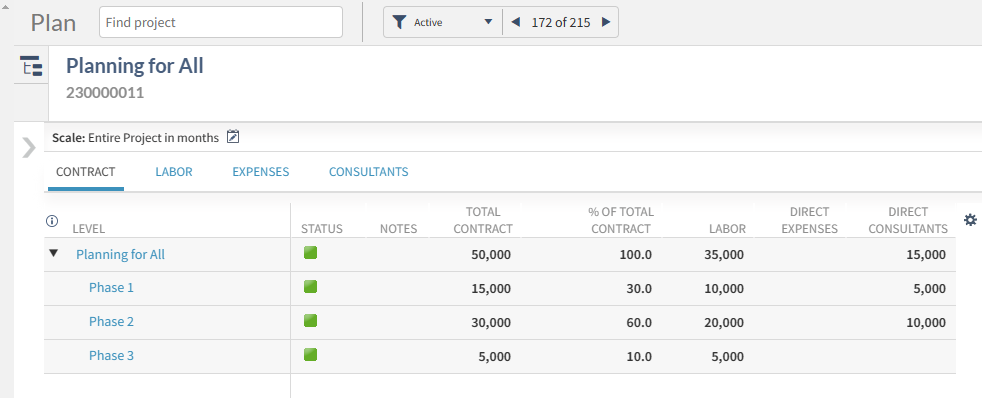 Here is an example of what users will receive when they subscribe, and an idea is voted on. In this case, the idea was "Update the PTO Plan when an absence request is approved." Look in the comments section to see where other users can make their contributions to help these ideas move forward with product development.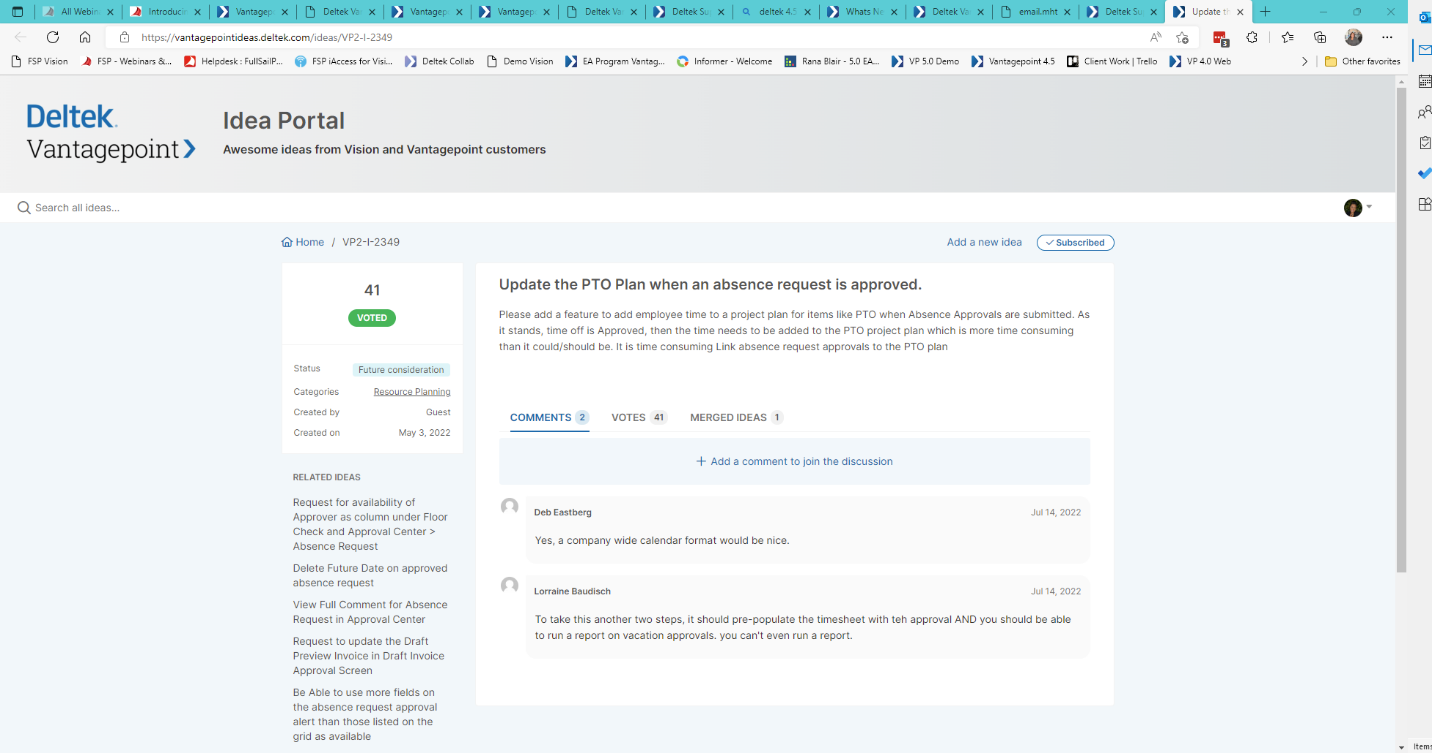 Another Full Sail Partners' consultant has gone even further in really utilizing the Vantagepoint/Vision Idea Portal. She decided that when interesting and relevant topics come up with her clients, she takes them directly to the idea portal if they have never been before. Then she teaches them how to search for what ideas they are interested in offering to Deltek product management and how to enter their ideas if they are new. This is a screenshot of where users add their ideas for consideration.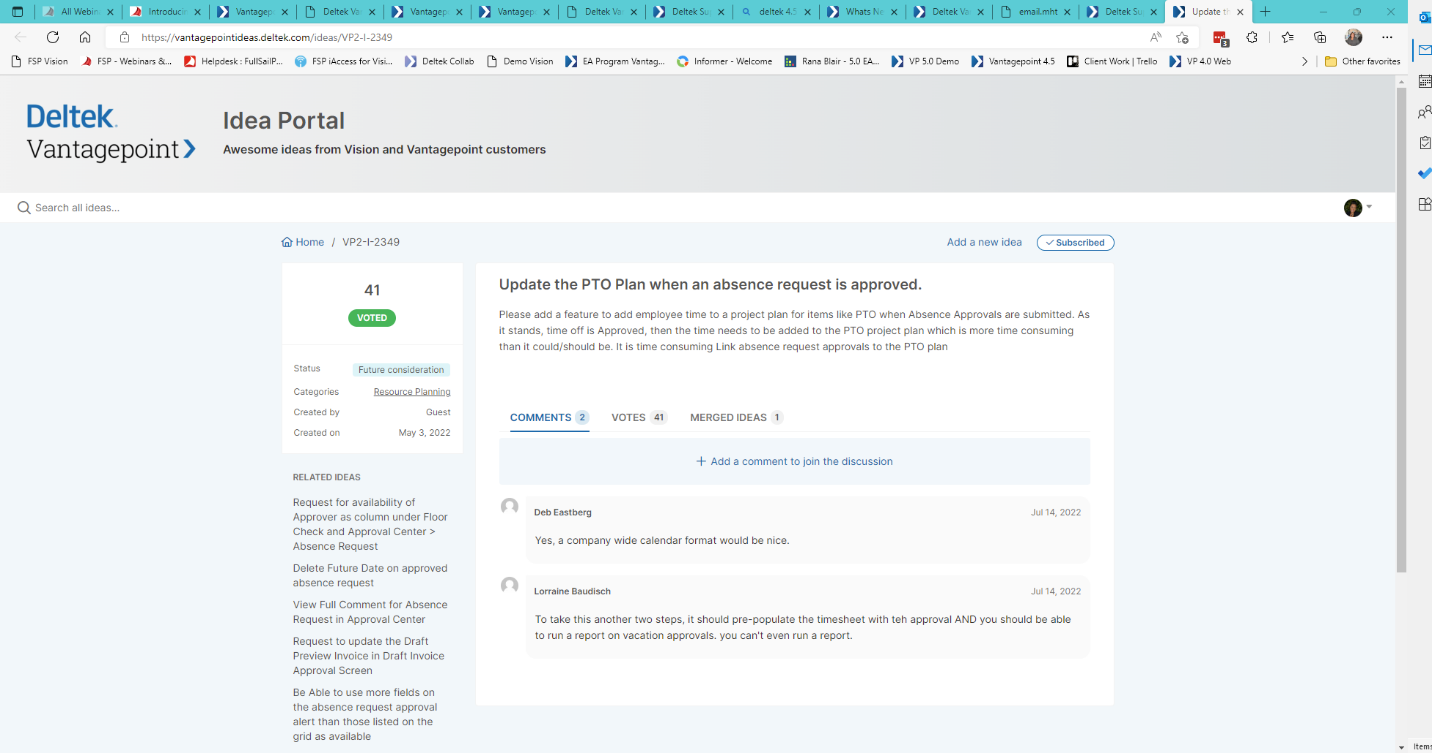 With her observations and discovery, she has learned that many of her and her client's desired items are already there, and it would be a great idea to create an email to Deltek at VantagepointIdeasPortal@deltek.com documenting the cases that seem the same. For example, as she searched for specific ideas and voted on ones already in the portal, she found duplicates like "credit card reconciliation update to make it more dynamic for payments" which was found twice or "controlling how to create a project" which appeared similar to three other user's ideas. From what this consultant was told, Deltek is combining them when they are found.
This same consultant also indicated that when she voted on an idea in the Vantagepoint/Vision portal, in her case it was for the "ability to update scheduled reports without having to unschedule, update the report and reschedule," she received a survey from Deltek. This survey asked her about use cases and the most needed reasons for updating etc. This showed her that Deltek was really listening and trying to make effective changes.
Teamwork Makes the Dream Work
With time and collaboration, these Idea Portals should ensure that a plethora of ideas are heard and evaluated by Deltek product management, and from these suggestions, users should be provided with many of their needed solutions. Any good idea, no matter how small, should be offered to Deltek using this process. Remember, "you can't win, if you don't play."