Calling all Deltek users! Block your calendars for September 14 and 15 to attend the virtual Deltek Insight 2021. This gathering of Deltek users only happens once a year and always delivers the ultimate learning and networking experience for project-focused professionals. For Deltek Vantagepoint users and those that are upgrading from Vision soon, attendance to Insight 2021 should be considered mandatory for those seeking to embrace the full capabilities of Vantagepoint.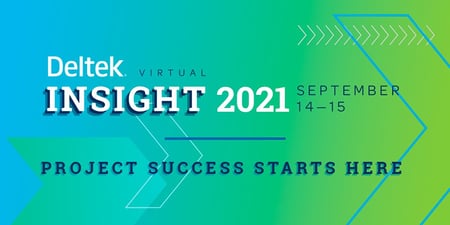 Aside from the added attention to Vantagepoint this year, Insight also provides industry insights and other various forms of thought-provoking content. From an inspiring keynote presentation, live education sessions led by Deltek and industry experts to engaging networking opportunities that are sure to delight, Insight has something to offer Deltek users of all experience levels. Checkout what's planned for this year's largest gathering of Deltek users.
Kwik Fix to Reclaim the Brain's Full Potential
After sustaining a devastating head injury as a young child, Jim Kwik struggled with learning which made succeeding in school seem like an unsurmountable achievement. Growing up he was known as the "boy with the broken brain." However, he was determined to not let this hold him back, and his passion for superheroes and comic books inspired him to unlock his "superhero brain."
As the Deltek Insight 2021 keynote speaker, Jim Kwik is set to deliver an inspiration presentation focused on improving memory, reading skills, and decision-making abilities. Jim has worked with global companies such as Nike, GE and Zappos, and speaks to over 200,000 people a year. Make sure to attend this aww-inspiring keynote presentation.
Knowledge Sharing and Learning for All
With over 200 breakout sessions, this year's Deltek Insight has something for everyone! Of these, over 40 sessions are dedicated to Deltek Vantagepoint users, and cover features and functions that support all the roles within a firm. Even more, Full Sail Partners is hosting a session specifically for firms still on Vision. The session will feature two firms, Impact Sciences and RIOS. They will be discussing their experience with the Full Sail Partners' Vantagepoint to Vision upgrade process. Make sure to sign up early for the session.
In addition to the breakout sessions, conference attendees will have the ability to meet with a Deltek expert one-on-one for a 30-minute video appointment. Each Deltek expert is a member of the Deltek Customer Care team, Deltek Global Consulting or Solutions Engineering group. Meet the expert appointments are available on a first come, first serve basis.
Networking at virtual events seems impossible. Well for Deltek, making the impossible possible is what they do. This year, Deltek is excited to incorporate Braindate into the Insight virtual experience. Braindate provides attendees the ability to meet up virtually with other Deltek Project Nation members to have meaningful peer to peer conversations and discuss topics important to them.
Earn Deltek Vantagepoint and Vision Certifications
While many claim to be a Deltek expert, only a few have the certifications to prove it! As part of registering for Insight 2021, access to the Deltek University certification exams will be provided for free through October 28, 2021. Monetarily, this is a $295 value. Professionally, this in invaluable!
Interact with Full Sail Partners During Deltek Insight
As a dedicated Deltek partner, Full Sail Partners is sponsoring Deltek Insight and will have a virtual booth. Make sure to navigate over to the sponsor exhibit and stop by the Full Sail Partners booth to find what's new with the Blackbox Connector, and learn how our team of Deltek consultants are helping firms upgrade from Vision to Vantagepoint. While you are there, click on the Contact Me button to receive a $25 Amazon gift card (*gift card offer is only available to Vision and Vantagepoint clients).
Additionally, Full Sail Partners will be hosting two highly interactive events during the month of September. During each event, Full Sail Partners' consultants will give a short presentation about that day's topic. Following the presentation, attendees will be split into small groups that have similar interests. Each group will be assigned a Full Sail Partners' expert that will facilitate a group conversation to allow participants to share and talk about their experiences. The first session will be on September 16, 2021 and will explore the Deltek Vision to Vantagepoint upgrade process. On September 23, we will explore the endless uses of workflows and even create one or more during the small group breakout sessions. Make sure to register for these interactive events today.
Project Success Starts at Deltek Insight
Last year's Insight brought together over 10,000 members of the Deltek Project Nation as one giant virtual gathering of project-focused professionals. With everything that was offered last year, it seemed impossible for Deltek to outdo themselves in the future. But this year's Insight is certain to set the standard for virtual conferences for all industries.