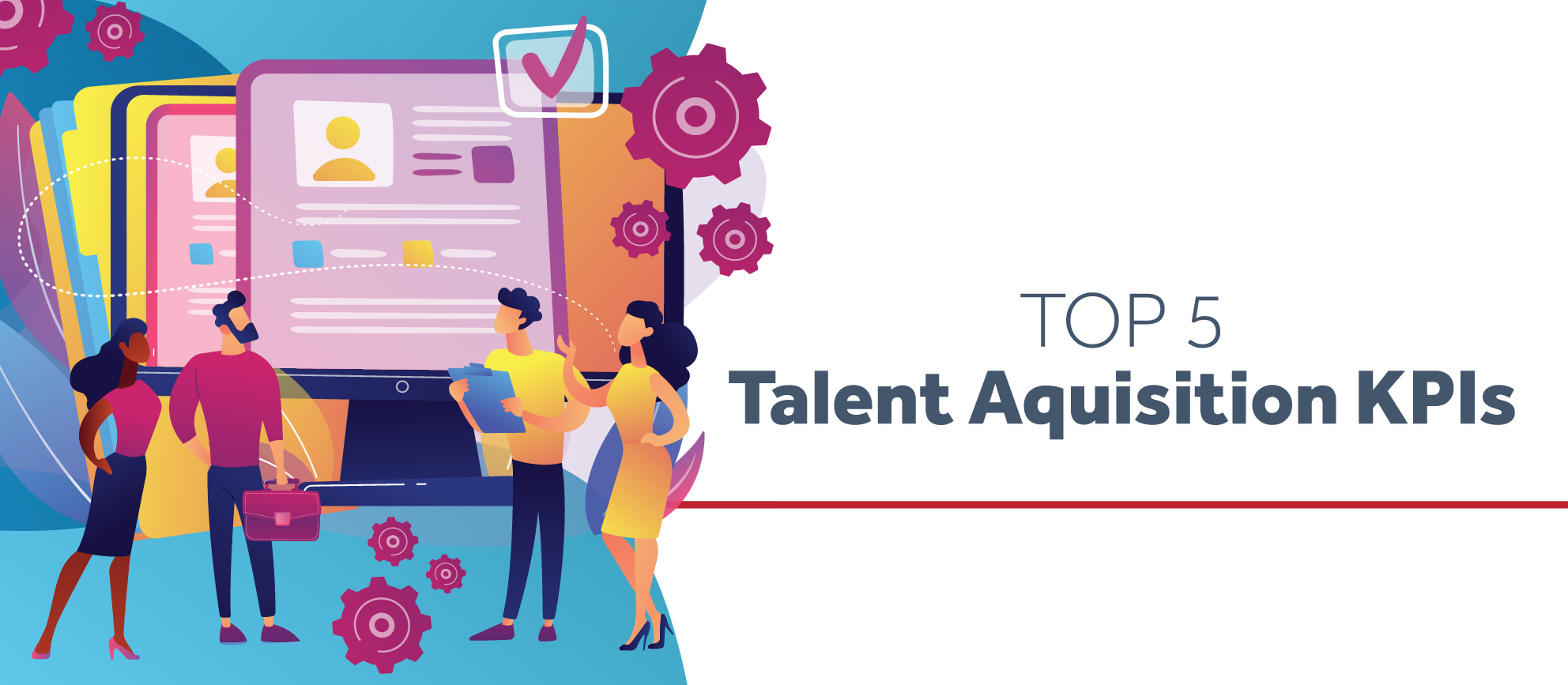 Have you heard of doing a temperature check to help you gauge the health of your relationships? While Employee Engagement Surveys are temperature checks for the Employer-Employee relationship, equally important is the Employer-Candidate (Talent Acquisition) relationship. Key Performance Indicators (KPIs) are great ways to measure the effectiveness of a company's recruitment process.
To stay competitive in the Professional Services industry talent market for 2023, HR professionals and business leaders are reevaluating their recruiting strategies. Determining your company's top talent acquisition KPIs is an effective way to identify critical strategies. KPIs provide data to recruiters and HR professionals on areas of improvement and show the value and ROI for specific recruitment actions. So, what are some popular talent acquisition KPIs for this year? Let's look at 5 top talent acquisition KPIs for 2023.
1. Time to Hire
Unlike the Time to Fill, which measures the number of days it takes to fill an open position from the date a job requisition is posted to the date a new hire accepts the position, the formula for the Time to Hire is the day they accept the job minus the day the recruiter first contacts the candidate. According to the 2020-2021 Recruitment & Retention Report of AEC Firms, "most firms (56%) need between 30 and 60 days to hire. According to each firm's listed recruitment and retention metrics, the median time it takes to hire a candidate is 43 days. This is higher than the U.S. average of 36 days according to SHRM's Talent Acquisition Benchmarking Report, which is common for a technical sector like the AEC industry." However, statistics show that the best candidates are off the market in 10 days, so employers are trying to streamline their hiring processes, trim down the number of candidate interviews and firm up their candidate evaluation process to make more timely and efficient hiring decisions.
2. Application Completion Rates
Calculating the Time to Hire requires that candidates are able to successfully complete their applications. The number of completed applications by prospective employees shows how well a company's application process is set up. A poorly designed application process is either too long, too cumbersome, or too complex. Research has shown that as much as 73% of candidates will abandon a job application if it is taking too long to complete.
Furthermore, longer applications are directly correlated to higher costs per applicant. According to Recruiter.com, an application that takes less than 5 minutes to complete costs around $4 per applicant. When the application takes 15 minutes to complete, the cost-per-applicant rises to $13.85, which is 65% more than the shorter application process. Consider these steps to improve your application completion rates:
Evaluate your abandoned applications to determine the most frequent points of the drop-off in the applications.

Ensure your application process is easily accessible and user-friendly. Almost 90% of job seekers will use their mobile phones when searching for new job opportunities. Most candidates are anxiously looking to start their new opportunity, so too many steps and obstacles create a delay in the process, so they will just move on to the companies that have less delay in their time to fill.

Keep questions to a minimum. Save more detailed, position-related questions for the interview. On the application ask identifying, work history, and availability questions like the candidate's contact details, availability, and work preferences (the location, number of days, and shifts they would be available to work).
3. Sourcing Efficiency
The sourcing channel metric gives insight into the effectiveness of a company's sourcing channels. The formula for calculating sourcing effectiveness is (the total number of hires via the channel /total number of applications via the channel) x 100. For example, if you get 100 applications via LinkedIn and 12 hires, then your sourcing efficiency would be 12/100 x 100 = 12%. It is important to understand the difference between determining your sourcing channels' Source of Applications efficiency versus their Source of Hire efficiency.
This brings into question if the company values quantity or quality. According to a study posted on Jobvite.com, job boards yield the highest percentage of applicants, but the lowest percentage of actual hires. It also revealed that the most effective sourcing channels are internal hiring (18X more effective) and referrals (5X more effective). You've heard the phrase "consider the source." This 100% applies to the talent acquisition process.
4. Offer Acceptance Rate
Sometimes the issue is not that you can't find enough qualified or top-tier candidates to extend offers to, but that not enough are accepting your company's offers. The formula for calculating the offer acceptance rate is (the number of accepted job offers/the number of all offers) x 100. According to an article in Inc. magazine, 5 reasons candidates reject job offers are:
You're too slow.

You didn't make a good impression.

Your job description doesn't match the role.

You unknowingly raised a red flag.

They just weren't that into you.
Basically, the longer you keep a candidate waiting, the more they will question their interest in your position and your interest in them. This also gives the candidate time to re-think if they even want to leave their current position. Often, managers have the mindset that it is the candidate's job to impress them because the candidate is the job seeker, however, the hiring managers need to remember that they are the employee seeker and want to acquire the best talent available. Companies also have a need to fill a vacancy, and just as they have choices, candidates have choices as well.
Yes, companies are encouraged to make their job descriptions stand out by highlighting the company culture and company benefits, but the actual description of the job duties needs to be as accurate and as detailed as possible so as not to be misleading. You do not want candidates to feel like they have experienced a bait-and-switch during the interview process. Sometimes there are even factors that the company has no control over.
As an example, the culture of the company or nature of the position may have been revealed in the interview process or job offer process that confirmed for certain candidates that either the company wasn't a good fit for them or that they weren't a good fit for the position. The hardest truth to accept is that sometimes candidates simply lose interest in your company, which results in them moving on. The candidates may not communicate this with the company to avoid any awkwardness, so they keep the door open to receive an offer even though they are not intending on accepting.
5. Candidate Net Promoter Score (NPS)
The NPS is the number of people who promote the company minus the number of those who detract from the company. Promoters are candidates and former employees who speak positively about their experience with the company and would recommend employment there. Detractors are those that provide negative feedback and cause potential candidates to question their interest in the position and/or company. This illustrates the importance of ensuring that an employee has a positive full life-cycle experience at a company, from application to termination (whether voluntary or involuntary). Also, it is a reminder to be mindful and professional with all candidates, whether they move forward in the process or not.
Is it Time to Re-Visit Recruitment Strategies?
So, which recruitment strategies yield the top talent your firm needs to ensure future success?
By using these key performance indicators in their recruiting metrics, firm leaders can evaluate which strategies are worth keeping and which are not beneficial. Need help with deciding which talent acquisition KPIs to focus on? Full Sail Partners can help with our HR Consulting Services.