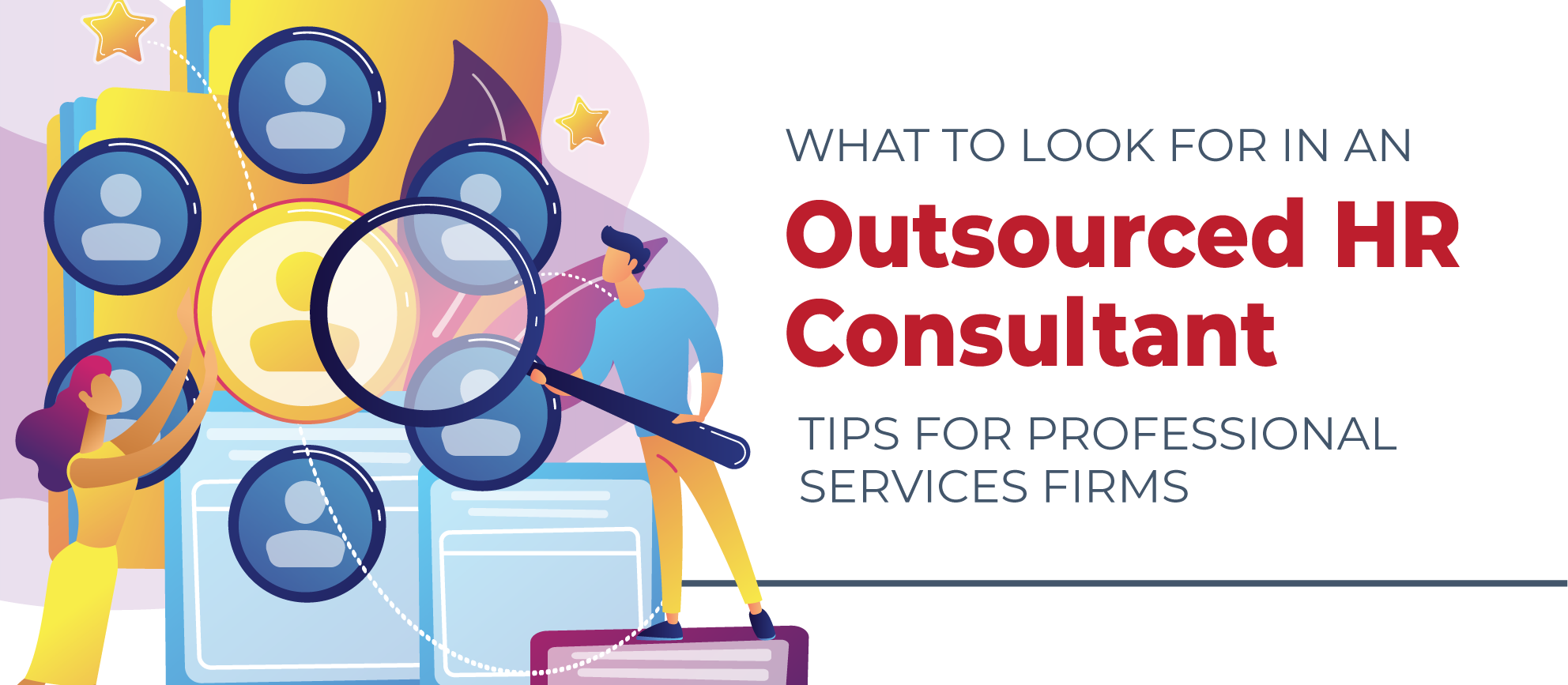 In my years of experience as an HR Consultant, I have seen many professional services firms struggling with a variety of HR issues. Let's take this one example for instance - the HR Administrator at a professional services firm has the responsibility of performing complete benefits administration for employees. She has found herself bogged down with benefit administration duties like monthly bill reconciliation, employee enrollments and terminations, and employee questions on coverage and claims processing, etc. She has been spending so much time handling benefit issues that she has not been able to effectively manage the employees' performance and productivity. 
So, in order to handle this situation, this professional services firm decided to hire an outsourced HR Consultant to assist with Benefits Administration to complete the benefits lifecycle from open enrollment and plan changes to billing and terminations. The HR consulting services freed up time and focus for the HR Administrator to manage other employee affairs more efficiently. 
Determine Firm's Needs for Outsourced HR
Outsourcing has become increasingly necessary as HR professionals seek ways to reduce time and resources spent on transactions and administration, so they can concentrate on more strategic activities. According to an article on Essential HR Outsourcing Statistics by ZipDo, June 13, 2023, 56% of organizations have outsourced at least one HR task and 39.8% of businesses outsource HR functions to improve their focus on core business areas. Furthermore, 68% of companies accept that outsourcing their HR functions improved their employees' overall experience.
However, it is important initially to understand what the ultimate objective is for each professional services firm to determine how the HR consultant will help you meet that objective. To determine what services you will need, look at your main employee-related pain points and deficiencies as well as your professional services firm's growth plan. 
Are there very specific issues that need pointed focus like Recruiting/Talent Acquisition, Employee Relations/Employment Law, or Compensation Analysis, or is there a need for an overall evaluation or overhaul of the HR function in general? This will help you determine if you need a consultant or agency with global HR experience or a more specialized HR professional, such as one who specializes in Employment Law or Diversity, Equity & Inclusion (DE&I), etc. It is also beneficial to find an HR partner who understands your industry or even geographic area to provide more relevant and accurate guidance.
Do Your Research
Once the outsourcing HR needs have been determined, then the hunt for the right Outsourced HR Consultant begins. It is important to research Outsourced HR Consultants that offer the level of service you are seeking based on the scope of the task(s) and desired outcomes for your professional services firm that you have determined based on the assessment of the services needed. Look for HR consultants who have a proven track record or reputation for delivering desired results. This can be acquired from client referrals and research from reputable HR-related or specific industry sources, like SHRM, HRCI, and industry websites, Glassdoor, etc. You should additionally consult with other companies in your industry for referrals. 
Establish a Budget
HR leaders and the executive committee must also determine the budget designated for Human Capital Management (HCM). It is not always necessary to spend an excessive amount of money on Outsourced HR consulting services. You must take into consideration if the consulting will be on an as-needed General Services Agreement (GSA) basis, which will let you pick and choose your services or even come in to help you with specific projects and training topics. Some may offer the option to call when you have an urgent question or concern. Another choice is a full-scope project contract or agreement with pre-determined goals and targets. The available options per consultant will also help to narrow down the right consultant choices for your professional services firm.
Get Proposals When Looking for an Outsourced HR Consultant
We recommend that you request proposals from interested HR consultants. The proposal should include a clearly stated overall objective to ensure it is in line with the professional services firm's expectation, specific details about what tasks they will complete, the steps involved in accomplishing this goal, estimated time for each task, and final completion target date, and estimated costs of services delivered. 
The HR leaders and the executive committee should compare the proposals and determine which proposal overall best meets the needs of the firm. Then they should conduct interviews to gather details about their services, confirm their ability and desire to meet the expectations of the company, availability, and costs, and obtain references. Be sure to give specific situations that your professional services firm is experiencing to see how they would handle those real situations. 
Find the Best Match for Your Firm
When looking for the right Outsourced HR Consulting situation, you should have a clear understanding of your company's culture, values, and overall vision. It is very important that as you are vetting consultants, you should communicate this information to them to determine if they would work well with the structure/culture of your professional services firm. All of this should be taken into consideration as they assess and advise the firm. It's important that you find a consultant that respects the culture you've built and won't disrupt the current dynamic or morale. 
Get Ready to Start Looking for Your Outsourced HR Consultant
Based on the same ZipDo statistics article referenced above, companies that outsource HR management can see an average cost savings of 20-30% and can save an average of 18 hours per week on paperwork and administrative tasks. Moreover, 60% of businesses with outsourced HR processes have been successful at improving employee morale. These statistics provide compelling evidence of the numerous advantages that come with outsourcing your HR functions. With these insights, you should be motivated and prepared to begin your search for the perfect HR consultant. Want to hear more about the Full Sail Partners' Outsourced HR Consulting Services? Click the image below to get started.