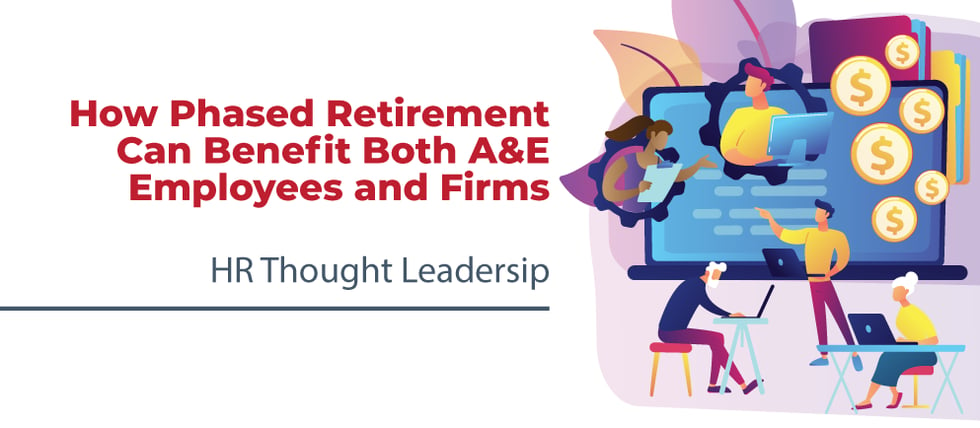 By 2028, according to the U.S. Bureau of Labor Statistics, 42 million people will fall under the category of people working that are 55 or older. So, this equates to almost one-fourth of the workforce in the U.S. While an aging workforce is becoming more prevalent in firms including those in the architecture and engineering (A&E) industry, this doesn't mean seasoned employees have to immediately say goodbye to the industry they love!

With phased retirement, A&E firms or any professional services firm can help these senior employees transition into retirement while still retaining their valuable skills and experience. Not only are there many benefits for both employees and employers when implementing a phased retirement program, but leadership can also customize the plan that meets the needs of individual A&E firms. Going forward, let's discuss this concept of phased retirement in some more detail and see how it will be advantageous for your A&E firm.
What is a Phased Retirement?
As defined by Stephen Miller's article for SHRM Online, "Phased retirement is an employer-based program that allows employees close to retirement age to reduce their working hours and transition into retirement. These programs may include a partial drawdown of funds from defined contribution or defined benefit retirement plans and continuing employer-sponsored health coverage."
The idea of phased retirement is not new. In fact, a worldwide survey of 1,736 HR Executives, by Mercer LLC, indicated that around 38% of these executives said they offer phased retirement which is more than double the 17.2% before the pandemic. Clearly, these executives see the slew of benefits for considering a phased retirement plan that will be advantageous for both employees and employers.
Phased Retirement Benefits for Employees
The following are just some of the benefits of a phased retirement for employees:
Lowered Responsibility:

Experienced or knowledgeable professionals tired of dealing with their current level of responsibility are looking for less-stressful roles or roles that are project-based, and those where their schedules can be more flexible.
Guidance from Employer:

As they see the unknowns of retirement fast approaching, these senior employees can look to their employers for a source of assistance on how to proceed forward in their ultimate career plans.

Addresses Longevity in Life:

People are living longer, so there are both financial and personal reasons employees close to retirement age may want to and/or need to phase into retirement, which includes continuing to save as much as possible before their career comes to an end. The days of guaranteed pension plans have been replaced by 401k plans and other sources of retirement savings.
Offers Partial Retirement Earlier:

Given the opportunity to reduce hours while still getting a salary and benefits allows employees to save money and invest carefully now so they can enjoy a retirement while still young enough to appreciate it.

Can Test Drive Retirement:

A phased approach to retirement lets senior employees ease into a new chapter in life. They get a chance to try things out before totally committing or "test drive" how retirement will work for them. For example, with a reduced workload, they will have the chance to explore other interests outside of work.
Helps Adjust to New Life:

Employees close to retirement age must consider making life changes that may be a bit stressful. Phased retirement provides a chance to see what these changes look like going forward without being overwhelming. Like, if married, starting with reduced hours is a handy way to help a couple ease into a new living arrangement. Or for those that are used to working all the time, they can see what it is like to have more time without work.

Get an Encore Career:

With changing responsibilities or the type of work that senior employees can take on whether upskilling or reskilling, phased retirement can offer these employees an "encore" career. This mindset allows for the eventual transition to retirement to be a positive one and has employees "go out with a bang."
Phased Retirement Benefits for Employers
Employers also benefit by offering their employees phased retirement options. Below are just a few of those benefits:
Knowledge and Skill Transfer:

Seasoned employees generally have strong skill sets and knowledge that comes from experience, or the work ethic that can be transitioned to another position through reskilling or upskilling. Firm leadership needs to keep these valuable employees by granting pre-retirees the opportunity to continue earning income while feeling significant to the firm. During the phased retirement, skills and knowledge can be transferred to the next generation and the employees feel valued by their employer who works with them to provide a comfortable transition.
Opportunity for Younger Generation:

Again, skill sets and knowledge come from experience and are not learned immediately out of school. With phased retirement, transitioning senior workers gives younger workers opportunities to move up, making skills coaching by experienced workers vital. These younger workers will have the chance to get exposure to what the experts know before they transition out.

Mentorships:

Pre-retirees can offer their skills and knowledge and help with succession planning, mentoring, and training of the younger workforce. With phased retirement, there is time for this significant evolution to occur with no sense of major urgency. In fact, morale can also be improved when senior workers are given the chance to mentor their younger coworkers and see the value they still bring to the future of the firm.
Ease of Transition:

With phased retirement plans in motion, this facilitates a more seamless transition for these workers. With guidelines in place, and a mutual understanding of what is to come, there is no abrupt ending to their careers.

Offers Employee Flexibility:

Phased retirement gives pre-retirees the flexibility to retire on their own terms, which shows them that they are valuable and that the firm cares about them. When structured, firm leaders can help senior employees make a comfortable transition to retirement while not losing the trust of long-term employees.
Examples of Requirements for Eligibility for Phased Retirement Program
A&E firms looking to introduce a phased retirement program may want to start with determining eligibility requirements. Below are a few examples of such requirements:
Minimum 5 years of Service

Minimum Age 55

Minimum Hours Reduction 10%

Maximum Hours Reduction 50%

Minimum 6 months, Maximum 3 years
Minimum 20 hours/week

Agree to retire at the end of the specified timeframe

Arrangement must be mutually agreed upon
Additional Items to Consider When Creating a Phased Retirement Plan
Other considerations when exploring if a phased retirement plan option is right for your A&E are:
Participation in the program must meet the needs of the department and the firm as a whole.

It is not a guarantee of employment.

Employees must be in good standing.

Employees must adhere to company attendance policies.
Employees have the option to accelerate their retirement date.

As an employer you do not necessarily have to agree to a request if you have a good business reason for your refusal, but you must deal with the request in a reasonable manner and accommodate employees' needs wherever possible.

Attention needs to be paid to the details of the transition.

It should be presented as any benefit, so eligibility is like any other firm benefit.

Program needs to be communicated throughout the firm and speak to "all demographics."
Get Started with your Phased Retirement Plan
With a phased retirement plan in place, A&E firms or any professional services firm can navigate the transition of valuable, seasoned employees with ease, maintain careers and skill sets, all the while helping the next generation be prepared for the future to ensure continuing success. Each plan will be specific to an A&E firm's needs, focusing on what makes sense for that firm and determining which roles it would apply to. If this is something you would like to explore further, feel free to reach out to our HR Consulting Experts. Click the image below to get started.