A Cautionary Example of Using KPIs
If a Project Manager Falls Down in the Forest and No One is Around to See It, Does the Project Manger Still Get the Quarterly Bonus?
I have been giving a great deal of thought to KPIs (Key Performance Indicators) lately. One thought was about the idea of the unintended consequences of putting a "suite" of KPIs (KPIs are like potato chips, you can't have just one. . .) in place, specifically for Project Managers.
How will their behavior change? Will measuring chargeability for their project teams cause the employees to be more utilized or cause billable project to become less profitable?
Let me throw out an example. This example is based upon a real client and provides KPI insight. The Names have been changed to protect the innocent.
Company A wanted to incentivize their project managers to produce more revenue. So, after months of discussion and planning, the partners setup revenue targets for each PM based upon past performance and a generously favorable potential revenue prediction for the next year. The Project Managers would be paid a bonus at the end of each Quarter for any Revenue they brought in over the projected target. This was very generous, and all the partners agreed that this would drive business revenues higher.
Except it didn't happen exactly the way they wanted it to.
Here is a graph showing how their revenue was before this particular KPI was put in place: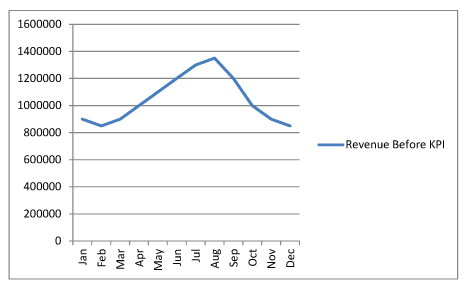 And here is the before and after picture: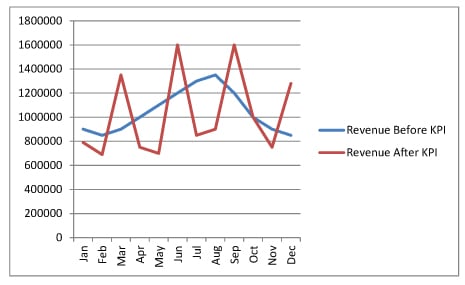 Ouch!
This of course caused their accounting team to load up on antacids for most of the year. Their KPI (and bonus program based on that KPI) had encouraged some behavior that was not necessarily good. The Project Managers did not care about recognizing any revenue (and by extension, billing the client) until the end of the quarter, and when they did, they typically over-recognized and over-billed.
This problem caused a cascade through-out the organization. Clients noticed and started to question why this month's bill was so much larger that last month's. Average AR started to go up. Cash flow went down. Lines of credit had to be accessed to make payroll (and pay the quarterly bonus).
How could this have been prevented? Looking back, it is obvious right? But at the time, this sounded like a great idea and everyone was committed to making it successful.
Too much focus on one KPI is not a good thing. They should have used several measurements that touched upon AR, Chargeability, and (Project Managers cover your ears!), Client Satisfaction.
Quantitative measurements are great, but we also need some Qualitative measurements in the mix.
Involve many different types of people in your KPI development. Someone might have pointed out this scenario at the beginning if the partners had not developed this on their own.
Which brings me to my final point... KPIs only help if you review them frequently and action is taken based upon them. A well designed KPI exists to measure performance and if adjustments are not made based upon them...then no one saw the Project Manager fall in the forest.
View webinar on KPI Insight for Project Managers.