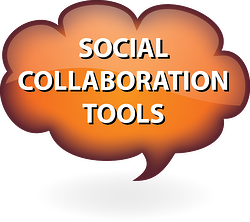 Let's be clear: people are not squirrels. That being said, when you're trying to get your firm's employees to interact with each other effectively, it may seem like trying to herd the little woodland creatures.
Most firms' leaders already know that the most effective answers to this challenge involve improving collaboration, communication and teamwork. Easier said than done, right?
Fortunately, social collaboration tools can improve the effectiveness of not only your individual employees themselves, but also the separate functions within the firm and also the organization as a whole. Here are some of the ways a firm can use these innovative tools to add value throughout the organization.
Executives
From the CEO or partner's perspective, social collaboration tools have the potential to improve productivity at every level within the organization. Here's how:
Individual employees are empowered to share information and collaborate on projects more efficiently and keep their managers and colleagues up-to-date in real time.
Functional units can collaborate more effectively, because managers have better insight into the status of all ongoing projects. Managers also have a central location for all project communication that doesn't disappear when an employee leaves.
Differentiating your firm from the competition by providing a collaborative environment for not only your internal team members, but outside consultants and clients.
As an example, collaboration tools such as Kona make it far easier to include clients as team members throughout the process. Compared to other firms that simply use emails and phone calls to keep clients in the loop, a firm using these tools can enable more integrated and up-to-date communication with clients, and at the same time, create a more enjoyable customer experience.
Project Managers
On each project, project managers can get better visibility into milestones and issues, improving project efficiency as well as the client's experience in several ways:
Improves team members' communication and accountability, while reducing time wasted in status meetings.
Strengthens the project manager's relationship with the client, and also differentiates the firm.
Brings new staff up-to-speed more rapidly, shortening the time required before they can contribute.
Creates a centralized record of working issues, tagged and easily searchable.
Marketing/Business Development
Professionals in a firm's marketing/BD function, like its executives, stand to benefit in the long term from the differentiation that can result from effectively managed social collaboration tools. They also benefit in more tactical ways:
Improves communication and accountability in proposal planning, development, and review, including go/no-go decisions.
Streamlines event planning and tradeshow preparation.
Provides unified view of specific tasks across multiple BD proposal efforts happening simultaneously.
Enables greater consistency and knowledge transfer across multiple groups working on proposals and other repeatable processes.
Information Technology
IT departments can use these tools to address a range of technical needs and, at the same time, change the culture to one that is more collaborative. Among its impacts, a social collaboration tool:
Enhances internal and external collaboration while protecting network information.
Is less expensive than traditional collaboration solutions such as SharePoint.
Improves management of complex IT projects and saves time by enabling peer support.
Allows the CIO and other leaders to be more aware and experience the "pulse" of individual projects and issues.
Human Resources
For the HR function, these tools can help in ways that are both strategic and logistical. Social collaboration tools:
Streamline and expedite recruiting and on-boarding processes.
Use two-way internal communication about tasks, events, and topics to create a more collaborative environment and improve employee engagement.
Allow HR employees to be more productive in planning and implementing internal events and initiatives.
Accounting
For the accounting function, social collaboration tools bring new efficiencies to a variety of ongoing processes in multiple ways:
Rather than having to dig through email chains and contact multiple individuals for updates and answers, accounting professionals can streamline the month-end close process by generating repeatable steps to organize and capture financial information.
Contract management can be improved by creating templates with specific steps and forms to guide each project.
Accounting staff can create a private but accessible space to capture progress and follow-up on A/R issues, assign individual responsibilities and maintain a centralized log of progress toward resolution.
The Collaborative Edge
In a sense, your most important asset could also be a liability: If your staff cannot collaborate effectively, you're not optimizing your firm's capabilities. Social collaboration tools have the potential to improve collaborative capabilities at every level and in every area of your organization, bringing about measurable improvements. At the same time, they can help you create a better client experience and differentiate your firm from others — critical factors in attracting and retaining clients and employees.