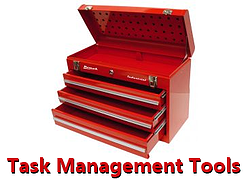 My social life is full of Project Management professionals. Engineers, IT people, Construction Managers, and Event Planners. I quizzed a few asking about the task management tools they use and what they liked and disliked. After several hours of phone and instant message conversations, I realized I learned very little about the tools and a lot about the groups they work in.
Stuck on the plan
Z says he loves the Gantt chart. He likes the graphical representation of the timeline. Great!
He spent the next 45 minutes explaining that the chart is created at the beginning of the project and is never updated even when they are clearly lagging behind. Outside factors such as varying commitment to the project and unforeseen challenges move the actual timeline and meetings are held to determine which tasks will not be delivered to make up for the time. Notes are kept, negotiations are executed, and none are memorialized using the task management tool he loves.
Changing the Gantt is really hard with all the different dependencies that were created at the beginning. He keeps his own notes now in a different program that allows for commenting. He's not the project manager on most of the projects, so he keeps them to himself.
Tools must be flexible enough to change the plan and allow for the inclusion of data along with the tasks
Group members should have confidence that the information is located in a place where they can find it
Stuff is everywhere
K works with creative types. He works for a MAC shop, and solutions are fewer for task management tools so they use email, and Lync, and the SharePoint site, etc etc.
His group has differences in communication styles, working schedules, and even location. More time is spent managing the information so that it is visible to the group at large, which takes up as much time as completing the tasks and collaborating on the project. Time is lost forwarding information to people who missed it or weren't included. At various stages, someone is invariably surprised and disagrees with the actions taken.
Task management tools should not care what platform you are working on or where you are
Communications should be easily transparent to team members even when they fall behind
Do you remember if…?
E works on long projects with a great deal of turnover and changes to tasks and timelines. The team is actually composed of clusters from different companies but one group is the document master.
There are several subsets within the group that make decisions for the project. The discussions are held live and communication to the rest of the group on action items is relayed using email. One person updates a spreadsheet that is now too big to email and can only be accessed with a login to a program installed on a workstation.
The tool should allow new members to get up to speed quickly
Data should be accessible from anywhere to any team member
Lessons learned about task management tools
After multiple discussions on task management tools, these common themes continued to ring true. Solutions should be:
Transparent
Modifiable
Flexible
Accessible
Do you have further insight in to the task management tools your company is enabling? Respond in the comments section and let us know!