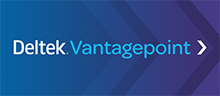 Many Deltek Vision customers have been a bit confused by the announcement of Deltek Vantagepoint (formerly Deltek for Professional Services). Well, Deltek Vantagepoint is the newly branded and freshly reimagined next version of Deltek Vision specifically built for professional services organizations. The starting point for Vantagepoint was Vision 7.6 and this initiative has been about accelerating the product to a pure browser-based interface which began with iAccess. Let's take a look at Vantagepoint and the impact on Vision users.
Reimagined Next Version
Vantagepoint is the same great product with all the power of Vision using a fresh, modern interface that will be accessible to anyone, anytime from anywhere. This next version of Vision has impressive new features, reengineered workflows and expanded functionality. All of these enhancements were created based upon years of customer feedback taking Vision to a completely new level.
User Defined Content
As part of the upgrade to Vantagepoint, user defined content and configurations within Vision come along. Some areas will need to be reviewed to make sure things continue to work and look the way you want due to the functional improvements of Vantagepoint. However, the configured content will not be lost in the upgrade which is very similar to a typical Vision upgrade.
Custom Reports
In Vantagepoint, the reporting platform is SQL Server Reporting Services just like in Vision. The architecture and database structure of Vantagepoint is the same as Vision since Vision 7.6 was the starting point. Custom reports and/or invoice templates should continue to function in Vantagepoint. If a custom report references a portion of the database schema that changed in Vantagepoint, it will need to be reviewed with minor updates just like it would have with Vision upgrades.
Upgrade on Your own Timeline
During the transitional phase between Vision and Vantagepoint, the timing of the upgrade is up to the customer. Upgrade timing depends on what functionality your firm is using in Vision today. Vision 7.6 will remain in active support mode including updates until at least the end of 2022. Moving to Vantagepoint does not require a data conversion but rather all Vision data is simply upgraded. Just like with any Vision upgrade, there may be the need to accommodate functional changes.
Upgrade to Vantagepoint
More than 200 customers are currently using Vantagepoint today. For all Vision customers, there is an existing customer portal to learn about Vantagepoint https://dsm.deltek.com/Vantagepoint. All firms using Vision are encouraged to consume the portal content in order to ensure a smooth upgrade.