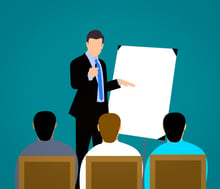 It is well known that clients hire professional services firms because they have a certain expertise and knowledge base. Therefore, it is crucial that employees of professional services firms are able to jump in and immediately handle the requirements of each project brought to the firm. One of the best ways to ensure that firm employees are ready for each new challenge is to have effective training programs. Trainings can range from bringing new hires quickly up to speed on firm expectations to teaching more seasoned employees a new set of skills to fit changing roles. The important piece is to ensure the trainability of these employees. How can firms accomplish this?
Have Strategic Training Process
Each training program should have specific objectives with measurable goals. The audience of the training impacts the approach used as well. Onboarding new hires is of course going to be different than teaching new skills to experienced staff. It is necessary to evaluate which training tools or platforms will be most effective with the varying learners. Also, what means will you use to measure learner knowledge? It is necessary for the firm to get a return on investment from these trainings as they are costly.
Effective Training Content
In order to meet the goals of each training, a structure must be determined. Start by focusing on what is to be accomplished in the training. For new hires, they must be able to digest the overall company policies and requirements plus their individual position responsibilities. Experienced employees are looking to learn new skills in a manner that makes sense and can be easily applied to meet their new expectations. At the end of the training, will these employees have what they need to efficiently do their jobs?
Optimize Engagement
Trainability of employees increases when they are engaged. First of all, choosing the most attractive content encourages engagement such as mixing it up with a variety of media options. Chunking material is a good way to ensure information processing without overwhelming the audience. Finally, offering incentives to learn such as prizes or fun swag during the training will promote engagement. Appealing to the audience improves their trainability.
Ask for Feedback
When the training sessions are over, it is important to gauge effectiveness. One way could be through reporting features of the training platform used. Another option is to use feedback surveys. Through these methods, employees can show that they got value out of the trainings. Hopefully, they did, but if not, improvements can be made for the future to encourage the best learning environment possible.
Track Employee Training
Being able to quickly see what training a certain employee has received can also improve trainability. For many firms, this is done using a system that doesn't allow for the employee or their boss to see what trainings have been accomplished. Instead, employers should invest into a HR solution that can track completed training programs and also provide a list of future programs an employee is expected to complete. As a result, employees will more likely be enthusiastic about their future growth at the firm.
Trainability Ensures Productivity
Firms want a strong workforce that can meet client needs, so trainability is essential. When determining the best training programs, think about how to meet the goals of the firm while engaging the audience. The return on investment from high employee productivity is worth the effort put into the pre-planning of training programs.