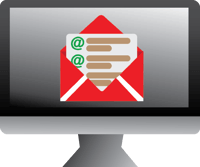 Recently, I was fortunate enough to participate in a lively discussion among up-and-coming marketers regarding the merits of running email marketing campaigns for professional services firms. Although opinions differed greatly on the types of campaigns firms should deploy, one thing we could all agree on: Email marketing is widely effective. For example, Chief Marketer reports that email marketing shows an impressive ROI of 28.5%.
So, I wanted to share with you some of my favorite email marketing campaigns. These are the types of campaigns any firm can utilize. These campaigns are merely a starting point to get your email marketing creative juices flowing! Next time I check my inbox, I hope to see one of these campaigns coming from your firm.
The Right Email Marketing Campaigns for You
The Newsletter is alive! Believe it or not, the tried and true newsletter is alive and well. Transforming the newsletter from a print to digital format is a natural progression for most firms. In fact, the ability to customize and micro-target specific audiences allows marketers to ensure that they are focusing their messaging on their audience.

When designing a newsletter, keep in mind:



Subject lines are king. The battle for readership is won and lost in the inbox, don't let a poorly thought out subject line land your newsletter in the trash.
Create a central theme. Nothing increases your readership-bounce-rate like a disorganized, hard to follow, mailer. Create a central theme to your email blast and stick to it: Your click through rate will thank you!
Make it clear on how to opt out. The number one sin when executing a digital newsletter campaign is trapping your audience in a slow painful death by email. Nothing deteriorates your brand faster than spamming disengaged customers. Give your readers a clear path to exit and your overall mailer will be better off. At the very worst you will know that your messaging needs refining based on an alarming rate of unsubscribes.


Spotlight your latest project. Have you recently completed an impressive project that your clients would like to hear about? Perhaps you can highlight your top projects to a target list of prospects that you would like to do business with in the future. Bolster your brand by taking pride in your projects and demonstrating your expertise to the world. Bonus: Your current clients get additional exposure for their project, a win-win for everyone!

When spotlighting your next project, keep in mind:



Give your images alt tags! Email clients can be a tricky beast, and you never know what settings your recipient has enabled. You are trying to spotlight a project, and surely you want to show off your beautiful project photography, right?! Giving an image an alt tag will allow alternative text to appear if the image doesn't load.
Tell your reader a story. It's not enough that you recently completed a new state of the art project. In order for your message to be memorable you need to focus on engaging your reader. Make your email standout by crafting a relatable story.
Reduce load time, not quality. Optimizing high-quality images for digital viewing is essential. Compressing your images allows you to maintain quality while reducing long email load times.


Planning to attend an event? Let 'em know! Email is an excellent tool to inform prospects and clients that you will be attending an upcoming event. Invite your contacts to join you to ensure that you get the most out of the event. I always like to say that email blasts are a way for me to start networking at an event, before the event ever starts.

Before promoting your next event, keep in mind:



Why do they care? Do you really think that the fact that you are attending an event is really enough to entice a client to show? You need to let your audience members know why they can't miss the event. Make it all about them and you just may be rubbing elbows with them sooner than later.
Make your email actionable. It's not enough that the client or prospect knows that you will be at the event, make sure to let them know how they can connect with you on-site.
Responsive Design. Fast forward to the day of the event and there's a good chance that your client will be using their smart phone to refer back to the email you sent them with meetup instructions. Make sure that your email is optimized for mobile viewing.
Getting Started is Easier than Ever
So you have decided that this email marketing thing is for you, but you don't know how to kick off your first email campaign. No worries, we have you covered. Sign up for a 60-day free trial of Constant Contact and access dozens of free email templates to help you craft your message.