Deltek, Inc. recently announced at the Deltek Insight 2012 Conference that Full Sail Partners and its client, Wiss, Janney, Elstner Associates, Inc. (WJE), have been selected for the Partner Award for Deltek's 2012 Project Excellence Awards Program. The Partner Award recognizes a Deltek partner, and customer, that together have delivered an exceptional Deltek solution implementation.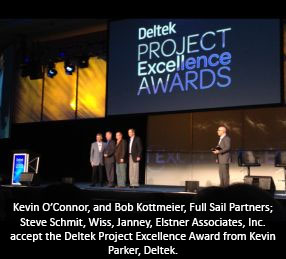 Full Sail Partners assisted Wiss, Janney, Elstner Associates, Inc., a prominent A/E/C firm ranked on Engineering News-Record's list of the Top 500 Design Firms in America, with the implementation of Deltek Vision across its business. Full Sail Partners built numerous workflows in Deltek Vision such as conflict checking, project initiation, billing, and project status report. As a result, WJE realized an annual savings of about $1.8 million and a reduction in DSOs of 45 days. The cost to purchase and implement Deltek Vision paid for itself over 30 times in just one year.
"As the leader in solving the world's most challenging construction-related problems, WJE works on more than 7,000 projects a year. Our project management, time, and accounting systems must not let us down," said WJE Associate Director of Finance and Controller, Steven Schmit. "We are honored to receive this award recognizing the partnership between WJE and Full Sail Partners, whose expert guidance and support has been so critical to the successful implementation and ongoing operation of Deltek Vision within our firm."
Since the awards program started in 2008, Deltek has recognized some of the most innovative, market-leading companies in the world. The Project Excellence Awards program, a key component of the annual Deltek Insight User Conference, was designed to highlight and honor unique achievement among Deltek's more than 14,500 customers worldwide. The goal of this award program is to recognize outstanding Deltek customer and partner success in improving business processes and performance, increasing profitability and winning new business.
"We are very proud to be honored with the Project Excellence Partner Award with WJE. We loved the challenge as presented by Steve and WJE" said Kevin O'Connor, President of Full Sail Partners. "The automation created by WJE and the FSP team brought forward a game changing level of efficiency. The implementation provided increased functionality, reduction of manual processes through automation, and timelier reporting and distribution which resulted in significant time savings. WJE has been a true partner with our firm and the close integration of the work we did is a testament to both or team's commitment to excellence."


About Full Sail Partners
Full Sail Partners specializes in client-focused technology solutions for architects and engineers, energy and environmental consultants, and professional service firms across the country. Full Sail Partners offers business consulting, technology solutions, and application hosting for Deltek Vision. Partnering with more than 1000 clients nationwide, Full Sail Partners builds long-term relationships and seeks to identify the critical resources to create a faster, more efficient, and cohesive business infrastructure.
Full Sail Partners – Keep Your Business on Course. | For more on Full Sail Partners profile and background on the Full Sail Partners crew, visit us at http://www.fullsailpartners.com.
About Deltek
Deltek (Nasdaq: PROJ) is the leading global provider of enterprise software and information solutions for professional services firms and government contractors. For decades, we have delivered actionable insight that empowers our customers to unlock their business potential. 15,000 organizations and 2 million users in over 80 countries around the world rely on Deltek to research and identify opportunities, win new business, optimize resources, streamline operations, and deliver more profitable projects.

Deltek – Know more. Do More. | For more on Deltek, visit http://www.deltek.com.