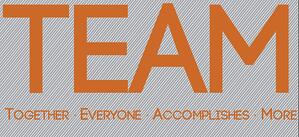 It is a new year; everyone is feeling pumped and ready to tackle their goals! As a professional services manager nothing makes you more excited than seeing your team excited. Enthusiasm is not something we can reproduce, nor is it something we can bottle up. What we can do however is help sustain this enthusiasm and better help our staff in continuing working together as a team in 2014!
So what exactly can we do to help sustain this new found enthusiasm? Ultimately it boils down to transitioning your staff from 'coworkers' to 'teammates'. I like to refer back to the common TEAM acronym, Together Everyone Accomplishes More. By breaking down each part of the acronym, we can brainstorm on ways to improve your staff cohesion, and get them working together as a team in no time!
Together: One of the most important things you can do to get your staff working together as a team is to get everyone working on the same system. Often, individual departments are working on their own specialty software, which in the grand scheme of things keeps everyone stuck in their own box. This lack of overall perspective does not bode well for fostering a team atmosphere.
However, some firms are in situations where it is not feasible to migrate the entire firm in to a singular system. In this case, I would recommend looking at other ways to collaborate and share data, such as setting up a Kona space or DropBox folder for projects. For more information regarding collaboration tools, read our recent blog on the 5 best collaboration tools.
For professional services firms that are in a situation to leverage a fully integrated system, I encourage you to check out Deltek Vision, the leading ERP software providing professional services firms with a fully integrated system. We have countless resources explaining the benefits of Deltek Vision on our website – if your professional services firm is not currently leveraging the power of Vision, we encourage you to spend a few minutes learning more.
Everyone: In order to be successful as an organization, and as a team, you will need to have buy-in on everyone's part. Your firm can invest in the world's best software, and top of the line infrastructure, and none of it will mean anything if your staff does not buy-in. Every effort you lead should have a champion. Think of this person as a team captain for the project. This person will act as a resource, and will help keep assigned efforts on task. Without a champion, your effort is sure to lack overall direction and decrease in effectiveness.
Accomplishes: We have all heard the saying 'keep your eye on the prize.' So ask yourself, are you giving your team the ability to keep their eye on the prize? An important aspect of being a member of a team, is the ability to know that you are doing your part. To accomplish this, team members need goals, and they need ways of tracking these goals. By developing a set of core growth strategies and metrics your firm will be able to position itself to consistently surpass your competition. Additionally, you cannot understate the value of the sense of accomplishment your team gains from attaining small 'wins' along the way to the main goal.
More: To keep your staff enthusiastic, you need to be willing to challenge them. By expecting a level of professional growth out of each team member, you create an environment of development. Human beings by nature want to be challenged and engaged.
We have all heard the saying 'there is no me' in team. This saying could not be any more true in the business place. While at times it may feel easier to do things in a vacuum, often times this is not the best strategy for the overall company. You will often find that this team environment will foster new creative ideas, an increased industry perspective, and most importantly a continuing enthusiasm that can quickly spread to the rest of your staff.
Pave the way to future growth and higher profitability by encouraging your co-workers to work together as a team. To encourage this behavior, consider how your firm can leverage integrating critical business processes. You will find that by doing so your firm can increase productivity, help control costs, and enable firm success.
Hopefully by following the above advice your firm will operate more efficiently as a TEAM, and continue that new found enthusiasm. Respond in the comments section and let us know how your firm as transitioned from 'coworkers' to 'teammates' – we would love to hear your story!