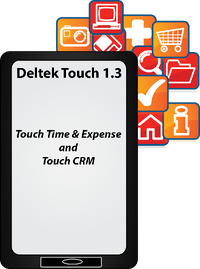 It's time to break away from the chains of your desk, and get mobile with Deltek Touch Time & Expense, and Touch CRM 1.3. With these apps, both available in iTunes and in the Play Store, it is now easier than ever to research (and update) contact records, as well as capture expenses and track time on the go. Take advantage of the following features, and provide your staff with the most powerful remote tools and utilities to do their jobs to the fullest:
Deltek Touch Time & Expense 1.3:
New Name, New Features, Same Reliability | In this release, expenses were added to the Touch Time application, and the application name has officially changed to 'Touch Time and Expense'. No more waiting to manage timesheets and create expense reports. Avoid forgetting the details or losing receipts by entering as you go. Wherever your mobile device is, Touch Time & Expense follows.


A Picture is Worth a Thousand Words | Touch Time and Expense allows you to create a new report, and then associate expense with that report. Take pictures of receipts, and upload them directly!


Numerous User Experience and User Interface Upgrades | A number of improvements have been made to the application to improve your experience. Upgrades include:



A sliding menu to replace all tabs and provide quick access to Help and Log Out.

A menu button to allow you to perform specific tasks for timesheets and expense reports.



Math is Hard, Let Your Apps Figure it Out |

Touch Time & Expense allows you to select or update default transaction currency and exchange rate for an expense report. This screen, however, only displays if Multicurrency is enabled in Vision core.
Deltek Touch CRM 1.3:
Touch Knows How to Push Your Buttons | Touch CRM now has buttons, with icons, to replace labels on certain screens. Examples of new buttons include:



'List Button' - Tap this button to display options specific for the contacts, clients, and opportunities screens.

'Pen Button' – Tapping this button allows you to edit contact, client, and opportunity information.



No Mobile Limitations | Touch CRM allows you to search, edit, and add clients on the go. In addition, add or update Opportunities with the touch of a button.

Syncing Made Easy | Touch CRM automatically syncs up with your Deltek Vision system, and allows you to create activities and calendar events on the desktop, and access them on your mobile device.

Full Visibility | See user defined fields in contacts, clients, and opportunities. Additionally, Touch CRM 1.3 gives you the ability to view activities!

It's All One Touch Away | Make a phone call, send an email, or map an address with the touch of a button.


And more | Interested in learning more about the features and functionality included in Touch 1.3? Reach out to us today for a demo, and start operating better!
Are you currently using the Touch applications? If so, respond below and let us know what your experience has been like so far.