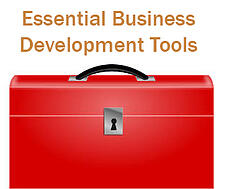 Successful professional services business development professionals often view themselves as hunters. Much like the cavemen or nomads, this group of professionals is responsible for learning how to navigate the dangers of the world to bring food back to the pack. This overly simplified analogy challenges us to view business development tools and efforts on a visceral level.
However, today's competitive business environment requires business developers to be both hunters and farmers. Technology has drastically changed the way that relationships are cultivated. Our world is now more connected than ever before, therefore the 'entry for admission' to being a known entity is significantly higher than it has ever been before.
So what are the most essential hunter-farmer business development tools? Let's take a look!
The Business Development Tools for Success
Operate Like the Company You Desire to Be
As mentioned earlier, these business development tools are really the basics for being competitive in today's market. Ultimately what differentiates your firm in the eyes of the client is how you utilize these technologies. Perception is often reality -- Clarissa the Client doesn't know the intimate details about your firm, but she is aware of the image your firm presents. Firms that effectively deploy and manage the above tools are able to establish a brand within their market as top tier business partner.