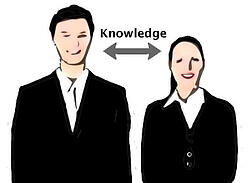 As white-collar professionals, our individual skillsets are built upon our cognitive abilities. We spend years adding new skills and competencies to our wheelhouse by absorbing tidbits of information from every facet of our daily lives. Think hard enough and I am sure you can identify personal, professional and communal experiences that have factored in to your eventual expertise. So how do we capture this intellectual information and pass it on to our coworkers? This knowledge sharing conundrum stumps many firms.
The simple fact that you are reading this blog, and have identified the challenges of knowledge sharing within your organization, gives you an advantage over the average professional.
The Contributing Factors for Effective Knowledge Sharing
Expression: Knowledge is power. However, to convey this power to our cohorts, we need to be able to describe the information clearly and accurately.
Awareness: The recipient must be aware that the knowledge is available and be willing to make an active effort to absorb the information and seek clarification where needed.
Availability: The knowledge recipient and the knowledge provider must have availability to work together to clarify and provide further explanation to complex issues.
Direction: The wealth of knowledge being shared was likely gathered over a long productive career. With that said, do not underestimate the importance of transferring this data in clearly defined, differentiated, segments that allow the recipient to comprehend the information accurately and completely. Avoiding information overload will allow this entire process to be less intrusive and run smoother.
Completeness: This knowledge is often complex and multifaceted. In order to convey this knowledge accurately, it is vital to provide a complete and holistic picture. Often the 'why' is just as important as the 'what.'
Applying Knowledge Sharing Concepts to Your Business
I challenge each reader of this blog to self-examine and ask yourself: is your organization doing everything possible to foster a culture of collaboration and knowledge sharing? If not, why? If so, what impact has this knowledge sharing had on your firm growth? The reality of this question can often be hard to come to terms with.
Social collaboration requires buy-in from the entire organization. Understanding the factors in play here can be as rudimentary as examining the makeup of our organization and understanding the different generational values in play.