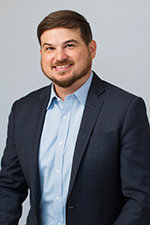 Full Sail Partners, a Concur and Deltek Platinum Partner, is excited to announce that Joel Slater has joined the firm as Product Sales Manager. In this newly created role, he will oversee all Full Sail Partners' product sales. The firm's product offerings include Deltek Vision, Deltek for Professional Services and Blackbox Connector solutions which integrate multiple best of breed software applications like Entrinsik Informer 5 business intelligence and Concur Expense and Invoice.
Joel comes to Full Sail Partners with more than ten years of experience selling ERP and finance-related software applications to project-based firms. Also, having been a Sales Executive for both Concur and Deltek, Joel has ample knowledge of Full Sail Partners' product offerings. With this exceptional background, he will be able to ensure Full Sail Partners' clients are provided with the right tools within their stated budget to help them streamline their operations.
"I'm excited to continue my career working with project-oriented firms, and with a continued focus on a product set which I truly believe in," stated Joel Slater. "This new role provides an ideal setting for utilizing my past experience to help our clients advance successfully into the future."
As Product Sales Manager, Joel will work with clients directly on any Full Sail Partners' product offering, but he will also be available to assist the account management and the Blackbox Connector sales teams. Our account management and Blackbox Connector sales teams are located across the country allowing us to provide better service to clients throughout the United States. Joel will be a great asset in working with them to offer the solution that best fits the individual client's needs.
"Joel is a highly-regarded sales person in the Deltek and Concur ecosystem. We are thrilled to have him join the Full Sail Partners' team as our new Product Sales Manager," stated Sarah Gonnella, VP of Marketing & Sales. "In addition to his strong selling background, Joel is known for mentoring other sales colleagues. As a growing sales group, this is vital to our firm's success and we look forward to his knowledge and expertise to grow the company."
For more information, please contact Full Sail Partners' Marketing and Communications Department.