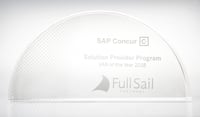 At the annual SAP Concur Fusion Conference in San Diego, Full Sail Partners was honored to receive the 2018 VAR of the Year award for the Solution Provider Program. For the last few years, Full Sail Partners and SAP Concur have successfully been working together to provide a Blackbox Connector solution to their mutual Deltek Vision clients. The Blackbox Connector offering by Full Sail Partners for Deltek Vision is future proofed for Vantagepoint and allows users to connect their systems to other third-party software solutions like SAP Concur to streamline business operations.
"The OCR capability combined with the monitoring and reporting features within the SAP Concur product almost sells itself when I explain it to clients. Now that our team is also SAP Concur Certified Implementation Partner, the implementation and connection process is even easier. It has been another amazing year, and I look forward to continued success with Blackbox Connector and SAP Concur," stated Amy Balassone, Relationship Manager for Full Sail Partners.
SAP Concur is the world's leading provider of integrated travel, expense management, and invoice management solutions. Deltek Vision is a leading enterprise software solution designed for project-based professional services firms to improve business performance, streamline operations and win new business.
"Our Blackbox Connector team has established a great relationship with SAP Concur over the last few years. We continue to see how the Blackbox Connector positively impacts our mutual Deltek Vision firms. What is even more exciting is that, after rigorous training and certification by SAP Concur, our own Full Sail Partners' consultants are now taking lead on implementations," stated Wes Renfroe, VP of Information Technology with Full Sail Partners.
For more information about SAP Concur Connectors, please visit Full Sail Partners' Blackbox Connector website http://www.blackboxconnector.com/.
For more information, please contact Full Sail Partners' Marketing and Communications Department.