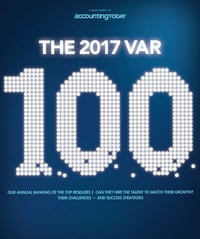 Full Sail Partners, a Deltek Platinum Partner, is proud to announce that it has been recognized by Accounting Today on the top 100 VAR list for 2017. Accounting Today annually chooses the top value-added resellers (VARs), and Full Sail Partners has been ranked in the top 100 again this year. Not only was Full Sail Partners named on the 2017 list, but it impressively moved up in ranking by fifteen.
"We are thrilled to move up the ranks on Accounting Today's VAR 100 list," stated Sarah Gonnella, VP of Marketing & Sales at Full Sail Partners. "This accomplishment is a result of having a diverse and talented team that can address not only today's challenges, but tomorrow's challenges as well. Over the past couple of years, we have invested in building the right team and developing our Blackbox Connector to allow project-based firms to connect Deltek products to other best of breed solutions. We can't wait to see what 2018 brings."
Accounting Today also reported recognized trends from this year's top 100 VARs. Some of those trends included responding to talent demands, adapting to the cloud, and smaller clients demanding better technology and analytics. Full Sail Partners has positioned itself to respond to these exact needs. With its Blackbox Connector capabilities and emerging business intelligence offerings, Full Sail Partners intends to keep developing solutions to fit client growth and desires.
Here is the full 2017 VAR list: http://pages.marketing.accountingtoday.com/act_77836_sr_lp.html
Accounting Today is a leading provider of online business news for the accounting community, offering breaking news, in-depth features, and a host of resources and services. The VAR 100 list is annual report developed to rank the top technology resellers in the account and ERP space.
For more information, please contact Full Sail Partners' Marketing and Communications Department.