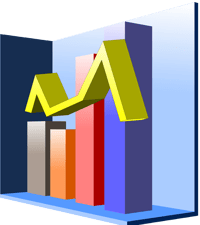 Measuring your firm's achievements and shortcomings are important to ensure continued future success. However, many firms are unsure of what factors indicate the health of their business. Also, some firm leaders believe one indicator, such as financial reports, is more important than other areas like talent management. Well, that is not necessarily the case. Let's take a look at some of the indicators your firm should use to make informed decisions to improve business performance.
Employee Recruitment and Retention Rates
One of the largest factors affecting the growth of architectural and engineering (A&E) firms is human capital management. Having the right people working on the right projects has a significant impact on the profitability and overall success of an A&E firm. From highlighting experienced staff members during the RFP process to actually delivering the project, talent affects all aspects of your business. Looking at recruitment rates, employee turnover rates and several other talent management metrics is essential to evaluating and measuring success.
Measuring Business Development
Wasted time on winning new business is very costly. Measuring win rates, revenue from top clients and net revenue growth will prevent wasted time. For some, this seems like a logical thing to measure, but many firms don't track this information and they should. If you're tracking these numbers and they continue to decline, then you know you have some major issues. You can quickly change this trend by evaluating what types of projects you're winning and losing, and why.
Financial Metrics
Without a doubt, financial metrics are extremely important. Knowing things like total employee cost, overhead rate, and total payroll multiplier are necessary to keeping your finger on the pulse of your business. Diving deeper, measuring performance using metrics like operating profit on net revenue, utilization rate and the net labor multiplier from previous years can provide a clear picture of the performance of your firm. If these numbers slip in a negative direction, other metrics mentioned in this article could provide useful insight.
Overlooked Technology Needs
Historically, the A&E industry has been hesitant to adopt new technology. As a result, firms continue to use outdated technology that lacks the abilities to keep up with the changing A&E industry. This has become the number one hurdle for little firms to keep up with larger and faster growing firms. A&E firms need to evaluate their current technology. Are your systems connected or is there a lot of manual entry from one software tool to another? Is your software up to date? Being behind on technology can greatly hinder your ability to even measure performance indicators.
Comparing Your Firm to Others
Ok, let's assume your firm will measure these metrics and keep track of them. Even better, it will use current metrics and compare them to historical metrics to notice trends. However, does it compare itself to other A&E firms to determine where it stands in the industry? Well, it can. Make sure to download the Deltek A&E Clarity Industry Study to see how your firm stacks up against your competition. The Deltek A&E Clarity Industry Study is created in collaboration with ACEC, the Association Consulting Engineering Companies Canada, SMPS and AIA. The data collected comes from 386 US and Canadian firms and draws from over 250,000 data points.