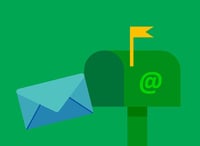 Over the past decade, email marketing has become a leading channel to generate brand and product awareness. Even better, unlike snail mail, marketers are able to get actual information about who opened the email and who followed the call to action. As a result, marketers can quickly determine what messaging is resonating with their target audience. Let's take a look at some of the things you can do to increase the effectiveness of your email marketing efforts.
Use a Good Sender Name
Having a good sender name is extremely important. People are less likely to open an email that comes from a "no-reply" sender name and email address. Instead, use a sender name and an email address that the recipient might recognize. For example, if you're emailing existing clients about a new product offering, consider using the name of their account representative from your company.
Have a Strong Subject Line
Upon receiving an email, the recipient usually looks first to see who sent it and then reads the subject line. The subject line can be the determining factor as to if the email recipient will actually even open and read the email. Email subject lines should get to the point and not be too long. Furthermore, clearly state what information you are sharing inside the email. Consider using triggers words like "sale" and "proven" to increase interest in your messaging. Lastly, always use the preheader text field that is available in all email marketing platforms. The preheader text provides a place to add a summary of the email.
Use Catchy Graphics
Graphics are an important element to an email. Maybe it can be something fun that relates to the messaging of the email or it might just be company logo. Graphics help break up the text and make the email less overwhelming to the recipient. Another type of graphic to consider is an emoji. Emojis have become very popular over the past few years and they are a great way to communicate.
Format and Layout
"The best email I have gotten is one that is a giant block of text," said no one ever. For the messaging of your email, text should be short and broken up to make the email scannable for the recipient. Some ways to break up text are to use short paragraphs, lists and bullet points. As mentioned before, use graphics to help break up the text. Also, make sure the call to action is clear to the recipient. It needs to stand out and should clarify the next steps for the reader.
Test Different Days and Times
With a 40-hour work week, there are several days and times you can chose to deploy your email. By breaking up your target list of recipients, you can test several different days and times to send your email to determine which time is best. For instance, you might find that your targets are more likely to open emails in the evening. If this is the case and let's say the email is going to several time zones, you may consider breaking up the target list by time zone and deploying the email to ensure all recipients receive the email in the evening of their time zone.
Segment Your Email List
One of the last things you want to do is send an email with irrelevant content to a recipient. If you're promoting a marketing product, it is less likely that an accountant is going to find your information useful. Additionally, you do not want to be sending the same people multiple emails a week, especially with irrelevant content. This will likely result in high unsubscribe rates.
Start Improving Your Email Success Rates
Now to the most important thing…testing, testing, and more testing. A/B testing is a marketer's best friend. A/B testing involves creating two different subjects, graphics, messaging, and format/layout to determine what resonates with your audience. Once you have created two versions, segment your target list in two and send one half one version and the other half the other version. Then sit back and start to compare the success of each email to determine what increased your email success rate.