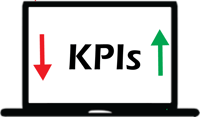 A KPI, or Key Performance Indicator, is a measurable value that demonstrates how effectively a company is achieving crucial business objectives. Organizations should use KPIs to evaluate their success at reaching targeted goals. Simply stated, KPIs provide your firm with metrics that compare budgeted amounts to the actual values. KPIs are no longer just for accounting and finance as they now reach deeper into a firm's operational side examining marketing, business development and project management.
KPIs vs Traditional Reporting Methods
Let's take a look at how firms benefit from KPIs and how KPIs differ from standard reporting. A common reporting technique is to compare current profit & loss results to the same period the previous year, or to compare year to date then versus year to date for the current year. Budget data for one or both comparisons can be incorporated. Now, what if we graphed this information and included a desired growth line? We will then have a visual of actual performance in relation to a chosen measurement. This measurement will inherently become an indication of whether we are achieving our goals, and would allow us to be proactive in correcting potential challenges.
Using KPIs to Measure Success
As mentioned earlier, KPIs are not just a tool for the finance team. For example, a chief operating officer may not relate well to traditional financial statements and focusing on project related metrics would be more to his liking. These indicators can be project specific, relate to a grouping of projects, or be sliced and diced based on the organizational breakdown structure (OBS) or work breakdown structure (WBS). Click here to learn more about OBS and WBS.
In another scenario, a chief strategy officer believes there is a benefit from evaluating trending data regarding hit rates filtered by a predetermined criterion. However, we must keep in mind that unless a benchmark or some other distinguished metric is established, this may not result in a clear and meaningful measurement.
Here are two examples of KPIs that have proven to be successful:
Cost and Schedule Variance – Using Deltek Vision reporting, actual project cost performance index (CPI) and schedule performance index (SPI) is calculated and compared to an acceptable mean-variance.
Estimate at Completion (EAC) Analysis – This can be as simple as a two-column report showing EAC in comparison to the contract value. The criteria can also be set by contract type to "flag" anomalies that need to be further investigated.
The Bottom-line on KPIs
KPIs can be used company wide. C-level executives can look across client and project types and evaluate revenue multipliers or collections success. These same evaluations can be done at all levels across your enterprise from managers that are accountable for sections of your organization down to individual project managers driving the lowest levels of WBS. What is required is a benchmark, a budget or a goal. Whether top down or bottom up, the view into why businesses perform the way they do will kept top of mind.
So, how does your firm measure success across the enterprise? Is it profit centers, projects, employees or pursuits? Every firm is unique and can't just use "off the shelf" KPIs. It all begins with a discussion of what you need to drive your firm to the finish line. Once decided, designing the reports and data is easy.