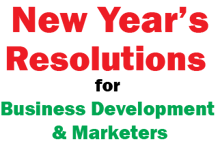 After the ball drops every New Year's Eve, the song "Auld Lang Syne" triggers everyone to begin a personal reflection of the past. Similarly, at the end of a year and on a professional level, business development and marketing professionals should look back at the previous year and evaluate the results of their efforts. How they use this information will help them strategize for the following year and improve upon performance. Here are some New Year's resolutions that business development and marketing professionals should make to get the most out of next year.
New Year's Resolutions for Business Development
Improving client relationships is essential to generating more sales and revenue. Here are five ways to help nurture better client relationships.
Streamline your client engagement/touchpoint activities. Distill your activities to the essentials to shorten sales cycles while providing high-value interactions with clients and prospects.
Get to know your clients better. Ask the right questions and actively listen to the client's answers.
Coordinate and collaborate with the marketing team on a regular basis.
Embrace new technology. Communicate with prospects and clients and record information gained. Share this information with internal teams.
Stop checking in. Instead, use your database to connect with prospects using meaningful conversations or useful content.
New Year's Resolutions for Marketers
While marketing requires evaluating the performance of efforts throughout the year, using this data to become more effective for the next year is a difficult task. Here are five ways marketers can increase the impact of marketing plans for the new year.
Examine last year's marketing campaigns and see which ones met your goals. Determine how you will use this information for next year's planning.
Take a hard look at your process for collecting and maintaining your information/data. Make it a goal to get all your data centralized into one place.
Coordinate and collaborate with the business development/sales teams on a regular basis.
Create high-quality, value-based content that your clients and prospects need.
Understand the client experience journey from prospect to project delivery. How can you, as a marketer, improve your client experience to differentiate your firm?
Increase Business and Revenue in 2018!
With the New Year comes the potential to increase sales goals and revenue. This is the best time to make changes and adjustments to business development and marketing strategies. Follow these New Year's resolutions to be more productive in your marketing and business development efforts for 2018.