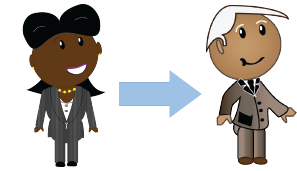 Change is inevitable but planning for change can certainly alleviate its impact. If you're the owner or leader of a professional services firm, you know that senior level personnel are eventually going to retire or might simply move on to new challenges. With this in mind, your firm can be prepared by having a succession plan in place for when employees leave.
What is Succession Planning?
Stated simply, succession planning is the process whereby an organization ensures that all key roles can be replaced by competent new employees. As part of the succession plan, employees that are going to eventually fill these high-level vacancies will participate in a training and mentoring program to prepare them to become future firm leaders. The succession plan should also include replacing lower level employees as they move to higher positions within the firm.
The succession plan should be presented to employees as a professional development and training opportunity. It should provide a map to employees on where the firm believes their individual skills will benefit the organization in the future. In an effort to plan for staff leaving, the process actually encourages retention of other high-quality employees.
Developing a Succession Plan
Creating a succession plan requires firm leaders to take a hard and honest look at their current financial situation and where they predict themselves to be in the future. Additionally, they will need to determine when certain employees will retire, and which employees are appropriate to develop as future replacements. Each role no matter where it is in the firm will require a different training program that includes a mix of activities to ensure the skills required to be successful are learned in advance of any departure.
Common Challenges of a Quality Succession Plan
Creating and maintaining a quality succession plan is challenging. Here are some common issues firms face with succession planning that must be considered:
Smaller firms have fewer positions which makes it difficult for advancement
Tapped succession employees may leave for better salaries at other firms
Project-based firms can experience ups and downs to the number of contracts/jobs they manage and deliver which affects staffing
Senior leaders may stay in their position rather than leave when planned
Chosen succession employees may lack motivation to advance
Plan falters due to poor communication or the lack of clear development and training taking place
Investing into the Future of Your Firm
A succession plan is an investment into the future of your firm. The time and effort required for a successful succession plan is costly, but the plan can also create future savings. Having a great succession plan in place will encourage retention since employees will feel valued, but it will also prevent the negative impact of change if someone unexpectedly leaves.