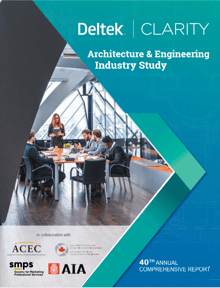 How well an engineering and architecture (AE) firm can deliver a project is core to the firm's success. However, the 40th Annual Deltek AE Clarity Study found that AE firms still continue to have trouble with delivering great project management. Let's take a deeper dive into these findings and identify areas your firm can improve on in regard to project delivery.
Top Project Management Hurdles
Surprisingly, the top three challenges reported by AE firms were the same as last year. We should take note so that these challenges do not repeat themselves in next year's study. The leading challenge firms reported was the competing priorities of project managers. This entails managing and delivering projects while also being responsible for designing future projects and tasked with business development.
Even more, the second largest challenge AE firms have experienced with project management is staff shortages. If project managers are responsible for the aforementioned competing priorities, then it is clear the firms are understaffed. More allocated staff would balance the workload, so projects can be run more efficiently. In third place, AE firms reported that they are challenged with hiring and retaining experienced project managers with firms stating that inexperienced project managers actually hinder the successful delivery of projects.
Key Area of Need for Improvement
Project status visibility was identified as a key area of need for improvement. AE firms that participated in the study identified four areas to be improved regarding project management visibility. First, cost variance from original expected cost to deliver a project needs to be monitored closer. Secondly, ensuring projects are meeting predetermined KPIs throughout the project's lifecycle needs to be a priority. Next, schedule variance from the original and proposed plan needs to be carefully watched. Finally, there needs to be a focus on client satisfaction.
If the top three areas are missing the target, then the client is going to have an unsatisfactory experience dealing with your firm. However, client perspective can be better managed if your firm uses the right tools. One tool that can help firms ensure client satisfaction is the Client Feedback Tool. Learn more about the Client Feedback Tool and how it integrates with Deltek Vantagepoint and Vision to give your firm better visibility into its project delivery.
Projects are Busting Budgets
AE firms reported that 29% of projects ended up being over budget. Even more worrisome, this is a 9% increase from last year's findings. Looking more into this finding, one might wonder if those responsible for managing projects have the information to keep project budgets on track. And let's go deeper. Firms are also reporting that 36% of projects were behind schedule and only 58% of firms reported that they are confident in project reporting accuracy. These findings show that keeping to project budgets is a clear area of need for improvement for all AE firms.
Wrapping it All Up
For AE industry employees or executives, it is common knowledge that project management and delivery is the heart of their business. To continue to succeed in an extremely competitive industry, AE firms need to take a hard look at their project management processes. The challenges and areas identified in the 40th Annual Deltek AE Clarity Study can be easily addressed if they become a priority for firm leaders. You can check out all the details about project management challenges in the latest Clarity Study.