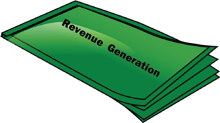 In a previous article, we discussed the challenges with Revenue Method "B." In this article, we will look at several different approaches to revenue generation and how these can affect our revenue accruals. Can these methods get us closer to FASB 606 compliance?
Work in Progress Method
Work in progress (WIP) method adds unbilled items to the revenue formula. Unbilled items include labor, reimbursable expenses, and reimbursable consultants. The standard formula only includes items marked as "to be billed." Items marked as "hold," "write off," or "delete" are excluded.
This method is a good candidate for unlimited time and materials projects that are not billed regularly. The WIP amount is easily tracked on the unbilled report and shows as the unbilled variable on some project reports. The WIP method is a standard Vision option.
The main disadvantages to this method are:
This method includes billings and is subject to the issues related to using billings
This formula has no limit and could lead to revenue overruns
This may not comply with FASB 606 since it may not correctly measure revenue
Percent Complete Method
Percent complete method requires project compensation values and percent complete values. For best accuracy, these values should be managed at the lowest level of the work breakdown structure (WBS).
Percent complete is calculated in one of two ways:
Percent complete x by total compensation
(Percent complete x by labor compensation) + job to date direct consultants at billing + job to date reimbursable consultants at billing + reimbursable expenses billed
These methods can produce more accurate revenue, and the biggest advantage is these methods do not use billing amounts in the formula.
The challenge with this method is obtaining accurate percent complete numbers. This requires estimates of completion which can pose a challenge. Especially if we need this measurement for multiple WBS on a project. The percent complete method is a standard Deltek Vision option.
Earned Value Method
Earned value method uses a percent complete strategy but can calculate revenue via the formula. There are several strategies that can be used to calculate the percent complete:
Using Project Summary Tables - calculate the percent complete based on job to date spent which requires the use of workflows to calculate the values and user defined fields to display the amounts in the Project Info Center
Using Project Budgets - calculate the percent complete based on budget amount expended which can require user intervention
Using Project Planning Module - calculate percent complete based on estimate to complete and estimation at completion values calculated in the planning module which requires the planning module and regular updates of project plans
Time and Materials Method
Time and materials method is based on transactional inputs to the project. Revenue is earned as expenses are incurred. As a result, this is a simple and straightforward method.
This method is easy to deploy and needs no manual intervention. The formula needs to be adjusted based on what transactions we want to include in revenue such as direct expenses.
Subject to Max
The subject to max variable can be added to a formula to put a "cap" on revenue. Subject to max uses total compensation (labor + consultants + expenses) from the Project Info Center in Deltek Vision.
If you need to cap individual amounts (labor, consultant), we need to create a separate revenue method for that individual limit (labor compensation, consultant compensation, etc.) and combine these methods into a "lesser than" formula to give us the lesser of earnings or compensation.
Lesser Than/Greater Than
With these variables, we can compare two formulas and take the higher or lower amount, depending on how we want to calculate the revenue. For example, we want to take the lower of job to date billings or percent complete, or we want to take the lower of total labor spent or labor compensation. The formula will return the lowest amount as revenue.
The Matching Principal
Remember the matching principal. With any revenue method we use, we want to get the best match between calculated revenues and the associated expenses. In several formulas, we are matching labor revenue with actual labor spent, or (better) the actual earned value attained by those labor costs.
For expenses, the objective is to have a -0- effect on net revenue. Revenue is earned as expense is incurred. In this scenario, the accounts payable transaction triggers revenue. When the expense is incurred, revenue is generated. This results in -0- net revenue. Why is this important? Because now we can measure the true effectiveness of our labor.
Measuring Project Performance with Revenue Generation
Revenue generation is a key component to measuring project performance. There are many revenue formulas we can use to accrue revenue to our projects, and there is no "one size fits all" method that will work perfectly for every firm or project. Users should develop and test methods to determine which method(s) fit best for them. Many firms use multiple methods tailored to specific projects.
The bottom line is that revenue must accurately measure earnings to be in compliance with GAAP and FASB 606. Revenue and expenses must accurately be matched to provide the best measurement of project performance.