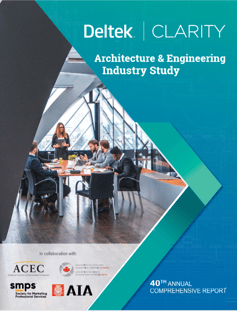 Technology is a huge part of any growing business and leaders are constantly searching for emerging technology trends that can drive their businesses forward. Originally, the A&E industry strayed from embracing new technology because of the time and effort it took to learn and adopt the new trends. However, firms are now identifying technology as a strategic and innovative way to educate staff, identify key initiatives, and implement incremental changes to improve business.
Top Three Technology Trend Challenges
In this year's Deltek Clarity Survey, firms were asked about their top technology trend challenges. The results presented in the 40th Clarity Report showed that the top three challenges were the struggles of prioritizing trends, the cost of technology, and the lack of time to learn. Other challenges included client education, lack of leadership, and buy-in from firms.
Emerging Technology Trends
For the second year in a row, firms were asked how important nine emerging technology trends were to their businesses. Lining up with the top four from last year, The Internet of Things (loT) and Geo locations ranked in, closely followed by big data and data science.
The loT is the interconnection of devices embedded in everyday objects, enabling them to send and receive data. It is important because connected devices offer the potential to better manage certain projects. The key is being able to extract and manage actionable data from the loT devices to make informed decisions.
Geo location is more prominent now than ever. Firms can leverage geo location information to make things easier for the employees and clients. Geo locations can be used to determine an employee's location, to track how long an employee is on a job site or deliver valuable details about the client when you arrive at a project or client office. Firms can use this information to better manage projects and improve client satisfaction giving them a competitive advantage.
Application of Technology Trends
This year, firms were also asked to which areas of their business they apply technology trends. Most firms are looking at implementing these trends into projects themselves through either project management or project execution. Futhermore, more than half of the firms want to apply technology to improve their business development and marketing.
The problem is that not enough firms are seeing the value of technology and how it can improve human capital management. Potential and existing clients are wanting businesses to be tech-savvy, and those that can deliver streamlined services that use up-to-date technology will stand out from the rest. Embracing technology today can create a clear competitive advantage, while those who are not will have to play catch up later.
Top Technology Trend Initiatives
Additionally, firms were asked to identify the top three initiatives they are employing to address technology challenges in the next three years. Two-thirds of the firms identified creating a strategic plan as one of their top three initiatives, followed by educating staff and identifying and developing technology subject matter experts. With these initiatives in mind, how can firms get this information and learn from it and eventually apply it to their work forces?
First, firms just need to know where to start. Industry associations and partners are a great resource they can use to learn more about technology. Firms should not be nervous about integrating new technology into their organization because of the fear of failure. Once they gain an understanding of the technology, developing a budget for implementing these trends will become more manageable.
Learn More From the 40th Annual Deltek Clarity Report
This is simply a summary of technology trends from this year's report. For more details, download a copy of the 40th Annual Deltek Clarity Report today. You may also find other topics of interest to keep your firm ahead of the competition.