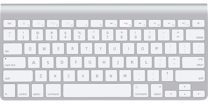 Across the US, many parents have elected for their kids to do schooling at home, while others are only given the option of digital learning. Since working from a computer is not something many adults and kids are prepared to do, we decided to help out by starting a blog series on technology tips and tricks to adapt to this new environment. Our firm has been working remotely for more than two decades and the hope is that this series provides value to kids and adults alike. Please note that all of the tools mentioned in this first blog are geared towards a PC and Windows applications.
Must Know Keyboard Shortcuts
Create Browser Shortcuts – First things first. Create a bookmark for the applications that need to be accessed daily by navigating to the page you want to save and click Ctrl+D or click the "Star" next to the website address. Name the bookmark with a clear title. Now you have a quick link to access, so you don't have to remember where to go each morning.
Copy, Cut & Paste – Some of the most commonly used keyboard shortcuts are copy, cut and paste. They can save tons of typing time. To copy text, highlight the text and press the Ctrl+C buttons simultaneously. To paste the text, put your cursor where you want the text to go and press the Ctrl+V buttons simultaneously. To cut text, highlight the text you want to remove and press the Ctrl+X keys simultaneously. Pro trick: If you want to remove the style and paste as plain text, add the Shift button: Ctrl+Alt+V.
Select All, Undo & Redo – If you want to highlight an entire section of text, use the keyboard shortcut Ctrl+A and it will highlight the entire section of text. This is commonly used in combination with cutting or copying text. If you want to undo an action, press the Ctrl+Z to quickly reverse the previous action. This is commonly used when you accidentally remove text you want back or apply a style that you no longer want. If you would like to redo an action, press the Ctrl+Y keys. This is commonly used to apply a style again or insert an action you just did like a new column or row. These tricks can help you save mouse clicks.
Minimize All Windows – If you quickly want to view the desktop and minimize all windows, you can click on the Windows button + D. This is a helpful trick to minimize it all. Another quick way to minimize is to go to the bottom right hand on the task bar. To the far right there is a bar next to the time. When you click on it, all windows will minimize.
Moving Between Programs – When your work requires multiple applications to be open, it can sometimes be difficult to minimize and reopen the right application. One easy way to find your document or application is to use the Alt+Tab key. It will open all of your applications and allow you to tab over to the one you want with ease. Pro Tip: Add Shift to move to the previous tab (Alt+Shift+Tab).
Finding Information – Many times it is difficult to find the information you are wanting on a page. As long as the page is not an image, you can search for words on a webpage, pdf, etc. by clicking Ctrl+F. Then type in the word you are searching.
Revisit a Browser Tab That Was Accidentally Closed– If you accidentally closed out of a browser tab, there is a simple keyboard shortcut that can quickly bring it back open. Simply click Ctrl+Shift+T.
Format Painter – The format painter applies all attributions. Think of it as copying and pasting for formatting styles. Highlight the text, row, column, or graphic you want to apply to another object and click on the Format Painter icon under the Clipboard. From there, highlight the object you would like to apply the format to. Pro Tip: You can also click Ctrl+Shift+C to copy all formatting and Ctrl+Shift+V to apply the formatting.
Screenshot – To take a screenshot of the entire screen, click the Ctrl+PrtSc. If you only want to take a screenshot of the application or dialogue box that is up, click on that application or dialogue box and click the Alt+PrtSc. Chromebook Tip: Many schools are providing Chromebooks. It is important to note the instructions are different. Here is an article for Chromebook users: https://www.theverge.com/2020/1/14/21065295/chromebook-screenshots-how-to-take-keyboard-keys.
Screen Freeze – Many times when your computer is not responding, one program is causing an issue. A keyboard shortcut that all users should learn about is Ctrl+Shift+Esc. Many of you may have used Ctrl+Alt+Delete in the past and it still works, but Ctrl+Shift+Esc is a quicker way to pull up the Task Manager and see what programs are using CPU memory or which programs are not responding. Once you determine which program, you can close just that program down.
Dictation Tool - It isn't a keyboard shortcut, but this button is a life saver for kids that don't know how to type and struggle with spelling. In each Office product, there is a Dictation tool. An important reminder is to make sure they go back and re-read what they wrote. It might be good to have an adult review before an assignment is submitted, too.
Get Prepared for Digital Learning
We hope you found the first blog in our series helpful. Understanding keyboard shortcuts helps expedite the learning process and makes it easier to execute homework and assignments for both students and parents. If you have a technology topic you would like to see covered to help the digital learning process, let us know.