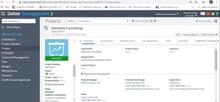 As the life blood of project-based firms, projects must be run efficiently and effectively from start to finish. Fortunately, Deltek Vantagepoint provides the functionality to give project managers more tools to run their projects. Furthermore, Vantagepoint seamlessly integrates your firm's business processes using an impressive feature suite bringing business development, accounting, resource planning and project management together. By empowering the different roles within firms, projects are better managed and thus more successful. Let's check out the power of Deltek Vantagepoint.
User Convenience
Deltek Vantagepoint is user-friendly with easy to understand workflows. The browser based Vantagepoint interface offers the ultimate convenience for its users. Additionally, in 2020, there will be an add-on for Outlook. Users will be able to manage Vantagepoint activities within their Outlook calendar. Synchronizing of contact records and smart scheduling will be available to make managing projects even more convenient.
Vantagepoint Project Hub
Project managers can get access to all they need to manage their projects through the project hub in Deltek Vantagepoint. In 2020, the project hub will be expanded to include more functionality. A new interactive Gantt charting tool gives project managers the chance to view their schedules plus change them via a drag and drop option. Also, a scenario planning feature and revenue forecasting tool will be added to the project hub offerings.
Data for Informed Decision Making
In Deltek Vantagepoint, there is a dashboarding framework that ensures project-based firms have proper metrics and information for informed decision making. There will be further expansion of the dashboard to include more visual dashparts in 2020. Currently, the Vantagepoint Intelligence (VI) module is available, but later in the year there will be VI Analysis Cubes which offer pre-calculated data for analysis by anyone in the firm.
Deltek Vantagepoint is Becoming More Powerful in 2020
There will be even more improvements to Deltek Vantagepoint's functionality throughout 2020 further powering your firm projects. The 3.0 release in late January has already provided some dashboard improvements as well as the Gantt scheduling feature. With the second release, 3.5, the new revenue forecasting tool will be available, as well as the Outlook add-on and Intelligent Character Recognition (ICR) to enhance the mobile time and expense app. Finally, the 4.0 release planned for Q4 will focus on resource planning features like scenario planning and more revenue forecasting. Are you new to Deltek and Vantagepoint? Time to learn more!