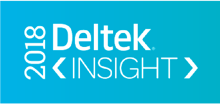 It's important to keep in mind that Deltek Insight is about much more than just Deltek and its products. This annual networking event always offers so much to those who attend - from what's new with accounting standards to inspiring stories from keynote speakers to opportunities to exchange ideas with colleagues. For those who didn't have the opportunity to attend Deltek Insight 2018, here are some interesting things we learned this year.
Fun Facts Learned at Deltek Insight 2018
FASB ASC 606 impacts must be taken against retained earnings in 2018.
Deltek Vision will continue to be supported through at least 2022.
Deltek products are evolving and one new enhancement is "Hey Deltek" - the natural language processing and interaction creation like Siri and Alexa.
Johnny Cupcakes doesn't actually sell cupcakes but t-shirts. So many people love his creative branding and messaging.
"Failures are just experiences. Experimenting is how we grow," according to Johnny Cupcakes who started 16 companies before he was 16. Most people think they might fail so they don't even get started. His advice? Take more chances and fail faster. When we fail, we learn, and failure helps us redefine priorities in life allowing us to be successful.
B2B and B2C are old fashioned concepts. You should now think H2H (human to human connection). How is your role and work impacting lives and making them better? This human connection is what brings us closer and builds memories.
Johnny Cupcakes also suggested "do more of what makes you happy," which reinforces that human touch. Life is too short. Your clients have the same needs as you. Doing more of what makes you happy in return makes those around you happy.
Deltek Insight is Always Full of Information
As always, this year's conference provided much value to those who attended. If you want to know more about attending Deltek Insight in the future or have any questions about this year's conference, reach out to us using the link below. We hope to see you at Deltek Insight 2019 in Orlando, Florida.