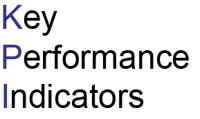 Almost all businesses utilize key performance indicators (KPIs) to identify trends and to measure performance against set goals. KPIs can fall into one of two categories: drivers and outcomes. Drivers measure current and future activity whereas outcomes measure the success of past activity. Furthermore, powerful KPIs should have some key characteristics to ensure they are clear and easily measurable.
Characteristics of Powerful Key Performance Indicators
Simple – KPIs should be simple to understand and to measure. It is extremely important that employees know what a KPI is measuring and how it is being calculated. KPIs should also be concise so that are manageable and do not overwhelm employees with too much information.
Relevant – KPIs need to be relevant to the organization. This can be done by making the KPIs for employees relate to the strategic goals and objectives of the company.
Measurable – Employees need to be able to analyze their performance which is the goal of using KPIs. Therefore, KPIs must be measurable but not all will have a quantitative goal.
Actionable – KPIs should prompt decisions and not create more questions. In other words, KPIs cannot be effective if employees are unsure of what to do with the information.
Timely – KPIs should be reported frequently enough to allow employees to make timely decisions. However, avoid having the reporting too frequent as this can overwhelm employees with too much information.
Visible – KPIs should be visible across the entire organization. This allows employees to see how their work is helping achieve the goals of the entire organization. It also provides incentives to employees to work harder and be more productive.
Using Key Performance Indicators to Drive Success
For a business to be successful, it must have goals it wants to achieve. These goals are a way to measure the performance of the company and its employees. Lastly and most importantly, a KPI is useless if the objective and the result cannot be reported on. Thus, KPIs must be meaningful to be powerful.